Swift Current Girl Guides show support for healthcare workers
Posted on 6 April 2022 by Matthew Liebenberg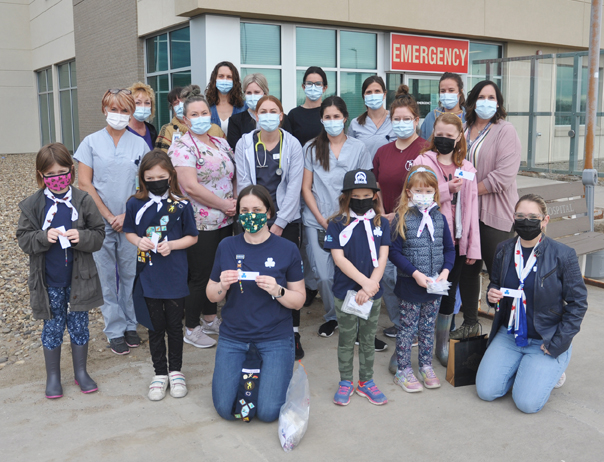 Members of the Swift Current Girl Guides delivered 117 handmade Hope keychains to healthcare workers at the Cypress Regional Hospital, March 28.
The Swift Current Girl Guides created handmade Hope keychains for healthcare workers to thank them for their dedication and hard work during the pandemic.
Members of the group delivered 117 keychains to healthcare workers during a presentation outside the front entrance of Cypress Regional Hospital, March 28.
Jessica Williams, a guider (adult leader) with the Brownies unit of the Swift Current Girl Guides, said units across the province have participated in this initiative.
It all started after the Girl Guides in Melfort started a service project to make keychains that were given to healthcare workers.
"When they posted the pictures to Facebook, guiding groups across the province thought it was fantastic and so it became sort of a provincial Girl Guides of Canada challenge for all of us to make keychains to give to healthcare workers during the pandemic," she explained.
The keychains were made to convey a clear message with a distinctive connection to the Girl Guides.
"The keychains have the word 'Hope' on them and they have seven beads, which represent the seven pieces of the Girl Guide law," she said. "So there's a meaning behind it and we just want to show that Girl Guides Canada in Saskatchewan and Swift Current all support healthcare workers and appreciate everything that they've done and hope that they just feel a little bit of a boost from something like this."
All the units of the Swift Current Girl Guides (Sparks ages 5-6, Brownies ages 7-8, Guides ages 9-11, Pathfinders ages 12-14) participated in this project. They created a total of 138 keychains, of which 117 went to healthcare workers at the hospital. The remaining keychains were delivered to pharmacies in the city.
Williams felt it was certainly a meaningful project for them that fitted well with the overall goal of Girl Guides.
"When we were making it in Brownies, the girls were very excited and thinking about all of the people that they were hoping to give the keychains to that they really appreciated," she said. "A lot of them have family members who are healthcare workers. So there's that personal touch as well that they really felt enthused about it. But a big part of Girl Guides and Brownies and Sparks and Pathfinders, all of the levels, is service projects, and giving back to the community. So this was just a nice way to have the girls do some crafting, something that they love, as well as appreciation to our healthcare workers."
The Swift Current Girl Guides experienced significant growth since it restarted in the fall of 2019 with 11 girls. There are now 45 participants (10 Sparks, 15 Brownies, 18 Guides, two Pathfinders) and seven guiders.
This growth occurred despite the challenges they experienced during the pandemic to keep activities going.
"It was a little up and down," she said. "A lot of the units ended up going virtual for a while, which was its own challenge, but we tried to keep going as much as we could. We're now back in person."