Scouts have fun racing hand-made cars at rally
Posted on 29 March 2022 by Matthew Liebenberg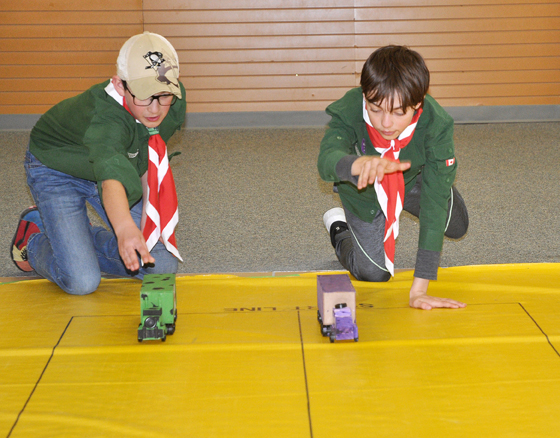 Scouts Layton Diemert (at left) and Logan Beach, both 11 years old, push their trucks off the start line at the Swift Current Group 2 Scouts Kub Kar Rally, March 19. Matthew Liebenberg/Prairie Post
The Swift Current Group 2 Scouts held their first official Kub Kar rally in three years at the Swift Current Mall, March 19.
This long-time annual event could not take place in recent years due to the COVID-19 pandemic and the group was therefore excited to continue this tradition.
Bobbi Dawn Legere, who is the akela (scout leader) as well as the committee chair and fundraising coordinator, said the event was a great success.
"This is amazing," she noted. "We usually just have the cubs and do the Kub Kar rally, but we figured this year we would have all of the groups come out and compete and it's been spectacular. And I can't believe the parent volunteers that we're getting this year. I'm so impressed with everybody that's come out today. I keep saying amazing and excellent, but it's been so great."
The Kub Kar rally is usually an event for cubs (age 9-11), but beavers (age 5-8) and scouts (age 11-14) also created their own hand-made vehicles for this year's event. There were 21 participants in the event.
They were able to work on their vehicles in the wood workshop of a local business, Professional Upholstery and Carpet Cleaning.
"They have a wood workshop in the back and they let us come back and show the kids how to work all the machines," she said.
The beavers created beaver buggies, the cubs made kub cars and the scouts built scout trucks. Their efforts were tested at the rally, where they competed in the different race categories for the obstacle course, straight line event, stopping on the spot, and everyone's favourite, the speed track.
The event was also a fundraiser for the group. They sold popcorn, bottled water, cans of pop, and 50/50 tickets.
The pandemic basically brought scout activities to a halt since 2020 and they were only able to have some informal get-togethers.
"It was very hard," she said. "I tried to keep people involved, even though we shut it down. I would text all the kids that I knew and say that we are going swimming, if you want to come. We did quite a bit of things that way."
The Swift Current Group 2 Scouts resumed their formal activities in September 2021 and they have already been very busy. Some highlights of the year until now include a snorkeling class at the Aquatic Centre, a waterslide camp at the Home Inn & Suites, and outdoor camps at Camp Thompson, located northeast of Swift Current.
Legere noted the group's numbers have petered out a bit a few years ago and then the pandemic hit. The troop currently has 22 members.
"I think our numbers are growing and people are becoming interested," she said. "And we're trying to get the name out there so people know that we actually exist."
She felt the scouts is a great activity for children where they can learn new things and develop new skills.
"We do a lot of survival stuff and first aid, and how to respect yourself in your space and your friends," she said. "It's just growth. And its kid run. So nothing is set in stone and they are the ones that are actually directing us on what they want to do. We give advice, and then they pick what they want and we make it happen."
The group will have their 1st annual online auction from 8 a.m. on April 1 to 6 p.m. on April 2. Their 50/50 ticket sales will continue until May 15 or until tickets are all sold before then. Tickets are $5 and there is an opportunity to win up to $2,000.
For more information about the upcoming online auction or the activities of the group, go to the Swift Current Scouts Group 2 Facebook page (@SwiftCurrentScouts).