Swift Current property assessment notices are coming 
Posted on 28 March 2022 by Prairie Post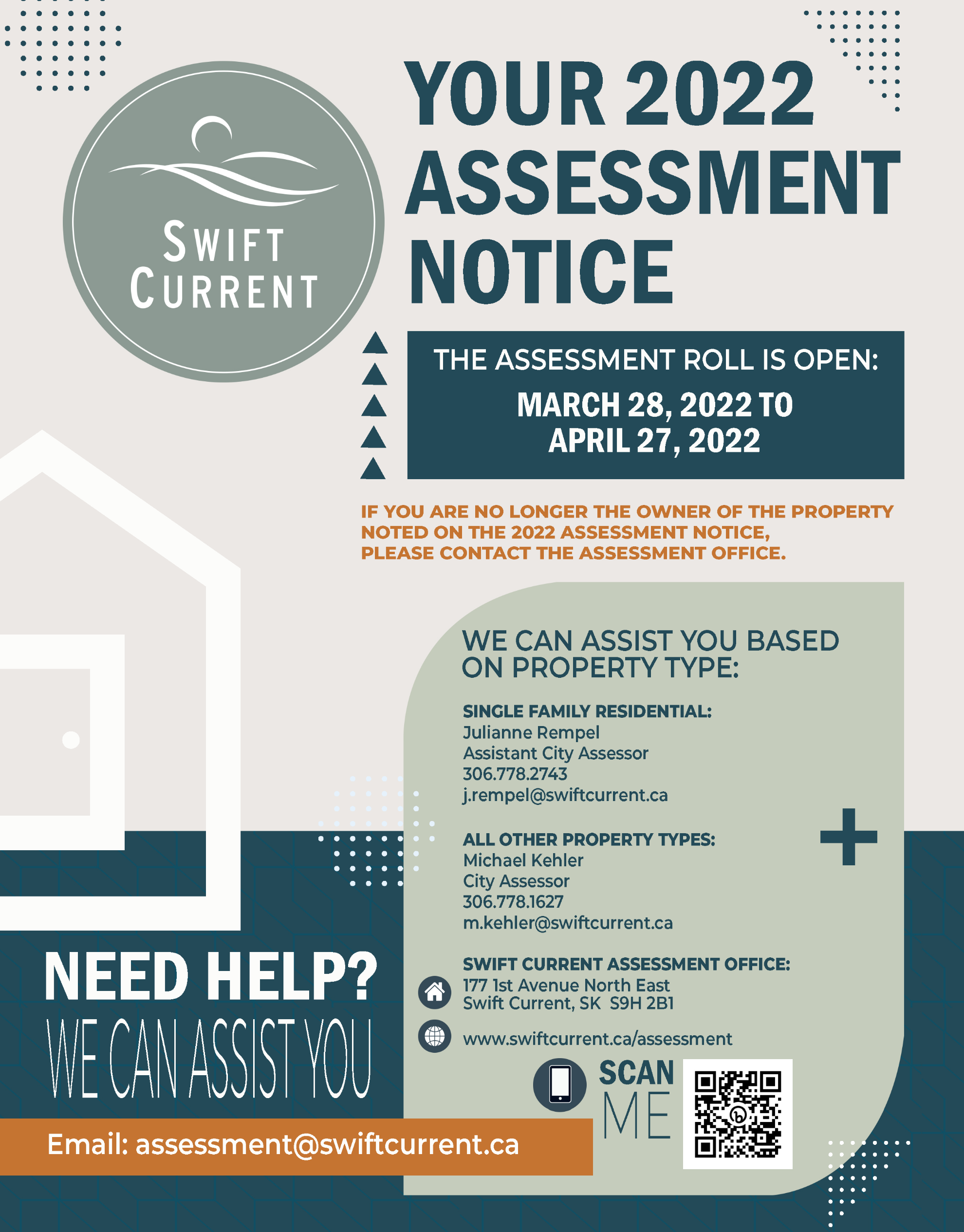 The City of Swift Current Assessment Department will be mailing out 2022 Property Assessment notices for delivery to Swift Current property owners, as they do annually, but the notices look a little different than before.
This year, changes have been made to the format of assessment notices, offering property owners valuable historical and comparative information about their property.
The new layout indicates important dates to remember, explains the process for appeals, provides easier-to-find contact information, and a QR-code link to the assessment page on the City website. Most notably, for the first time, it also provides a 5-year history (if available) of the property's assessed value. On the flip side of the document, property owners will find corresponding explanations about each section of their notice to aid in fully understanding the information. More tools can also be found at http://www.swiftcurrent.ca/assessment. 
City of Swift Current Assessor Michael Kehler explains, "The 2022 Assessment Notices have been reformatted to provide more information to property owners regarding changes in assessment over time. Our hope is that property owners find the new notices useful in seeing a bigger picture, and in making decisions about appealing their assessed value, which is a time sensitive endeavour."
Property owners are encouraged to read their Assessment Notices carefully upon receipt, ensuring that information such as the correct spelling of their names, their mailing and/or civic addresses, and their chosen school support are accurately reflected.
There is a 30-day window from March 28 to April 27, 2022, for review and/or appeals, during which time the assessment roll remains open. The process for filing an appeal is explained on the notice and on the web. However, many of the issues a property owner may experience can be resolved by speaking with a City Assessor, without the need to place an appeal.
"We urge property owners to thoroughly review their assessment notice as soon as they receive it. If they believe there are grounds for an appeal, they need to get in touch with us within the 30 days, before the April 27th deadline," explains Kehler, "and most often it just takes a conversation to resolve. The more information provided by you about your property – for example, its use and any change to its characteristics – the more accurate the assessment. Accuracy is the goal, so that when property owners receive tax notices later this year, which are partly based on their assessment value, they're prepared and informed." He adds that Single Family Residential assessment inquiries are handled by the Assistant City Assessor, Julianne Rempel, while he is responsible for all other property assessment inquiries.
The City of Swift Current Assessment Department can be reached via email at assessment@swiftcurrent.ca or by telephone at 306.778.2743 (Julianne Rempel) or 306.778-1627 (Michael Kehler).