Swift Current filmmaker's latest documentary named a finalist at Cannes World Film Festival
Posted on 28 March 2022 by Matthew Liebenberg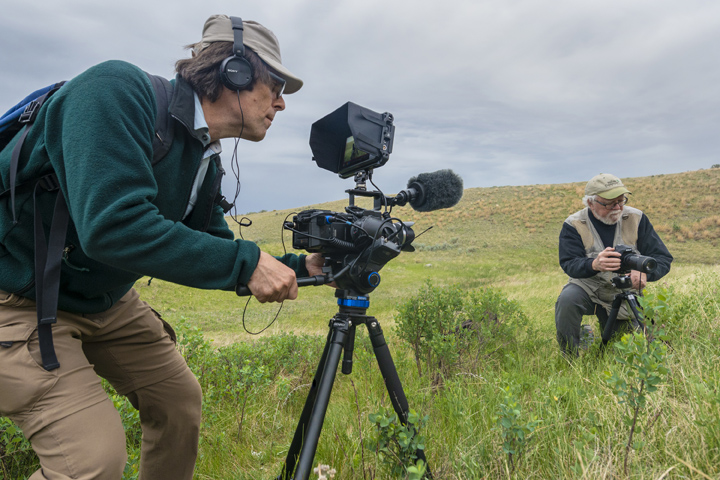 Filmmaker George Tsougrianis (at left) focuses his camera on photographer James R. Page during the shooting of a scene for the documentary Wild Prairie Man. (Below) Tsougrianis in Grasslands National Park to shoot winter scene. Photo courtesy Overtime Studios
The latest documentary by Swift Current filmmaker George Tsougrianis is receiving international recognition with nominations as a finalist for the Cannes World Film Festival in France.
The one-hour documentary Wild Prairie Man provides a personal perspective on the beauty of the vast prairie landscape in the Grasslands National Park through the eyes of Val Marie based nature and wildlife photographer James R. Page.
The film is the February monthly winner in the category for best nature/wildlife film. As a monthly winner, the documentary is automatically entered in the annual competition with a chance to become a grand winner and an opportunity to be screened in Cannes during the annual awards ceremony in 2023.
"It's a wonderful accolade," Tsougrianis said about this nomination. "It was obviously a shock, to say the least. You put it out there and you just don't know what to expect."
He has been doing video and television production since 1989. He is currently a managing partner with Carol Andrews in the Swift Current production company Overtime Studios. Tsougrianis and Andrews co-produced Wild Prairie Man. He was the cinematographer, director and editor of the documentary.
The idea for this documentary can be traced back to 2018, when Tsougrianis made a shorter film titled The Story of Grasslands National Park as part of the Swift Current Museum's documentary series Stories from Saskatchewan's Great Southwest. Page was a creative consultant and tour guide for that film.
"So I got to know him a little bit that way and we hit it off," Tsougrianis recalled. "And then I found myself just going down there for no reason other than just to hang out with him and going to the park, and I really started to see some of the things in terms of how he approached shooting wildlife."
He became interested in doing a longer documentary that approaches the subject of the park's unique ecosystem in a more creative way.
"The great thing about the documentary is that it covers all four seasons," he said. "So you get to see the park in not just one season, but all four seasons."
Page has been fascinated with the serene beauty of this endangered ecosystem since 2000, and he has taken over 250,000 photographs of the landscape, plants and wildlife in the park. The documentary looks at the park through his eyes and also highlights the fragility and importance of this area through interviews with park staff.
"We tried to include things like that to just give people a better understanding of the park," Tsougrianis explained. "So you have this personal story mixed in with a little bit of context of the bigger story, which is the park and life there."
A key challenge during the making of the documentary was to balance all the different aspects and visual material into a cohesive whole.
"It was just really honing what the story was, because Grasslands National Park is such an amazing place," he said. "What I wanted to do is try to show it through not only James' eyes, but give you an understanding of what is there from a park standpoint."
The documentary's title, Wild Prairie Man, is a refer ence to Page and his work as an author and photographer. He published a book called Wild Prairie: A Photographer's Personal Journey in 2005. He posts many of his photographs on his Flickr photostream, on which he uses "wild prairie man" as a screen name.
"It just clicked for me, because of the way he is out on the land," Tsougrianis said. "He talks about it in the film too, the whole idea of the park and that it's wild prairie. And I thought between what he said there in the film plus what he conveys on his Flickr page, I just felt it was the perfect title for the film."
There were moments during the making of the documentary when he was surprised by the way that Page approaches photography. Tsougrianis referred to an incident when he was setting up his own camera to shoot a winter scene at the Frenchman River.
"When I turned around, I found him flat out on his belly on the ice and he's inches from the water," he recalled. "A part of the water was still running and he's shooting the ice. My first thought was what is he doing, and as I got closer, I realized what was happening."
A scene in the documentary shows what caught Page's attention on the ice and reflects his unique perspective on the art of photography and the way he looks at his surroundings.
"That moment right there said to me there's so much that you don't see unless you really slow down and you take the time to go out and look," Tsougrianis said.
"That's the one thing James really showed me about the park, but also about life in general. There's so much that's available to us in general about nature and in life if we only stop and take a look at things."
He hopes this documentary will help to create more awareness about the interesting stories and often still undiscovered places in Saskatchewan.
"Locally, I would hope that it gives people a greater appreciation for what's actually here, but then on a larger stage I hope that it does spotlight that we do have stories to tell here," he said.
He is also excited on a personal level about the potential benefits that the documentary's nomination by the Cannes World Film Festival might have for Overtime Studios. He is hoping it will help the raise the company's profile.
"It's definitely not for the faint of heart," he said about being an independent filmmaker. "I want to tell great stories, but I also want to make a living doing this, and that's the really hard part. From my experience you have moments of great feast and moments of great famine, and it's trying to even that out a bit more so you don't have these big highs and these lows, because it makes it really challenging at times."
He appreciates the funding support for Wild Prairie Man from the independent artist program of SK Arts.
He has submitted the documentary for consideration by other film festivals and as a result there is no date yet for the official release of the film.
The documentary has also been nominated in two award categories for the 2022 Yorkton Film Festival. It has received nominations for the Ruth Shaw (Best of Saskatchewan) award and the Documentary Point of View award.
In the meantime, Tsougrianis is working on several other project ideas. He is in the process of completing a proposal in partnership with a Saskatoon company for a potential project with a national distributor. The accolade of a nomination as a finalist for the Cannes World Film Festival helped him to appreciate what he wants to achieve as a filmmaker.
"Sometimes you're so focused on getting there, and it's recognizing to actually take time to appreciate the moments that you're in as opposed to that destination you're always trying to get to," he said.
To see the complete Cannes' list visit https://www.cannesworldfilmfestival-archive2022.com/february-2022-winners?fbclid=IwAR1MfVyp6YkWtFeDic94CIBLbloj4gTdhKvzmECrhWnPcC6dzqmGP9kMq_8