Swift Current City Council approves 2022 Municipal Budget
Posted on 22 March 2022 by Ryan Dahlman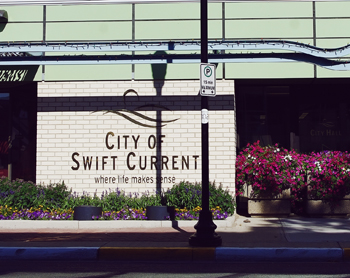 Swift Current City Council approved the City's 2022 Municipal Budget on the recommendation of Mayor Al Bridal during a regular meeting of Council, Monday, March 21. 
Themed "A New Horizon", the 2022 Budget comes in at $83,342,061 with $66,318,317 making up Operating & Utility Expenses and the remaining $17,023,690 comprising Capital Expenditures. Collectively, this Budget will result in a 2.15% property tax increase in 2022.
During his address to City Council, Mayor Bridal made clear that, reaching our New Horizon each year is imperative. Failing to do so in any given year leaves us further behind in the following years, creating a compound effect that forces even tougher decisions down the road.
Mayor Bridal cited the "pressures faced by our municipality in 2022, which equate to an approximate 6.3% increase in costs," such as inflation rates, costs of goods and services, carbon taxes and fuel costs, along with the federally ratified RCMP contract cost. "We were faced with difficult decisions in order to finalize our budget," Bridal explained. "This Council has been clear in its mandate to reduce municipal debt and has no appetite to take on additional debt that will ultimately be passed along to our children. In addition, our thorough review of projects and services indicates that we were able to find significant efficiencies last year and we did not want to cut projects and services that will only compound pressures for future generations."
City Council and Administration were able to significantly mitigate many of these pressures during the budgeting process, allowing them to reduce what could have been a 6.3% property tax increase to a more manageable 2.15% increase in 2022. This 2.15% increase creates $418,250 in additional taxation revenue for the City.
Under Utilities, an additional 1% water rate increase (on top of the annual 2.0% increase) is required to fund capital projects in the Water & Sewer Utility, and a 20% Capital Surcharge is required from our Rural Water Pipeline customers for capital projects that solely impact those users.
Regarding debt, Mayor Al Bridal said that aside from the acquisition of additional SaskPower franchise area, [The City's] efforts to pay down debt last year and this year will see approximately $5.75 million of principal debt removed from our ledger by the end of 2022, a trend that will continue in future years.
"On behalf of City Council, I would like to thank our entire community for their support over the past year," said Bridal, "and invite you to join with us as we look toward our New Horizon."
To view the City of Swift Current's 2022 Municipal Budget in detail, please visit http://www.swiftcurrent.ca/budget22.