Wrestling, basketball headline SWAC sports
Posted on 21 March 2022 by Prairie Post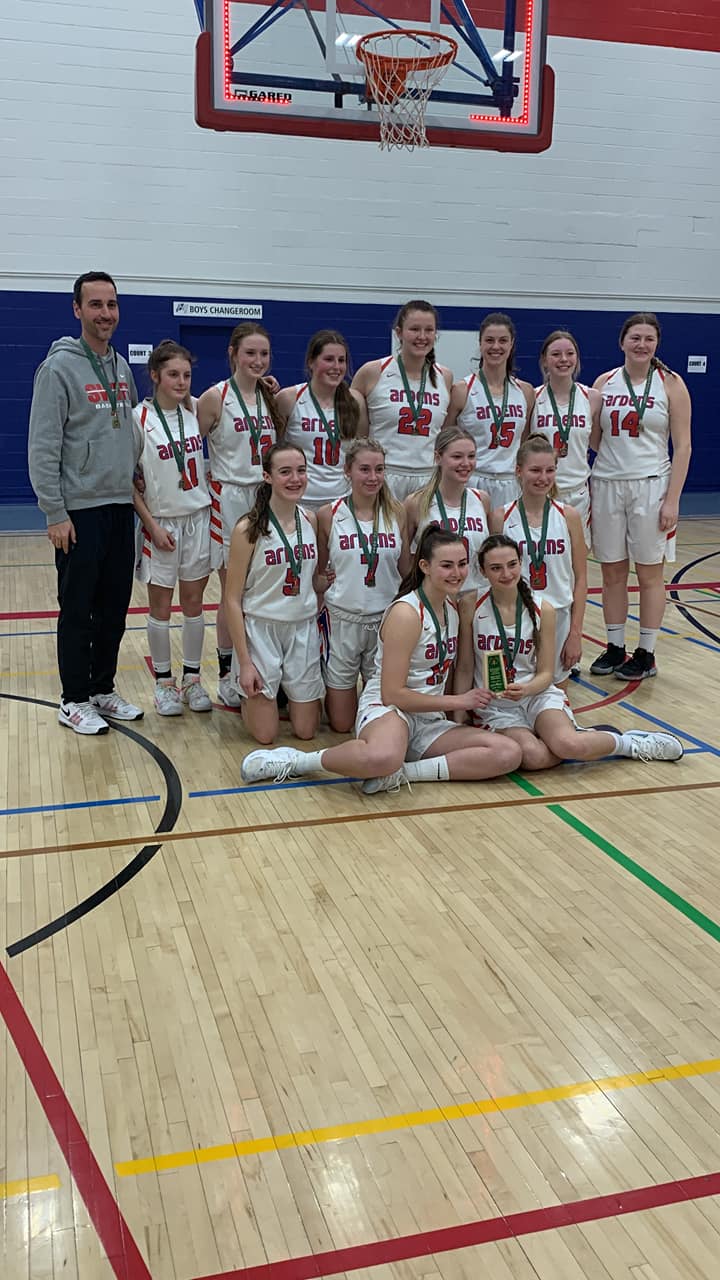 Swift Current Ardens at regionals.
By Valerie Gordon
SWAC is having a milestone anniversary this school year.  The 2021-22 school year is the 50th Anniversary of the South West Athletic Conference.
Provincial Wrestling:
The SCCHS Colt/Arden wrestling team was at the SHSAA Provincials in Saskatoon on March 18/19. The 14 provincials qualifying team members had a great showing at the event. Jared Steinley (82kg) and Landry Abbott (105kg) placed 4th, Seth Unger (130 kg) and Hillary Lacelle (60kg) came home with SILVER medals and Connor Hammer (62kg) won GOLD! Well done, wrestlers!
Senior Basketball League:
Senior league titles were decided on Tuesday, March 15. Shaunavon boys host SCCHS Jr Colts. The Shadows prevailed 115-78 and for the 8th time in 13 years have won the league championship. Top Shaunavon scorers: Kyle Anderson and Zack Smith. Top SC scorers: Makstr McIntyre and Nafyad Eticha.
Shaunavon girls traveled to Swift Current to take on the Junior Ardens. SCCHS Jr Ardens won 72-36 and claimed the league title for the first time. Top scorers for Swift: Kylee Michaluk, Leah Sletten, Karley Tait. Top scorers for Shaunavon: Jayden Voll and Danielle Dordu
SHSAA Regional Basketball:
#8 seed 1A Vanguard boys were in Coronach. They defeated Fillmore on Friday night (83-63) and then battled #1 Coronach for the regional title and trip to the provincial championship. Coronach was too strong, and Vanguard lost 106-69.
#5 seed Herbert boys played in Preeceville. The Laurels defeated Davidson 68-35 in their first game. That sent them to the regional final against #4 seed Preeceville. In the final, Preeceville prevailed and ended the Herbert team's season (56-35).
Shaunavon Shadows were the #5 seed at the regional in Regina. They beat Langenburg on Friday (89-59). That set up a final against #4 seed Regina Christian. The Regina team is very strong and went on to defeat Shaunavon in the final 94-55.
3A Shaunavon girls had the unenviable task of taking on the #1 seed at girls' regionals in Indian Head. The team from Indian Head won 73-32. That loss sent Shaunavon to the consolation game on Saturday. The Silhouettes played Osler VCA in that game. The score was very close at half time, but Osler pulled away in the second half and won 75-56.
5A Swift Current Sr Colts were headed to Prince Albert for their regional competition. The #5 Colts lost to #4 seed Weyburn 69-40. Swift Current played in the consolation game Saturday afternoon. North Battleford won that game 75-62.
Swift Current Sr Ardens hosted the 5A Rural Regionals. They were the #1 rural seed coming into the
tournament. The Ardens easily won their first game against Weyburn (78-32). The semi final Saturday morning
pitted SC against #4 North Battleford. Swift Current dominated the entire game and won 66-34. The semi final win earned them an automatic berth at 5A Hoopla Provincial Championship. But the work was not done for the Ardens! They played #3 rural seed Prince Albert St Mary in the regional final. It wasn't even close in the final; the Ardens took charge from the opening tip off. Final score was 90-31. The SCCHS Ardens are off to the 5A Hoopla Provincial Championship in Regina on March 24-26. They will square off against the top eight 5A teams in Saskatchewan.
Badminton:
Badminton season is well underway and dates for playoffs have been set. Parents of athletes…please mark your calendars!
Junior sectionals will take place on Saturday, April 30th. Cypress Hills will host in Hazlet/Cabri, Rolling Hills B will host in Gull Lake, Rolling Hills A will be in Ponteix, and Frontier will be the host site for Whitemud. Junior SWAC district championship will be in Shaunavon on May 7.
Senior sectionals will be on Saturday, April 9. Cypress Hills will host in Maple Creek, Rolling Hills will play at SCCHS, and Whitemud is in Shaunavon Top qualifiers from sectionals will compete at SWAC districts on April 30 (at SCCHS). Senior Regionals are on May 7 and provincials are on May 14.
Track and Field
Practices can begin on March 28. Blue Sectional meet is May 17, White section meet is May 18 and SWAC districts is on May 25. The SHSAA provincial championship (gr 9-12) is June 3/4 in Regina.
For the latest results for our SWAC teams, follow SWACSports on Facebook, Twitter, and Instagram.