SWAC playoffs winding down in curling, basketball
Posted on 13 March 2022 by Prairie Post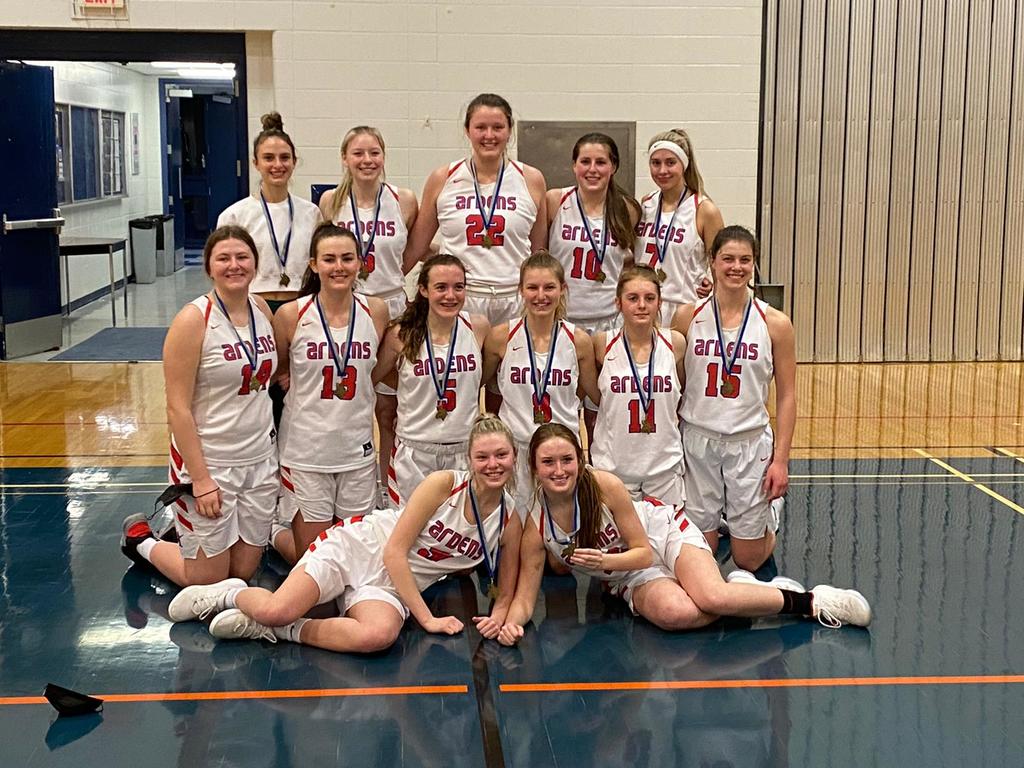 SCCHS Senior Ardens basketball
By Valerie Gordon
SWAC is having a milestone anniversary this school year. The South West Athletic Conference was formed in 1951. This school year is our 50thAnniversary! 
Curling:
We appreciate curling facilities working with all our senior/junior SWAC teams throughout the season during practices and sectional playoffs. What a busy curling weekend in the SouthWest. Thank you to the Fox Valley Curling Club and the Swift Current Curling Club for giving SWAC access to your facilities for the two provincial championships we hosted SC Mixed (Declan Poppy, Raechel Schlechter, JJ Zummack, Ty Kornfeld, Coach: Jeff Chambers) did not advance out of their pool. They lost to Lampman (3-5), won decisively over Dinsmore (10-1), but lost their last game against Tisdale (3-8). Canora won the championship.
The Fox Valley girls (Mikayla Herter, Rory Schneider, Brooklyn Schell, Haley Anton, Coach Kalin Deis) did not advance into the championship rounds. They beat Wawota (4-3), lost a close one to St Walburg in an extra end (6-7) and then lost their final match against Aberdeen (1-10). The championship was won by Wawota.
The SCCHS boys' team (Ethan Robinson, Riley Starkey, Rohne Foster, Austin Evans, Sean Friense, Coach Ron Bailey) were eliminated after pool play. They had losses to Esterhazy (2-5), PA St Mary (4-5) and Spiritwood (2-6). The gold medal went to Spiritwood.
Wrestling:
Good Luck to the 14 qualifying members of the SCCHS Colt/Arden wrestling team who will be at Provincials in Saskatoon on March 18/19.
Basketball:
Senior league titles will be decided on Tuesday, March 15 (weather wreaked havoc for our playoff plans last week). Shaunavon boys host SCCHS Jr Colts and Shaunavon girls will travel to Swift Current to take on the Junior Ardens.
Senior basketball playoffs started their run at Saskatchewan High School Athletic Association (SHSAA)Provincial Championships. Conference playoffs are the first level in categories with larger entries of teams. Only the top two teams from Conferences advance to Regionals. A loss before the final eliminates you from the competition.
2A Gull Lake boys and Herbert boys were in Regina. Gull Lake lost their opening round game to Montmarte (38-51) and their season came to an end. Herbert had a bye in the first round and defeated Montmarte in the semifinal 79-24. Herbert came up against Regina Laval in the final but lost by a score of 67-42. A second place finish advances them to Regionals.
3A Maple Creek boys and Shaunavon boys played in Shaunavon. Maple Creek lost to Kindersley in the semifinal game (62-85). That loss eliminated Maple Creek. Shaunavon won over Biggar (85-68) and then defeated Kindersley (100-73) to take the Conference title!
2A Herbert girls hosted a conference playoff. They lost their first game to Eatonia (37-79) and were out of the playoff.
3A Shaunavon girls were in Rosetown. They won an exciting first game against Kindersley (49-43). They lost in the semi final to Briercrest Christian Academy 37-46) and were eliminated.
There are other SWAC basketball teams that advanced straight to Regionals on March 18/19 (along with Shaunavon and Herbert boys). 5A Swift Current Sr Colts are headed to Prince Albert. 5A Swift Current Sr Ardens will host Rural Regionals. 1A Vanguard boys will go to a regional competition (site TBD).
For the latest results for our SWAC teams, follow SWACSports on Facebook, Twitter, and Instagram.