New exhibition at Swift Current Museum features the story of canola's innovation and success
Posted on 10 March 2022 by Matthew Liebenberg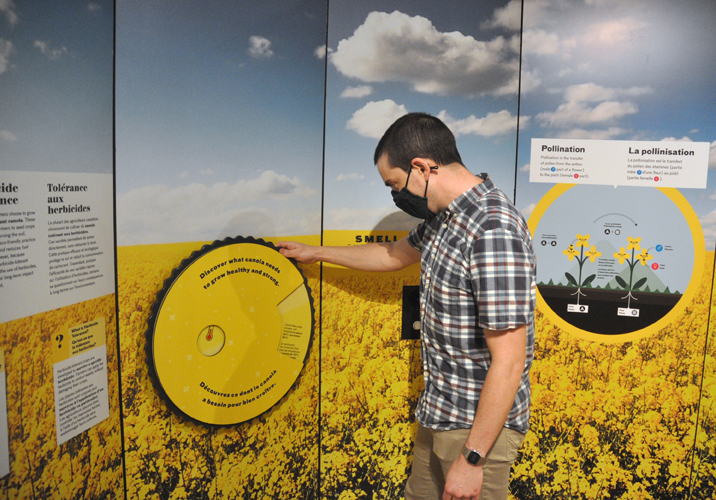 Swift Current Museum Collections Officer William Shepherd looks at a spinning wheel in the exhibition that provides information about what canola needs to grow healthy and strong.
The success story of a Canadian agricultural innovation is the focus of the current interactive exhibition at the Swift Current Museum.
The museum is hosting the travelling exhibition Canola: A Story of Canadian Innovation until the end of June.
"It's basically the story of how canola was created, the techniques, and what we do with it now along with what scientists and industry are looking to do with it in the future," Swift Current Museum Collections Officer William Shepherd said. "It includes a variety of interactive analogue and digital elements. There are various doors to open, wheels to spin, there's a smell station where you can smell canola, along with a couple of interactive digital elements where you help to plant canola."
The success of canola is a result of the work by plant breeders in Saskatchewan and Manitoba during the 1960s and 1970s. They created a different variety of rapeseed with reduced levels of erucic acids and other problematic compounds. The outcome was a new nutritious crop with a name that reflects its Canadian origin. The name canola is an acronym for "Canada oil low acid".
The exhibition tells the story of this crop through an exploration of the science behind its development and details of how the crop is grown. There is also information about the various common and surprising uses of canola, as well as information about future plans for this Canadian innovation.
"It includes a video on how canola is processed, there is an audio station that includes information on how they adjusted the DNA of canola and the different ways they can do that," he said. "Everything in the exhibit is bilingual, French and English. We do have a couple of computers set up along with the exhibit that has information on canola and another canola quiz that people can interact with if they like, as well as some information they can take with them."
The two computers added by the museum provides an extra level of interactivity and information to the exhibition.
"One has the Canola Council of Canada's website where people can get information on canola," he noted. "And then the other one has a quiz information page for a younger audience from Agriculture in the Classroom. It's about canola and has a little quiz and multiple choice, just to check your canola knowledge."
This travelling exhibition was developed and produced by the Canada Agriculture and Food Museum to mark the 50th anniversary of this Canadian made crop. It has been travelling to locations across the country since 2017. The exhibition is scheduled to go to the Calgary Stampede after it leaves the Swift Current Museum.
According to Shepherd the Swift Current Museum felt it will be a very appropriate exhibition to host for this area.
"We definitely like that it's canola, which is a very big crop in the prairies," he said. "There are a lot of farmers in Saskatchewan that grow canola. Everybody drives down the highway and sees the fields of yellow. So we thought this would be great to tie in with local populations that maybe grow or see those fields of yellow, and that they can come in and learn a bit more. It will be relevant to those groups as well as to schools, because it covers a variety of subjects that may correspond to the curriculum."
The interactive nature of the exhibition makes it suitable for all age groups, from adults to children, as well as school groups. He noted that there will be something of interest for anyone walking through the displays.
"I think for people coming in, probably the interesting part will be the smell testing, because it's not something you often see," he said. "For me personally, it's the last couple of panels there on the second section. They talk about the future and different things that they're looking at for canola that I never would even have thought of."
The exhibition consists of two bright yellow pod-shaped structures. The one structure depicts a canola field and the other a processing plant. It arrived at the museum in four large crates, each weighing around 450 kg (1,000 lb.).
"It's all solid metal frames," he said. "A lot of the frames have electrical components and sound systems and the TV. So some of these can get quite heavy. … We had to slowly slide out each panel, lie them down, pick them up and bolt them all together all the way around. It took three of us a good day to put it all together and then probably another day to plug everything in and get the lights and extension cords and everything to run."
There are detailed instructions to help with the assembly of the exhibition and there is also a separate set of instructions to guide the disassembly process.
"All the panels and parts are labelled with letters and numbers," he said. "So it's difficult to get them out of order and not to put it together properly, but there was definitely a few times where you flip back and say how do we have to do that."
This is the second travelling exhibition hosted by the Swift Current Museum since January and another two are scheduled to be on display at the museum later during the year.
"We had looked to see what's out there and what can we bring in to take some work off staff members that are making these exhibits back-to-back," he said. "Our hope is to focus a lot more on programming for families, for kids, for school groups and for adults. So we really want to focus a lot of our effort there. We will still have in-house exhibits going forward, but this moves some of that effort from the exhibits to the programming to really connect with the community."
The museum will also offer relevant programming linked to canola for any groups visiting the current exhibition. It has received a canola crush kit from Agriculture in the Classroom, which provides a fun and challenging activity for groups. Students will learn how to grade canola oil and they will crush canola seeds.
"I hope everybody gets a chance to stop in," Shepherd said. "We have this one for a little bit longer than normal. So there's lots of time to stop in, take a look, and we have a couple of activities that's related as well as plenty of other programming for families while they're here. So you can certainly spend a bit of time here and have a little entertainment."
Admission to the museum is free. For more information about activities at the museum, call 306-778-2775 or watch for updates on their Facebook page (@SwiftCurrentMuseum).