Family Fun Week was a major hit in Swift Current
Posted on 2 March 2022 by Matthew Liebenberg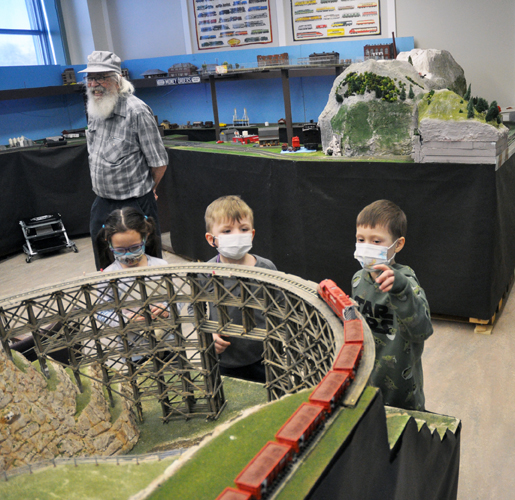 Pat Newburgh, the president of the Speedy Creek Model Railway Club, looks on as three young visitors watch the elaborate model train display created by club members at their clubhouse location in the Dickson Community Centre, Feb. 23. The club currently has 10 members and new members are always welcome. They meet Tuesday and Thursday evenings at 7 p.m.
The City of Swift Current partnered with several local organizations to offer a variety of free activities for families during Family Fun Week, Feb. 21-27.
It is an annual event during the winter school break for families to have fun together and to get physically active.
Very cold weather caused the cancellation of the sleigh rides and snowshoeing on Feb. 21, but there was still public skating at the Fairview Arena on opening day. The public swim at the Aquatic Centre was free for ages 14 and under on Feb. 22, sponsored by the local Kiwanis Club.
The Swift Current Curling Club hosted a curling clinic that introduced participants to the basic aspects of the game, Feb. 23. The Swift Current Museum hosted a variety of fun and educational activities throughout the week, including an activity about weird winter weather, Feb. 24. There was a fun day for kindergarten to Grade 6 students at the Stockade hosted by the City in partnership with the Family Resource Centre, Feb. 25.
The Speedy Creek Model Railway Club opened their doors for five days during the week to showcase their elaborate train sets. There was an opportunity to support the Coldest Night of the Year family-friendly walk fundraiser for The Center, Feb. 26. The Swift Current Nordic Ski Club hosted cross-country skiing and snowshoeing at the Chinook golf course, Feb. 27.