Swift Current Christian Taekwondo celebrates 10 years
Posted on 1 March 2022 by Prairie Post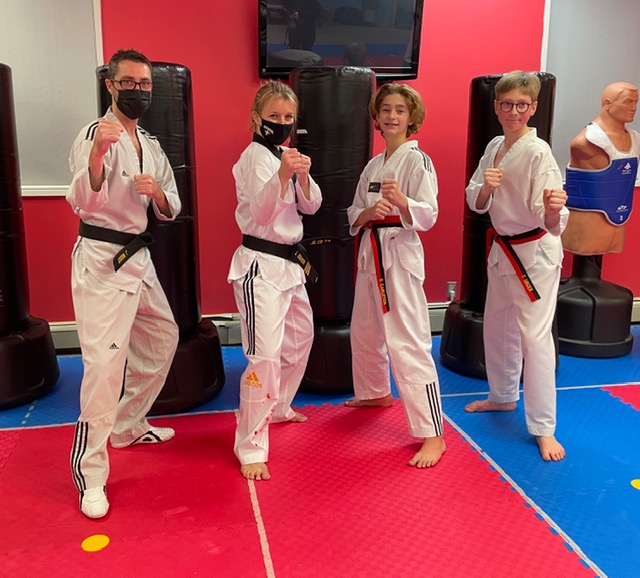 : After five gruelling hours of testing, Jeremy Widdup, Braden Carleton and Tate Unger (left to right) were awarded their 1st degree black belts and Leanne Ebner (second from the left) was awarded her 3rd degree black belt on November 20, 2021. Over the past 10 years, Swift Current Christian Taekwondo has graduated over 20 black belts.
Swift Current Christian Taekwondo celebrated 10 years of business in the Southwest this February – a timeframe that has reflected multiple accomplishments and influenced hundreds of individuals and families.
"I'm really thankful for the support," says Head Instructor and school owner, Gary Voysey. "We have been through a lot of ups and downs, especially over the past two years. But overall, we've been able to push through and produce excellent athletes, a strong, family-oriented community and a fun, safe space. God has certainly blessed us."
During its tenure Swift Current Christian Taekwondo has produced more than 20 black belts, participated in multiple tournaments and raised nearly $70,000 through its annual "Breaking Boards for Freedom" event. Funds raised have been donated to International Justice Mission in support of their efforts to end slavery and human trafficking on a global level and other organizations such as Southwest Crisis Services.
"Ultimately our goal is to instill growth in people – mentally, physically and spiritually – and to enable them to give back to their families and communities in positive ways," said Voysey. "We want people to gain the confidence and skills they need to succeed in life and we continually strive to provide an environment that does just that."
Voysey, who holds a 4th degree black belt and is considered a Master instructor of Taekwondo, heads a team of instructors with similar skill sets and values. "All of our instructors are black belts and hold various levels of certification," explained Voysey. "The school would not run as efficiently as it does without their dedication, expertise and input."
Swift Current Christian Taekwondo is host to about 150 members and offers a variety of online and face-to-face classes, programs and day camps for ages four and up. For more information or to sign up for a trial class, visit http://www.christiantkd.com .