Swift Current resident receives provincial award for contribution to regional parks
Posted on 22 February 2022 by Matthew Liebenberg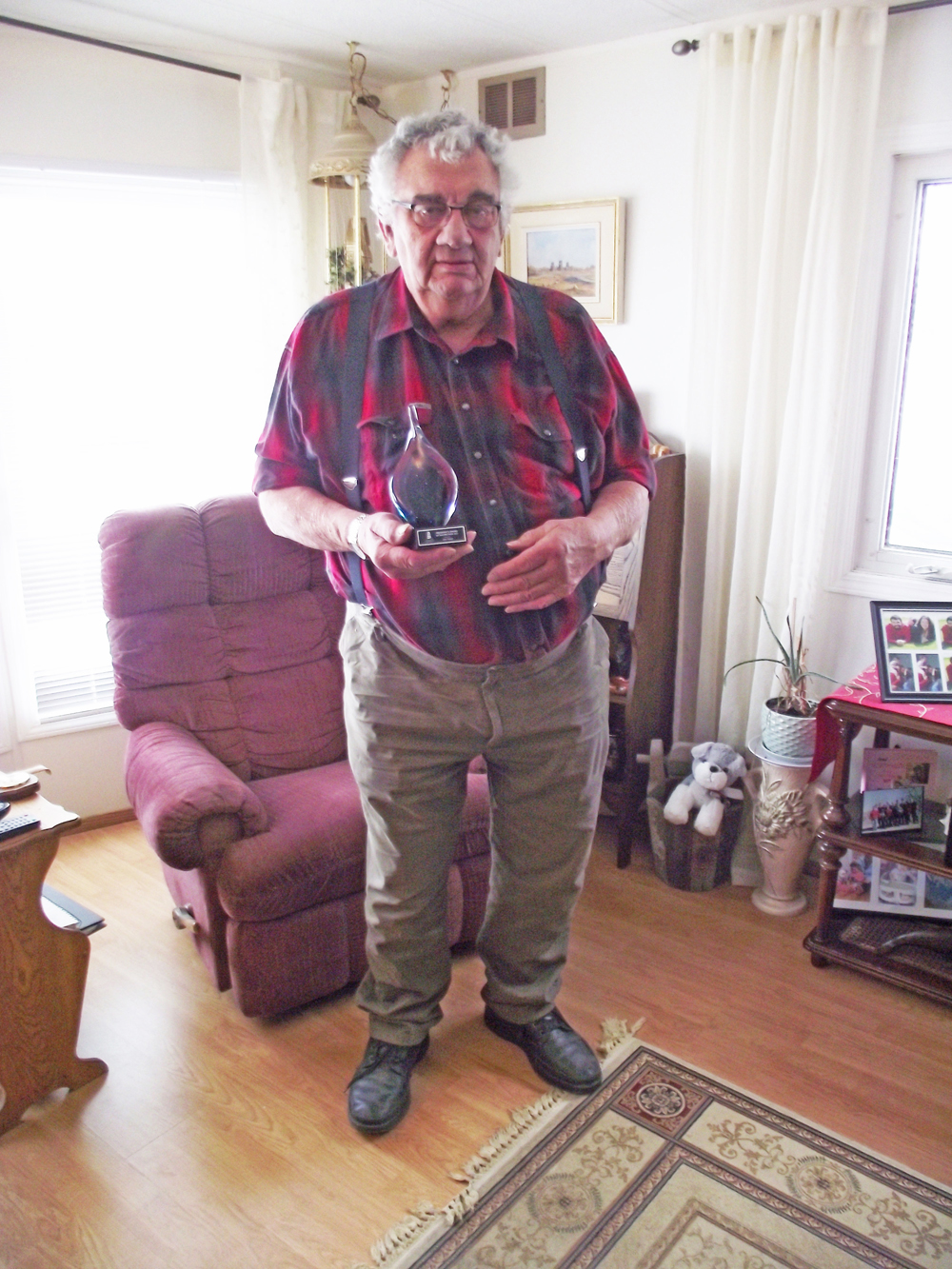 Swift Current resident John Froese with the 2021 Saskatchewan Parks and Recreation Association President's Award of Distinction. Photo by Andrew Exelby/SPRA
Swift Current resident John Froese has received provincial recognition for his passionate advocacy in support of the regional park system in Saskatchewan.
He is the recipient of the 2021 Saskatchewan Parks and Recreation Association (SPRA) President's Award of Distinction.
This award is one of several annual SPRA RECognition awards announced on Jan. 24 by the organization.
The SPRA President's Award of Distinction is presented to an individual who made a lasting impact on the parks and recreation industry in the province. Froese told the Prairie Post this award is very meaningful to him.
"Extremely proud," he said. "I'm really honoured that the Regional Parks Association and other members nominated me for this award."
The award recognizes his contribution to the regional park system on a local and provincial level over a period of four decades.
He was the park manager and a board member for the Lac Pelletier Regional Park Authority from 1982 to 2012. He served as a board member for the Saskatchewan Regional Parks Association from 1997 to 2019, and during this period he was the board chair from 2002 to 2019.
He appreciated the value and importance of regional parks in the province and he wanted to share this with others. He feels especially proud of his efforts to raise the profile of regional parks.
"Getting the people to realize that we are sitting on the best kept secret in the province and that we can some day be the best camping area in the province, including provincial parks," he said. "We can rival that, and we did. And the other thing was to get the Regional Parks Act to where it is now, controlled by the regional parks and not by the government. That took me a long time to convince the governments that regional parks in Saskatchewan are not all the same. They're not all completely run exactly the same way, and we had to make the Act so that it's people friendly to everybody in the province."
Regional parks are located across the province and they were developed through local effort by volunteers. Each one therefore has its own unique character that makes it different from the way provincial parks are managed.
"They are governed by their own local people, where in a provincial park they're governed by the government," he said. "The government makes sure they run proper, but they don't have the volunteerism to create the specialties that every regional park has. When the regional parks were formed, every park had something to offer."
The local perspective provides regional parks with a level of flexibility that might not be possible in provincial parks.
"Provincial parks are guided by a mandate," he said. "They have a direction that the government sets for them. Regional parks are able to change their strategy as their clientele changes or maybe as a volunteer group will decide we should have something in this park, because that's what we like to do and regional parks will adjust to that."
The current regional park system is very different from how regional parks were perceived when he became involved in 1989. These parks were initially conceived as a place of recreation for people within close vicinity to where they live.
"It was about relaxation and things like that at that time already, but the government was funding the regional parks," he said. "So they had no incentive to develop."
The provincial government's decision in 1992 to cut maintenance funding to regional parks was an incentive to look at different options to ensure the survival of these parks.
"That's how I got to realize that we don't have anything, we got nothing to offer anybody," he said. "There was no reason for anybody to come to the lake. Perhaps to go fishing, but that did nothing for the park. We didn't have any money and we got to start raising money."
He realized that the Regional Parks Act of 1962 did not offer any way for regional parks or board members to create incentives to raise money to fund the operation of park activities.
"It didn't allow you to develop," he said. "It took me many years to convince the government that regional parks should have their own Regional Parks Act where they could in fact make their own decisions of what and when and how they're going to do something."
That change finally came with the adoption of the Regional Parks Amendment Act in 2004, which gave regional park boards more flexibility to fund their park operations and project, including the option to borrow funds.
"It's all about controlling your own destiny," he said. "And it took a long time for me to travel across the province and educate and train a 100 regional parks in what direction they should actually go in order to make these things happen that people are expecting to see."
Lac Pelletier Regional Park will always be a special place to him, because it is where his involvement with regional parks started.
"I left them in a good position financially as well as a good five-year plan to what they should do as time progresses," he said.
The park was offering basic amenities when he became involved and over the years many improvements have been made to facilities and services offered to visitors.
"We had no seasonal full-time residents," he recalled. "We had strictly two small campgrounds and they were basically designed for a small trailer or a tent or a tent trailer. … At one point we had no equipment. All the equipment that was used to operate the park was my own, and we really moved ahead from there."
There are many highlights from all the years of involvement with the regional park system, but several stand out to him. He was involved with the growth and development of Lac Pelletier Regional Park that today has a grass green golf course, a computerized irrigation system and a state-of-the-art water treatment plant.
"We did some tremendous upgrades in building residential sites in the park so that we would have a continuous source of revenue after the season was done, when revenue drops and you still need maintenance," he said.
He is proud of the centennial rings that were installed by his family in the park, which include a display of several old farm equipment to serve as a reminder of the farming heritage of the area.
Another highlight was his efforts to acknowledge the history of the Métis in the Lac Pelletier area through a partnership with the Prairie Dog Métis Local 123. It resulted in the creation of a memorial for local Métis veterans. Froese also built a traditional Red River cart, which he donated to the park as a monument to celebrate Canada's 150th anniversary.
"I did a lot of work with the Métis," he said. "They were the first homesteaders in the valley, and so I helped them with the monument. They put in pillars in a circle around the monument to recognize all the residents that lived in the valley at one time. I'm really proud of that."
He is pleased that he was able to contribute to the growth and development of the regional park system in the province.
"It's very satisfying to now see that out of the 105 parks that were originally created, we now have about 85 parks strong that are very healthy revenue wise as well as delivering campsites and then recreation for the people that live in the area and for anybody else travelling through," he said. "I wanted to see these parks developed and grow, because I could see it in my own park by being involved what could happen if you really went to work."