Swift Current Legion initiates project to install new memorial plaques at cenotaph
Posted on 22 February 2022 by Matthew Liebenberg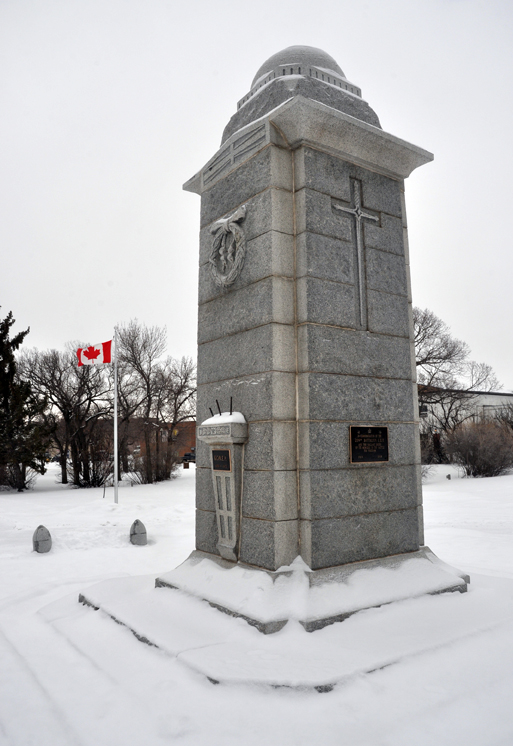 Veterans who served on various Canadian peacekeeping missions and in Afghanistan will be honoured with the installation of two new memorial plaques on the Memorial Park cenotaph in downtown Swift Current.
The Royal Canadian Legion Branch No. 56 in Swift Current is partnering with the local chapter of the Comrades Forever Motorcycle Club and the City of Swift Current to add the new memorial plaques to the cenotaph.
The Legion is also hosting an online auction from March 1-10 to raise funds for Legion programs in support of local veterans.
Legion member John Griffin, who is the public relations spokesperson for the Swift Current Legion, said this initiative is known as Operation Remember.
"Operation Remember is all about the purchase and installation of two new plaques on the Swift Current cenotaph in Memorial Park," he explained. "The one plaque is going to be dedicated to our peacekeeping veterans who since the end of the Korean War have served and gave their lives on these missions. So these would be UN missions like to the Balkans, Egypt and Israel, Cyprus, and the Congo. And the second plaque is going to be dedicated to those who served and gave their lives during Canada's mission in Afghanistan from 2001 to 2014."
More than 125,000 Canadians have served in peacekeeping missions in over 35 countries and approximately 130 have died during their service.
"They're still dangerous," he said about peacekeeping missions. "Not only are you between two opposing forces, but there's just general hazards, such as driving on the roads."
More than 40,000 Canadian Armed Forces members served in Afghanistan. There were 165 Canadian casualties (158 soldiers and seven civilians) during the campaign. Over 2,000 armed forces members were injured and many returning veterans are dealing with post-traumatic stress disorder.
The two plaques will be installed on the west side of the cenotaph, which is currently unused. The other three sides of the cenotaph are already used for different plaques. A large plaque on the south side commemorates the First and Second World War. A plaque in honour of veterans from the Korean War is installed on the east side. A plaque on the north side of the cenotaph commemorates the service of the local regiment, the 209th Battalion, during the First World War.
The two new plaques will each be about 11×8 inches (28×20 centimetres) in size and its design will be similar to the existing plaque for the Korean War.
The estimated cost of each plaque will be about $365 and the Legion set a fundraising goal of $1,000 for the online auction to ensure there will be sufficient funds for the project. However, to the surprise of the Legion the Comrades Forever Motorcycle Club generously offered to sponsor the entire cost of purchasing the two plaques.
"We're very grateful for them for doing that, and it's my understanding that they reached into their own pockets to make that happen," Griffin said. "It was very generous of them and we're very grateful. It was definitely something that we didn't expect to have right away."
After the early success of this fundraising initiative, the Legion decided to still go ahead with the online auction. The original intention was to use any money beyond the $1,000 fundraising goal for Legion programs that will support local veterans. All money raised through the online auction will now be used for this purpose.
"So whether that be social assistance programs or mental health programs for veterans with PTSD, there's no shortage of Legion programs that that money could be used for," he said.
The Legion will continue to accept items for the online auction until March 1. A variety of auction items have already been donated by local businesses and individuals, including a set of four tires, security safes to store valuables, a clothing package, a military record search package, a block heater and a soda stream.
A very unique contribution to the auction will be two veteran signed D-Day prints that were donated by Legion member Andy Keys.
"He went over to Normandy for the 75th anniversary of D-Day," Griffin said. "He had taken these prints with him and got some D-Day veterans who attended the 75th anniversary to sign them and brought them back. Our plan was to have them in our yearly silent auction, because usually we do one at our banquet for Remembrance Day, but because of COVID we weren't running our Remembrance Day banquet. So we're bringing them out now."
Anyone who wants to donate an item for the auction can contact Griffin by calling 306-741-0876 or sending an e-mail to rclbranch56sc@gmail.com
Cash donations are also welcome, but those donations will have to be made through the Swift Current Legion administration office.
The online auction will start at 9 a.m. on March 1 and will continue until 8 p.m. on March 10. The link to the online auction is: https://www.32auctions.com/operationremember