Art Gallery of Swift Current features the vision and technical skill of sculptor Peter Tucker
Posted on 11 February 2022 by Matthew Liebenberg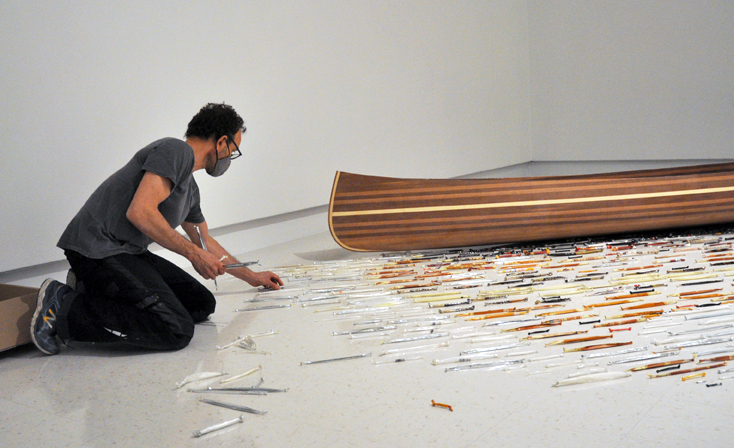 Artist Peter Tucker adds pieces of recycled plastic to the installation of a handmade canoe in the exhibition Disposition currently featured at the Art Gallery of Swift Current.
The distinctive shapes of the sculptural works on display in Disposition, the Art Gallery of Swift Current's current exhibition, clearly demonstrates the technical woodworking skills of Moose Jaw-based artist Peter Tucker.
The artist's inspiration that shaped the creation of these forms is less evident, which is exactly how Tucker prefers it.
"I think it's important for each person to take away what they can or what they will for themselves," he said. "I don't want to control anyone's experience of the work."
His thoughts about life and personal identity influenced the creation of these wooden sculptures, but visitors to the exhibition will not have those details when they look at the work. He felt this experience is similar to the way humans experience daily encounters with other people.
"That's how we regard each other too when we meet someone," he said. "You don't get a glimpse into their whole life and why they are the way they are. You have to take them at face value and draw your own conclusions. We do the same with art, I guess. We do the same by viewing anything."
The exhibition's title, Disposition, is related to a previous exhibition of his work in Moose Jaw, which was called Predisposition.
"Predisposition was about the idea that prior to birth we are predisposed to having certain attributes, like a seed has all the coding in it to become a specific plant," he said. "The soil that we are planted in or the environment that we grow up in then allows us to either play out those predispositions or not, to shed light on them and encourage their growth or to diminish them. With new work added to it, but still with the same ideas behind the work, I chose to call it Disposition, because of how things are placed together."
He used reclaimed wood in combination with his woodworking skills to create the pieces in the exhibition.
"I like to use reclaimed wood, because I think wood is a precious material that we regarded carelessly," he said. "I was adopted, and so I feel like adoption is a way of being reclaimed as well. So there's a connection there for me. I enjoy finding what might be discarded and then turn it into something with meaning and beauty."
He discovered art as a child and he feels it was part of his predisposition to become an artist. His desire to be creative meant there was never enough paper around in the home for him to draw on.
"At a very young age I was just obsessed with art, and they couldn't give me enough paper," he recalled. "My mother would cut out these cereal boxes so I could draw on the brown inside panel."
He studied art at several institutions, including the Ontario College of Art and at Mount Allison University. He apprenticed in woodworking in British Columbia and continued to improve his skills as a craftsman in Montreal, where his work as a furniture-maker and designer was featured in several publications.
He eventually developed an interest in sculpture and he has continued to express his thoughts through landscape painting. He has been living in Saskatchewan since 2012. He prefers to explore his creativity through different avenues.
"I can't stay within the lines," he said. "If I can gain new skills, then I will. I took up doing some metalwork recently too for one of the pieces at the Moose Jaw exhibit and then taught myself how to weld. I think of ideas and then as I want to do something, based on that idea, I just figure out what material or what medium I want to use and if I don't know how to use it, I'll learn."
This was the reason he moved from painting into woodwork and then applied those skills in his sculptural practice.
"In the past I painted and then got into woodworking to make a living, but I've turned that back into using it as a creative medium to make art," he said. "I enjoy doing it all. More importantly though, it's the ideas. It's exploring ideas through different forms and medium."
The largest piece on display in this exhibition is titled Effort. It was inspired by his thoughts about the start of life.
"It's the idea of something emerging and growing and changing over time, like sprouts or a plant coming up through the earth and the effort that it takes for it to do that and to emerge," he said. "And the idea of the seed having everything needed to become a plant, as long as there's water and sunlight and soil, but otherwise all the information is there."
The smaller version of this large sculptural work is also in the exhibition. It is called Maquette of Effort and reflects his original exploration of the form that resulted in the larger piece.
"That was my initial experiment when I decided to make that form and knew that I wanted to make a larger sculpture," he said. "So I did that as a tryout to see how I would have to join the wood together initially to get started."
A small piece on display under a glass case inside the gallery entrance is basically a timber off-cut, which he decided to shape into something as a symbol of how everything in life has value.
"I would have just thrown it away, as I throw many pieces like that away," he said. "They clutter the shop sometimes, because you're cutting so many pieces that there's so many off-cuts, but every piece could have value. And so to take something that's so pointless almost with a crack in it and to shape it just in a way to bring life to it almost, a sense of character. Everything is like that in life."
The act of discarding material that are unwanted or not considered useful anymore influenced another large, prominent installation in the exhibition. It is called Reflection and features a handmade wooden canoe, which he decided to build as a pandemic project.
"I always wanted to build a canoe since I was in my teens, but never had the opportunity," he said. "I though it was a perfect COVID project. It's like building something to escape in or a vessel to cross rough seas in. So I took that on as a way to occupy my mind and my time while we were going through these crazy changes and entering the unknown."
The canoe is displayed on the gallery floor, surrounded by strips of plastic that he has been collecting for several years with the intention to reuse for something else. It creates an impression of the canoe floating on a sea of plastic.
"When you walk in the door and look initially, you don't know what's on the floor," he said. "You see the reflection and it makes you think of water and then when you get up close you realize this water is completely made out of plastic. … We discard all this stuff that we see as unnecessary, but in nature there's nothing that doesn't have a place. People do that, but nature never does. Everything is recyclable in nature. We regard things as unnecessary or unwanted."
The sculptural piece Reroute was inspired by his experience of being adopted, but it can also refer to anyone's personal experience of life.
"I think part of life is trying to get back almost to who we were after so much distraction in life," he said. "I found my biological parents and then I met my biological siblings, and it was a return in a way, like a fish that swims up the river they were hatched in."
His woodworking skill is clearly displayed in a wooden globe, which consists of pieces fitting together in an intricate manner. This piece is called Part Of and it is an interpretation of a burr puzzle.
"There's many different kinds of them and we used to have them when we were kids," he said. "They always fascinated me, that interlocking joinery. And so it was just an attempt to see if I could recreate one on a larger scale, giving it way more significance. The idea that when we're all together, it's a whole, but nothing is whole on itself. Everything is made up of parts."
The exhibition Disposition by Peter Tucker will be on display at the Art Gallery of Swift Current until March 15. Admission to the gallery is free. The art gallery is open daily from Monday to Saturday. Gallery hours are noon to 5 p.m. on Monday, Friday, and Saturday, and noon to 6 p.m. on Tuesday, Wednesday and Thursday.