Semi collides with ambulance at accident scene north of Swift Current
Posted on 8 February 2022 by Matthew Liebenberg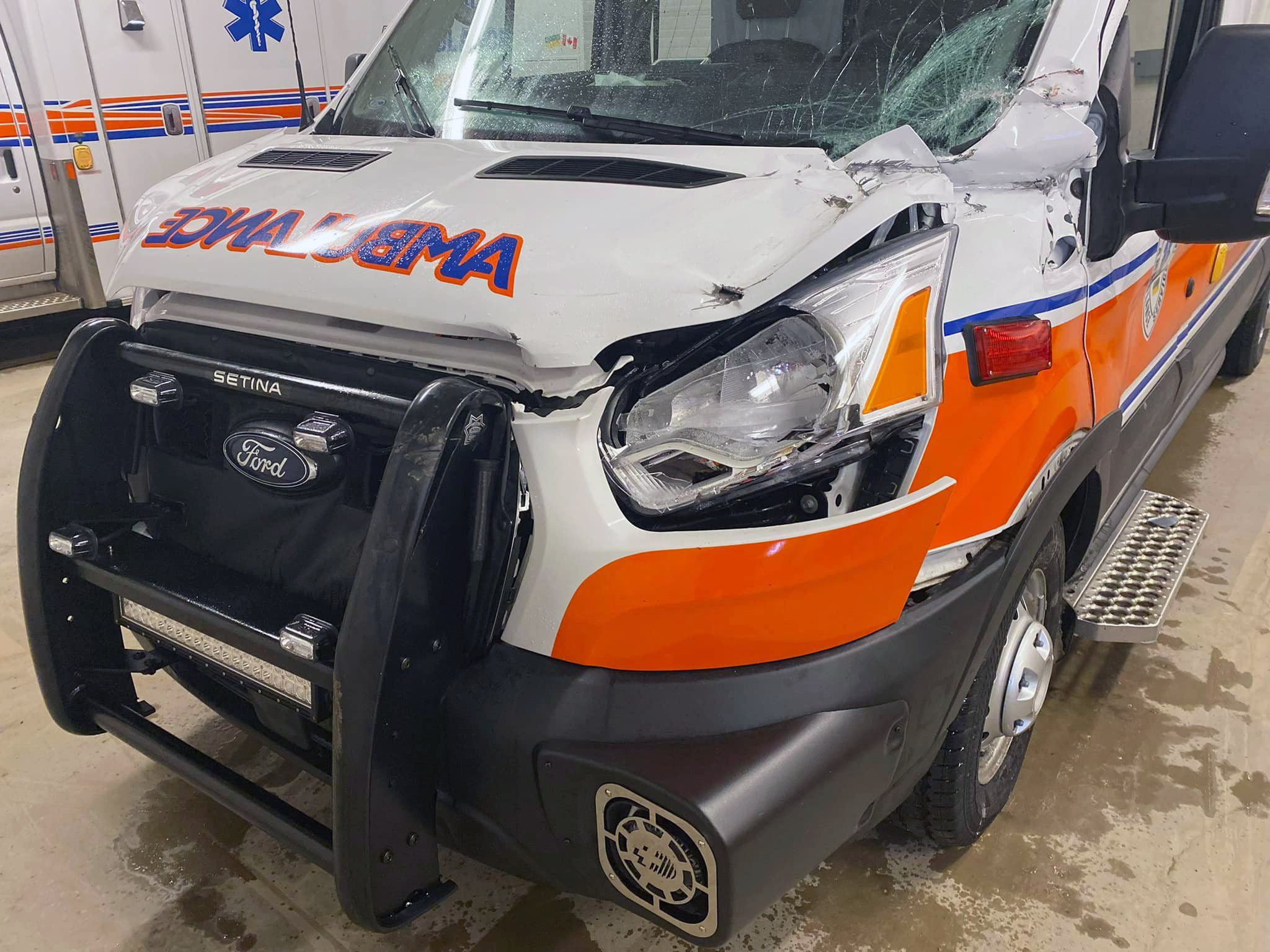 The damaged ambulance was hit by a semi north of Swift Current, Jan. 31. Photo courtesy Hutch Ambulance Service
Two paramedics suffered minor injuries when their ambulance was hit by a semi at an accident scene north of Swift Current.
RCMP spokesperson Keely Grasser said the Swift Current Rural RCMP detachment received a report at about 1 p.m. on Monday, Jan. 31 of a collision involving an ambulance.
"Their investigation determined that fire and ambulance services had responded to a single-vehicle rollover on Highway 4 near Stewart Valley," she mentioned. "No one was injured in that initial collision, but while emergency vehicles were on the scene, a semi collided with a parked ambulance and then that ambulance collided with a parked fire truck."
The incident occurred during a period of poor weather in the area with strong winds and blowing snow.
"There was no patient in the ambulance at the scene, but two paramedics were taken to hospital with what is described as minor injuries," she said. "The semi driver was not injured, nor were the firefighters that were at the scene."
Cam Hutchinson, the EMS chief of Hutch Ambulance Service, is grateful the two responders did not suffer more serious injuries. They were inside the ambulance at the time of the incident. It was parked on the side of the road and the emergency lights were on.
"They're OK," he told the Prairie Post. "They just need a couple of days off. One person is going to need probably a week or two off, just the way they hit in the ambulance when they were thrown around. Luckily, they can work another day. It could have turned out a lot worse."
Road users are required to slow down to 60 km/h while passing emergency vehicles, but he emphasized this might even be too fast under certain circumstances and drivers should use their judgement.
"Definitely by law they have to slow to 60, but even 60 is sometimes too fast," he said. "So when they see an accident scene, don't just base it on 60 km/h. Please slow down and watch out. There's people walking and involved in dealing with the accident scene and stuff like that, and sometimes if a car is too close or comes through those scenes, like 60 km/h may not seem like fast when you're in a car, but when you're standing there out on the highway, it's still pretty quick."
The Swift Current Rural RCMP investigation into the collision was still ongoing at press time and no charges have been laid.
The requirement to slow down to 60 km/h applies to all emergency and service vehicles parked at the side of a highway with their lights flashing, including ambulances, fire trucks, police vehicles, tow trucks and tire service vehicles. Road users can face a fine of $170 or more, depending on how fast they were driving, for ignoring this law.
They also need to reduce their speed to 60 km/h when passing highway workers and equipment, including snow plows. Fines start at $240 if they do not comply with this requirement.