East of Swift Current was a mess on the highways as Moose Jaw RCMP respond to multiple collisions
Posted on 7 February 2022 by Prairie Post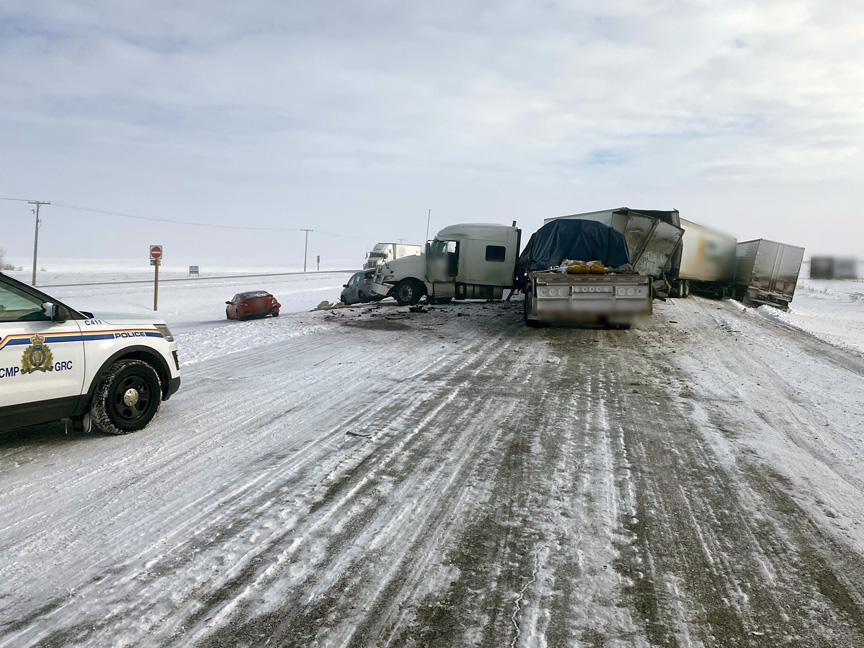 One of the many accidents around Moose Jaw. Photo courtesy Moose Jaw RCMP
On the morning of Saturday, February 5, 2022, Moose Jaw RCMP responded to reports of multiple collisions on Highway #1 in both the east and westbound driving lanes. Both lanes were completely blocked, preventing any traffic flow.
· The first collision occurred when vehicles collided in the westbound lane of Highway #1. Two semis and a regular passenger vehicle were involved.
· The second collision occurred when vehicles stopped in the westbound lanes due to the first collision. Eight semis and two regular passenger vehicles were involved.
· The third collision occurred when multiple vehicles stopped in the eastbound lanes across from the first collision. Five semis and two regular passenger vehicles were involved.
Visibility was reduced at the time due to fog, wind and snowy weather conditions. Investigations into the above noted collisions are ongoing at this time.
One individual was transported to hospital with injuries as a result of one of the above collisions. No other injuries were reported to police.
Moose Jaw RCMP would like to thank Moose Jaw Combined Traffic Services Saskatchewan, Moose Jaw Police Service, Saskatchewan Highways, Moose Jaw Fire Department, Caronport Fire Department and Moose Jaw EMS for their assistance that day.
The east and westbound lanes were opened up approximately seven hours after the initial collision occurred. All vehicles have now been removed from the highway and surrounding ditches.