Healthcare foundation raising funds for laboratory equipment at Cypress Regional Hospital
Posted on 3 February 2022 by Matthew Liebenberg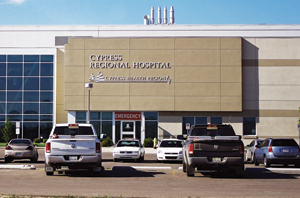 The Dr. Noble Irwin Regional Healthcare Foundation has started a new fundraising initiative for an important equipment upgrade in the laboratory at the Cypress Regional Hospital.
The goal of the campaign is to raise $30,000 to purchase a digital cell imaging system for the hospital laboratory. It currently performs manual blood smears to test for and diagnose medical conditions such as autoimmune diseases, anemia, leukemia, and other types of cancer.
Sara Adrian, the communications and development coordinator at the Healthcare Foundation, said the digital cell imaging technology will have numerous benefits. It will result in improved patient care, less time will be required to process and review blood smears in the laboratory, and external review of samples in Saskatoon and Regina can be done much sooner.
"We're excited to get this new technology into the hospital, and really connect the southwest to bigger centres and just improve healthcare for everybody here in the southwest," she mentioned.
The Healthcare Foundation's fundraising campaign for a digital cell imaging system at Cypress Regional Hospital is part of a provincial effort by the Saskatchewan Health Authority to have this technology available at laboratories in regional hospitals.
"Right now, when the lab takes blood samples, they have to do a manual review of it," she explained. "This machine will do that review for them. It will cut down that lead time by about 50 per cent."
Tests that indicate signs of abnormalities are referred to the hematology department in Regina or Saskatoon for review. Currently the glass slides used for blood smears are transported to those locations and the process can take two to four days.
The digital cell imaging system will make it possible to connect remotely with the hospital in Regina or Saskatoon, which will reduce turnaround time for results by about 90 per cent.
"It will be viewed almost instantaneously by a specialist in Saskatoon or Regina," she said. "So they'll be able to get results back much, much faster."
This digital system will therefore improve patient care through the faster turnaround time to process blood samples and provide results. In addition, the improved efficiency of the process will make it possible to complete more samples in the same time period with this device compared to the manual review, thereby helping more patients.
"They'll be able to accept more patients to do blood samples," Adrian noted. "So it speeds up the whole process of actually doing a review and looking at the blood and also giving results back, if it's something that is more serious."
Donations towards this campaign to raise funds for a digital cell imaging system at the Cypress Regional Hospital can be made online through the Dr. Noble Irwin Regional Healthcare Foundation website (www.drirwinfoundation.com), in person during office hours at 2051 Saskatchewan Drive in Swift Current, or by mail.