Solid year for building permits issued in Swift Current in 2021
Posted on 2 February 2022 by Matthew Liebenberg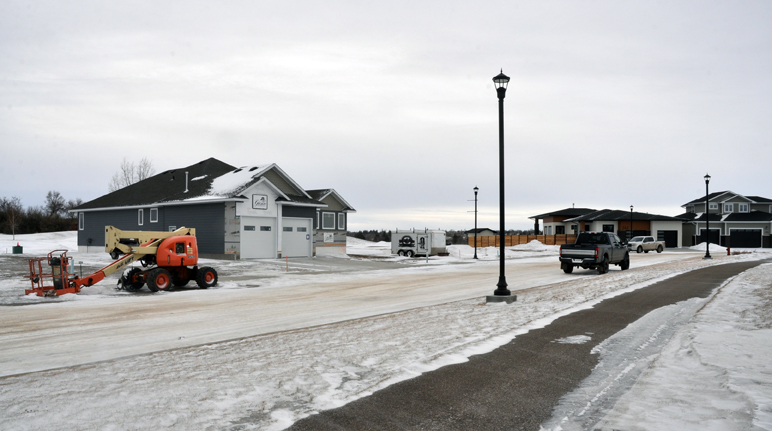 The value of building permits issued by the City of Swift Current during 2021 increased compared to the previous year, and most of the new activity took place on the commercial side.
City General Manager of Planning and Development Marty Salberg felt upbeat about the construction activity that will take place in the community as a result of the value of building permits approved during 2021.
"The building permits in 2021 were quite good," he said. "I'm very happy with it, actually, given all the uncertainties we all went through, and particularly the business community and the energy sector, and with the drought and obviously COVID's negative effect on hospitality and retail and supply chain issues. The actual numbers came in quite good."
The City approved a total of about $15.1 million in building permits during 2021, which was an increase compared to the $14.5 million in building permits issued during 2020.
The majority of building permits issued during 2021 was in the commercial and industrial category, which had a total value of $11.5 million. The remaining amount of around $3.6 million was for residential building permits.
Building permits for residential purposes were actually higher in 2021 compared to the previous year. The value of building permits issued for residential activity in 2020 was about $2.8 million.
Most of the residential building permits issued during 2021 were for smaller projects associated with renovations.
"We did have six new residential units constructed, but the far majority was a lot of renovations, whether it be garages and decks and interior renovations," he said. "I think people have had more time and some maybe had a little bit of disposable income that they weren't spending on other things, because of COVID."
The value of building permits issued for commercial and industrial development in 2021 was slightly down compared to the previous year. The total value of permits in this category changed from $11.7 million in 2020 to $11.5 million in 2021.
The nature of developments associated with these permits will vary from service stations and a healthcare related business activity to a liquor store and industrial workshops.
"Of course, we're very happy that the construction of the Canadian Mental Health Association building started and will be completed this year," he said. "On the industrial side we've seen some new shops being built. Some of them got permits, so we won't see the construction until this year, but that will be a positive start to the building season."
Some of the notable commercial building permits issued during 2021 included the Petro-Canada gas bar and retail units at the corner of Memorial Drive and North Service Road East, as well as the new Pioneer Co-op gas bar and car wash and associated liquor store at the corner of Memorial and Springs Drive.
"I think that's a real good catalyst for that whole Springs Drive area behind the casino and Home Inn & Suites," Salberg said. "There's been more and more interest in that commercial land around there. As we all know, activity breeds activity and when you drive more traffic into an area there's more interest in more commercial development. So we certainly hope to see that area welcome some new businesses this year as well."
The Springs Valley area, which stretches from Memorial Drive to Battleford Trail East, is the main area available for commercial development in the city.
"The area is zoned highway commercial," he said. "So it can accommodate anything from retail to service to hospitality. There is a fair amount of land there, and I think we'll see some more development on it. That's the primary commercial area that will be developed in Swift Current over the next number of years."
A variety of industrial lots are available for development in South Munro industrial park, located in the city's south side adjacent to Highway No. 4.
"We've had interest over the last while, but like other places throughout the province, there just hasn't been anybody really pulling the trigger on buying the industrial lots and developing," he said. "There has been obviously some development in privately owned industrial properties in the city, but we've seen more and more interest here off late. So we look forward to seeing the start of development in that South Munro industrial park. It's got great visibility, it's serviced, and once you get a few new businesses there, that kind of spurs further development. So we're going to work really hard in trying to get some development there."
There is about 35 acres of land available for development in South Munro industrial park that vary from one to five-acre parcels.
"We can accommodate most businesses that might want to locate there and if need be, we can certainly subdivide or consolidate lots to meet whatever demand there is," he said.
There is also a good supply of land available in the city for residential development. There are several residential lots in the Saskatchewan Valley subdivision, which is a residential area just north of the Cypress Regional Hospital. Lots are still available in the Cypress Point residential community next to the Elmwood golf course.
There is also the prospect of a new housing area that offers affordable homes to families on the site of the former St. Joseph school on the city's south side. The City of Swift Current concluded an agreement in 2021 with a developer interested in creating 24 lots that will accommodate 20 single-family homes and four four-plex units.
"It has been delayed," Salberg noted. "They're still trying to get all the engineering figured and how they can tie all the servicing into the existing mains, particularly the deep services. There had been no building permits issued for that property, as it has nothing build. So that has no impact on the building permit numbers for 2021. We do look forward to continue to work with this individual and hoping that all the engineering can get finalized and get the subdivision and ultimately the servicing in this spring or early summer."
He added that the City is looking forward to future development activity on the available residential, commercial and industrial land on offer.
"We're ready for investment, we're ready for folks to move to Swift Current or businesses to move to Swift Current," he said. "We just hope the economy gets a little more settled and wish for a little bit normalcy in 2022, but I'm certainly optimistic for a strong 2022. I do know we'll see some more industrial shops that will be getting build and I anticipate some more development around that new Co-op gas bar and development there."