Swift Current Fire Department saw return to regular call volume in 2021
Posted on 27 January 2022 by Matthew Liebenberg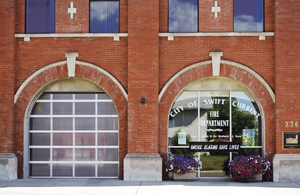 Calls for service to the Swift Current Fire Department were back to regular levels in 2021 after fewer calls were received in the previous year due to the COVID-19 pandemic.
There was a total of 677 calls in 2021 compared to 565 calls in 2020. Deputy Fire Chief Pete L'Heureux said the call volume in 2021 was similar to a typical year.
"It tells me that we are back to a similar response as a typical year," he mentioned. "We've been hovering around give or take 700 calls, a little above, a little below, and so that puts us back pretty normal with what we were expecting to see as a community."
There were 708 calls in 2019 and 672 calls in 2018. The number of calls in 2021 was an indication that activities in the community were picking up after the uncertainty of the initial year of the pandemic.
"A lot of the year in 2020 was spent under COVID isolation protocols," he said. "People were very worried to be out of their homes, a lot of people not going out at all unless they absolutely had to leave their house for groceries and things like that. So we had a quieter community and that means people weren't out, there weren't car accidents, there weren't slip and falls, there weren't different things like that."
He added there were even fewer medical calls in 2020 due to a hesitancy by people to go to the hospital in those initial months of the pandemic.
"So I think we're back up to some statistical normal or some middle ground where we would expect to see a lot of these calls," he said. "There's obviously some fluctuations in any of those statistics. When you look at fires or car accidents or rescues, things like that, some of them are a probability or chance thing that does or doesn't happen during a year. Some years we have lots of hazardous materials calls and some years we have very few calls. It's just by chance."
There were 360 calls for medical assistance in 2021 compared to 270 in 2020. Calls in this category represent about 50 per cent of the Swift Current Fire Department's regular call volume in a typical year.
"We're responding on conjunction with Hutch Ambulance," he said. "We're there to provide extra sets of hands to the citizens of Swift Current. We're trained and we are looking to make a difference and part of that is being able to assist those people when they need help."
There were 103 fire calls in 2021, which were slightly more than the 99 calls in this category during 2020. Calls under this category will vary from structure fires to grass fires and garbage fires, or an incident such as a burning pot on a stove. Firefighters react to all these calls with the same urgency.
"Pot on the stove is a great example, if you had given that fire a few more minutes," he said. "Often times it burns up on the cupboards or onto the wall and starts the wall or kitchen cupboards on fire, and then pretty soon you've got a kitchen fire as opposed to a pot on the stove."
This call category includes false alarms, which also requires a rapid response to verify the real cause of those ringing alarms in a building.
"For us, when the fire alarm goes off in a building, we don't know whether it's a real fire or whether it's a false alarm," he said.
False alarms can be a significant portion of fire calls, as much as 40 to 50 per cent. It might be due to an electrical or wiring problem or a computer issue that triggered an alarm.
"Often times, when we get power outages and the power comes back on, some of the older alarms have a habit of sending in an alarm transmission," L'Heureux explained. "Some of those get repaired. We work with owners and making repairs to those systems."
There were 61 calls in relation to motor vehicle collisions in 2021, compared to 49 in 2020. A significant portion of these calls were related to poor road conditions during severe weather events, such as a blizzard in early 2021. The changing road conditions later in the year with the transition to colder weather also resulted in quite a few fender benders in the city.
There were 39 calls in the hazardous conditions category during 2021 compared to 19 in 2020. Calls can be related to gas leaks, concern over carbon monoxide in a building, spills of chemicals, or small gasoline or oil leaks.
There were six rescue calls in 2021 compared to four in the previous year. These calls can vary a lot from year to year, and it might involve high angle rescue from various structures, a water rescue, or assisting to rescue someone from a confined space.
The fire department dealt with three fire pit complaints during the year. There was a total of 105 other calls in 2021 compared to 124 in 2020. This is a general category for calls that do not fit into any of the other categories and do not warrant a separate classification.
The data for annual call volume do not reflect many of the other daily activities at the fire department. Training is an essential part of the routine of firefighters and the hours dedicated to training are not captured in the data.
There are currently four administrative staff, 16 full-time firefighters and 20 auxiliary firefighters at the Swift Current Fire Department. This is the same number of staff than the previous year, but there were some retirements and other staff changes.
"On top of our normal month to month skills maintenance, with new staff and young staff that we've got over the last few years, comes training them up to the department standards and qualifications that we'd like them to meet," he said. "So lots of ongoing classes and courses, and I know that's been a huge struggle for us with instructors and courses and classes, not all of which are in the province of Saskatchewan. So having to go out of province for some of those classes and courses became harder with the COVID regulations. Some courses were online and then a practical in person."
Building inspections and education activities of the fire department are also not reflected in the data for annual call volume.
Inspections are important to identify code deficiencies and other safety issues that can lead to potential risks of fire, injuries or other hazardous situations. There were around 850 building inspections in 2021 compared to 823 in 2020 and 809 in 2019.
"Based on building licenses and building department input, we're receiving better information over the last four or five years," he said. "We're adding inspections to our database and when we're out and about seeing places we haven't been, recognizing those and adding them to our database."
The fire department is still carrying out fewer public education activities than before the pandemic. There have been virtual presentations in an effort to reach out to and connect with different groups, including schools.
"It's not the same as being in the same room as somebody and interacting in a personal way, but it was certainly better than not being able to engage with them at all," he said.