SaskPower adding more renewable energy to grid to reduce greenhouse gas emissions
Posted on 26 January 2022 by Matthew Liebenberg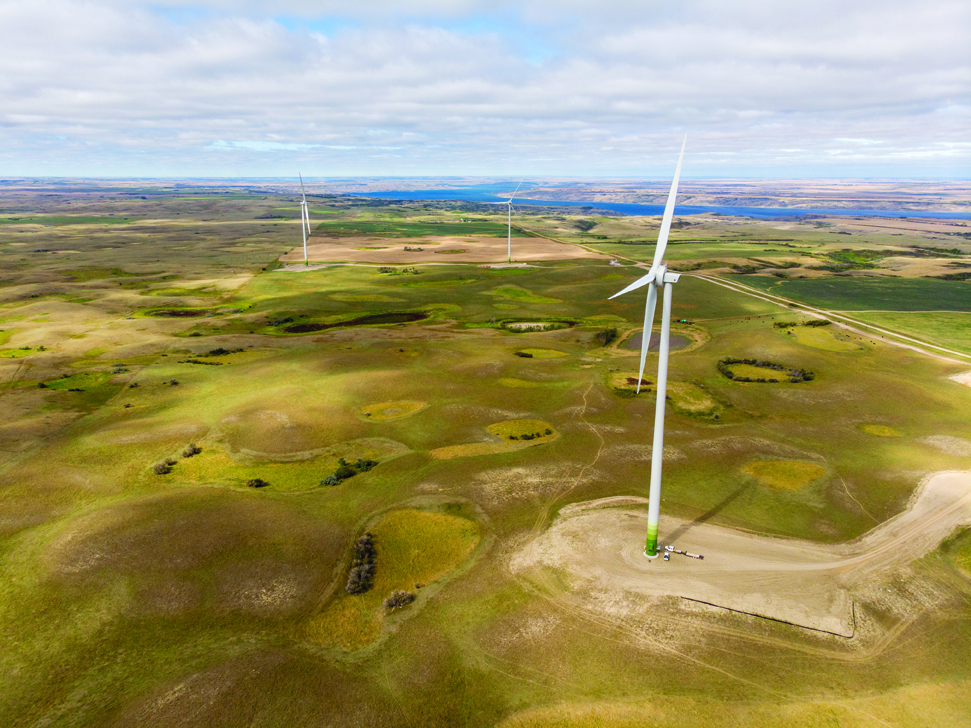 The new 10 MW Riverhurst wind farm is located southwest of the village of Riverhurst near the Lake Diefenbaker shoreline. Courtesy Sask Power
The successful commissioning of another wind farm northeast of Swift Current will help SaskPower to significantly increase the addition of renewable power to the energy grid during the current fiscal year.
The Crown corporation is expecting to add around 400 megawatts (MW) of renewable energy during the 2021/22 financial year, which concludes at the end of March.
The new 10 MW Riverhurst wind farm started commercial operation in December 2021. Toronto-based Capstone Infrastructure Corporation is responsible for the commissioning and future operation of the three wind turbines, which are located southwest of the village of Riverhurst near the Lake Diefenbaker shoreline.
The company has a 20-year power purchase agreement with SaskPower to provide emissions-free energy to the grid.
"We have a couple of other larger wind farms coming online in the not-too-distant future, but 10 MW is significant," SaskPower spokesperson Joel Cherry said. "We just recently commissioned our first utility scale solar facility, which is also 10 MW, and there's a couple of other 10 MW facilities coming online in the near future. So it provides some generation in the Riverhurst area and it provides power for roughly 5,000 Saskatchewan homes."
The contribution and distribution of energy from different facilities to the grid is a complicated matter, but Riverhurst area residents can certainly assume some of the power use in their homes will be coming from those large wind turbines.
"The electrical grid is almost like a swimming pool and all these different facilities, whether a gas plant or wind farm, are all putting electrons into it," he explained. "It's difficult to say exactly where the electricity generated in one location is going to be consumed, but as a general rule of thumb, if you're transmitting power over longer distances there's some loss and most of the power generated in a local area is going to be consumed relatively nearby."
There are several other renewable energy facilities in operation in southwest Saskatchewan as well as SaskPower's newest natural gas facility, the Chinook power station, which opened in 2019,
"A lot of our wind generation is in the southwest and our first big solar facility is there, because it is the sunniest part of the province and the windiest," he said. "The Chinook plant is also there. So there are lots of things going on in the Swift Current area from SaskPower's perspective."
The first utility-scale solar facility in the province is located south of Swift Current in the R.M. of Coulee. The 10 MW Highfield solar facility began operation in October 2021. It generates renewable power for about 2,500 homes.
"We didn't have any utility scale solar available at all until Highfield came online last year," he noted. "The solar we were getting was through a power generation partner program and net metering, so small customers generating power. So we are starting to add utility-scale solar."
Two other projects in the province will each be adding 10 MW of solar power to the grid in the near future. Both are done in partnership with First Nation communities. The Pesâkâstêw solar project is located near Weyburn and the Awasis solar project is near Regina.
"Those are both owned by First Nations, and they were brought to us through our partnership with the First Nations Power Authority," he said. "They are both well under way and should be commissioned within the next couple of months."
Two large wind projects are still on schedule to be commissioned before the end of SaskPower's current fiscal year. The 200 MW Golden South wind farm is located south of Assiniboia and will power up to 100,000 homes. The Blue Hill wind project near Herbert will add 175 MW to the grid, which will provide power to about 70,000 homes.
"Certainly, to be adding all of this renewable energy at the same time is historic for us," Cherry noted. "We haven't done that before."
According to SaskPower projections the generating capacity of solar power in the province will increase from less than one per cent in 2020-21 to two per cent by 2025-26. The contribution of wind power to the grid will increase from five per cent in 2020-21 to 15 per cent in 2025-26.
This means that wind power will be the fourth largest contributor to the energy grid in Saskatchewan by 2025-26. The other larger sources of energy will be gas (40 per cent), coal (21 per cent) and hydro power (20 per cent).
Cherry explained the reason for the more significant future contribution of wind power to the energy grid compared to solar power.
"Generally, wind is more economical, it's not as expensive as solar, and it's also a little more reliable, because solar power is only really accessible during the day," he said. "During the winter obviously in Saskatchewan we have very short days, but they do complement each other. So on extremely cold days in the winter sometimes don't have much wind, but the sun might be shining or vice versa you get days it could by cloudy and windy. We see them as complementing each other. There is more of an investment in wind, but both are going to be important parts of our mix."
The use of more renewable power will require a different approach towards planning energy supply to the grid. SaskPower has therefore started with construction of its first utility-scale battery energy storage system in northeast Regina, which is expected to be completed in late 2022.
"Wind and solar are intermittent generation options and as we're increasing our renewables, it's going to be important to be able to store some of that power," he said. "The other advantage of a battery storage system is it can help to keep it charged for when we have unexpected surges in use during peak times."
This system will make it possible to respond to a surge in energy demand for short periods, for example over the dinner hour in Regina.
"It will help us to be flexible and adjust to that," he said. "It's going to be able to power up to 20,000 homes for one hour. We're looking at it as an opportunity to get some experience operating and maintaining battery energy storage systems and its something we're going to continue to look at in the years to come. So certainly, that's part of the broader picture of adding more renewables to our system."
Other energy sources such as natural gas will still be used to ensure sufficient base power supply to the grid at all times, for example the 360 MW Great Plains natural gas power station is currently under construction at Moose Jaw.
However, renewable energy sources are already helping to supply power during high demand periods, for example when very cold temperatures resulted in a new record for power use in Saskatchewan on Dec. 30, 2021.
"We had the highest peak load we've ever seen and at that point we were getting a pretty significant amount of wind power, something like 200 MW," he said. "It's true that sometimes, when it's extremely cold, wind turbines won't work. But it depends on the facility and the specifications and everything. … We can back stop wind with solar and they can complement each other, and they're all part of a broader mix. That's also why we still need to have natural gas for example, because we can get a steady supply of that whenever we need it. What it all points to is the importance of having a diverse mix of options to draw from in all situations."
The addition of renewable power will assist SaskPower to achieve its goals to operate the energy grid in the province in a more sustainable manner and achieve emission reduction targets.
"We're trying to reduce our overall greenhouse gas emissions at least 50 per cent below 2005 levels by 2030 and we're looking to achieve net zero emissions by 2050," he said. "In order to get there, we're going to increase the amount of renewables that we have on the grid. The 400 MW renewables that we're adding in the coming months alone will almost double the amount of non-hydro renewables that we have. So we're increasing the amount of renewables that we have and we're also looking at all the other low and zero carbon options available. We're looking at the potential for small modular nuclear reactors beyond 2030 and looking at hydro imports from other jurisdictions. So we're looking at it from a big picture perspective."