Community support makes Salvation Army Christmas campaign a success
Posted on 20 January 2022 by Matthew Liebenberg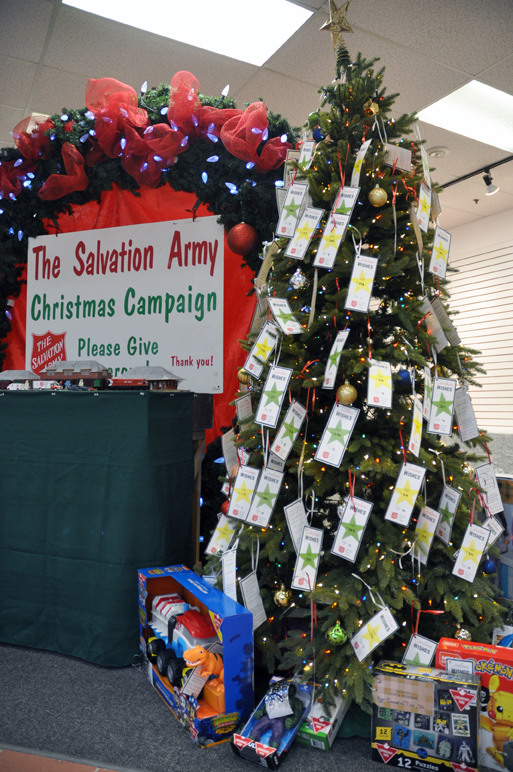 Tags with Christmas wishes from children hang on the wish tree in the Swift Current Salvation Army's Christmas Room inside the Swift Current Mall.
Generous community support helped the Salvation Army in Swift Current to have a successful Christmas campaign.
Swift Current Salvation Army corps officer Lieut. Renee Mailman appreciates the generosity of the community towards those in need.
"Overall, it went really well," she said. "All of our wishes on the wish tree were taken and filled. We were able to give multiple gifts to every child who applied. That's always wonderful. We had a number of wonderful volunteers doing our kettles as well as helping prepare, hand out and deliver our Christmas hampers. We just had a wonderful team."
Over 350 Christmas hampers were provided as a result of the campaign, which benefitted over 900 individuals in the community.
"Our Christmas hampers feed all the way from individuals to families of over eight people," she noted.
Community members helped to fulfil the Christmas wishes of many children. The campaign provided gift items to over 350 children and teens.
There was a wish tree at the Christmas Room inside the Swift Current Mall, and all those wish tags were taken and gift items were provided. Canadian Tire Swift Current held a successful Toys Days toy drive that collected around 500 toys, which made it possible to provide multiple gifts to children.
After a year's absence due to the COVID-19 pandemic, the Swift Current Broncos was able to again host the traditional Teddy Bear Toss Night at the Dec. 10 game. Hockey fans showed their generosity and over 800 bears, toques, and mitts were collected for the Salvation Army.
"We were so happy that was able to happen and to be a part of that," Lieut. Mailman said. "We received a large number of stuffed toys that we were able to give one to every child as well as hand out the hats and mitts as needed."
The mail-out appeal for the Christmas campaign was a success and raised close to $150,000. The Christmas kettle campaign raised just over $46,000. This was about $16,000 below the campaign goal for the kettles.
"We are always hoping that we will reach our goal, but we have also seen an increase in donations outside of the Christmas season," she said. "So we are thankful for that and we're hoping that will even everything out. But we also understand that this has been a really hard year for a lot of people. So we're grateful for anything that anyone has been able to donate."
Tiptap, a new touchless payment option, was introduced for the 2021 Christmas kettle campaign. It offered the ability to make a $5 donation through a simple tap of a debit or credit card or to make larger donations by tapping multiple times.
"We knew that it would be different, because people hadn't seen it here before," she said. "It was not quite as popular as we thought it would be, although there were times that we did use it and we did get a number of people who said it was great to be able to tap when they're not carrying cash. I think it's something we would try again, but we understand, it was brand new and a little bit unusual."
A notable aspect of the Christmas campaign was the many donations made by a variety of organizations and businesses in the community. A multitude of donation presentation photos were posted on the Salvation Army Facebook page during the Christmas season.
"There were lots of different organizations, lots of individuals, families who were just wanting to give back to our community," she said. "We're always grateful and of course always happy to take time to get a picture for all those who would like it."
Community members also provided a helping hand with the various tasks that must be carried out during the Christmas campaign.
"We were able to fill all of our kettle shifts as well as we had enough people to do all of the packing and the delivering," she said. "So we were able to meet all of our volunteer needs."
Hutterite colonies in southwest Saskatchewan have for many years been strong supporters of the Swift Current food bank, and it was again the case during the 2021 Christmas campaign.
"They donate a large number of the vegetables that we hand out for our Christmas hampers and then throughout the year are regular donators as well," she noted.
The Salvation Army has experienced an increase in need at the food bank in Swift Current and there have been more appointments with requests for food support.
"Right now, we are actually fairly well stocked," she said about the food bank situation. "We saw a large number of food donations near the end of the year and so right now we are very well stocked, but with the need, that does go quickly."
The annual Christmas campaign is the most important fundraising event for the Salvation Army in Swift Current and it helps the organization to provide services and support during the year.
"The money is used for us to continue to run the services that we have and our biggest one right now is the food bank," she said. "So it allows us to be able to continue to provide those who are struggling with food insecurity, which we have seen an increase in appointments. It allows us to be able to meet that need the best way we can throughout the whole year."
The Christmas campaign will give greater prominence to the work of the Salvation Army in the community, but their work continues the entire year and donations at other times will also be gratefully accepted.
Lieut. Mailman emphasized the Salvation Army's appreciation for the support provided to their work with her final remarks.
"A big thank you to this community," she said. "They are so generous and we just appreciate so much all the support that we receive."