Swift Current florist starts new year on a high note at Rose Parade
Posted on 11 January 2022 by Matthew Liebenberg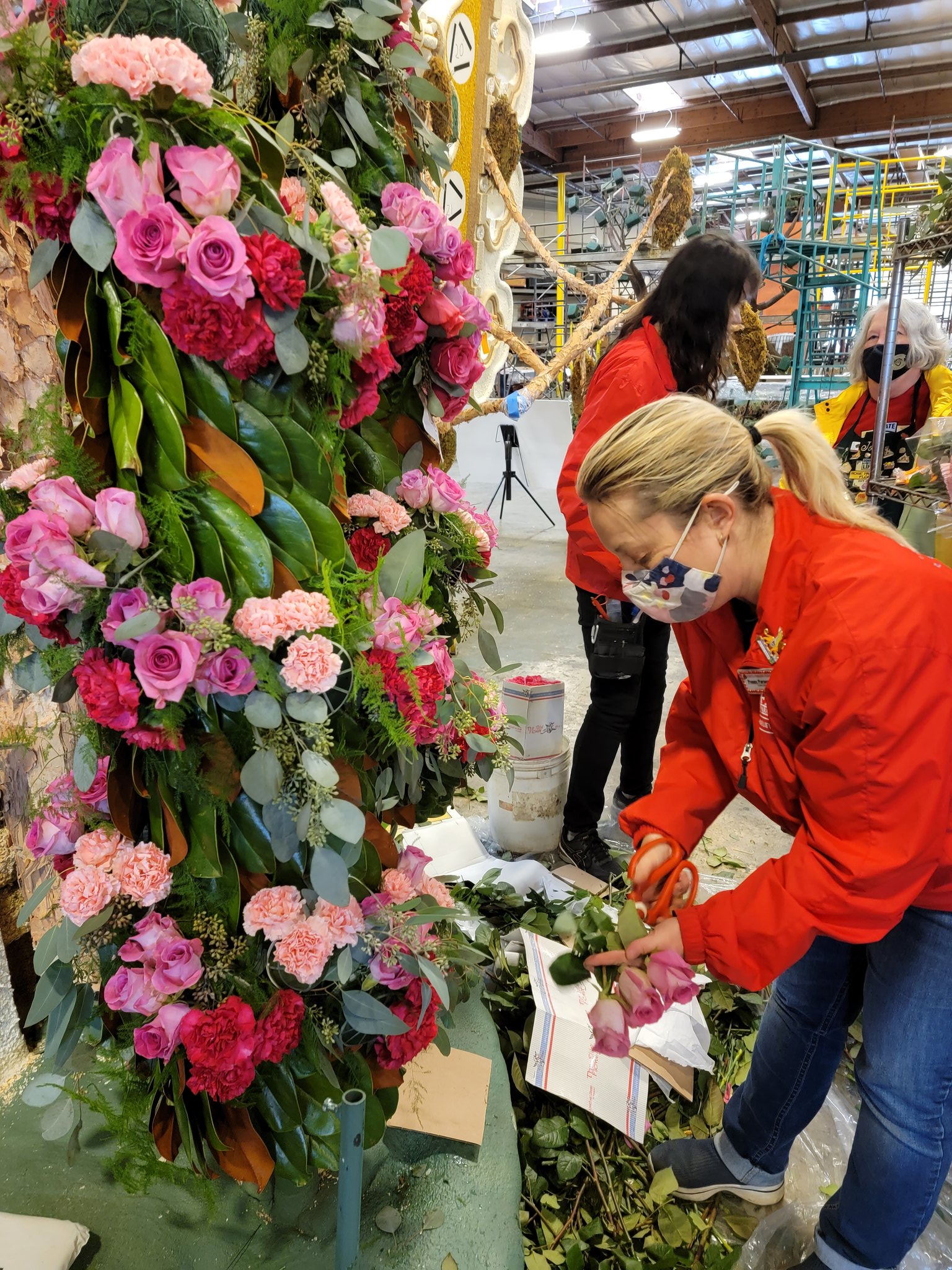 Swift Current florist Poppy Parsons decorates the Courage to Hope float of Donate Life for the 2022 Rose Parade.
Swift Current florist Poppy Parsons started the new year with a memorable experience as a floral float decorator at the 2022 Rose Parade in Pasadena, California.
This was her third time at the famous event and she was glad to return after last year's Rose Parade did not take place due to COVID-19.
"It's just amazing to get back with my floral family," she said. "We haven't seen each other in a couple of years and we haven't had opportunity to do other work together. So it was nice to see them again. We come from all over and just to gather and to be together and create something lovely is amazing."
This was the 133rd anniversary of the Rose Parade and 43 floats made their way along the 5.5-mile (8.85 km) route on New Year's Day.
She was a member of the floral design team for Fiesta Parade Floats, which is the most awarded float builder at the Rose Parade. The company entered six floats for the 2022 parade and won several trophies, included the coveted Sweepstakes Trophy.
"This year was just a little bit different, like everything is with COVID," she said. "Our company owner chose to only do six floats this year. He turned away multiple companies, just to keep everyone safe. He wanted less floats and less people inside the floral warehouse. Less floats mean less florists, less volunteers, and so a really small group of florists, about half or maybe even less than half the designers there this year. So truly an honour to be invited to this smaller really elite group, and to be asked to come down was truly a blessing."
Parsons was the only Canadian team member of Fiesta Parade Floats and as far as she is aware she was the only Canadian florist attending this Rose Parade. The invitation to be part of the team came as a pleasant surprise.
"I didn't think that I would be asked, because I'm travelling from so far," she said. "You know, they might keep it more of a local group closer to the Pacific northwest and California and that area, but they actually created a list of florists they wanted to have."
Her name was on that list and she happily accepted the invitation, which required her to be fully vaccinated against COVID-19.
"They created some nice teams that could draw off each other's experience and different design set styles to create the best floats possible, plus we all had to be vaccinated," she said. "Everybody in the warehouse needed to be vaccinated and so if there were people that were not vaccinated, they were not invited. It kind of shortened the list a little bit there as well."
She was a member of the team responsible for decorating the Courage to Hope float of Donate Life, which is a national non-profit organization in support of organ, eye and tissue donations in the United States.
"That's the same one I did two years ago and it's just extra special, because of the message they are portraying," she said.
The experience of decorating this year's Donate Life float was even more memorable due to the opportunities she had to connect with volunteers with personal stories of organ donation.
"It's also volunteers that do the work, and we're working alongside them doing our large installations and you get to chat with people," she said. "They're either donors or they are recipients or they are families of donors that have passed away. It's really a heartwarming and emotional journey as we have opportunity to chat with them and learn their stories. So there's really an emotional connection and bond with some of them."
The 15 float riders and five walkers who accompanied the Donate Life float along the parade route on New Year's Day are organ, eye and tissue recipients or living donors.
"This year we had a donor recipient walking the entire parade route of over five miles, and she's a heart transplant recipient," Parsons noted. "She received the gift of life of a heart and she walked that entire parade route to show how much she loves that and that's part of the theme, Courage to Hope. It gave her the courage and it gave her life and she wants to show how much she appreciates it, and you can do it, you can dream it. She's a fabulous woman and it was a pleasure to meet her."
The design of the 2022 Donate Life float had an Italian theme featuring Venice. A key feature of the design was the recreation of the winged Lion of Venice, based on a bronze sculpture located on the Piazza San Marco or St. Mark's Square in the city of Venice. The float design also included several gondolas, a well-known feature of Venetian city life and travel on the city canals.
Masses of flowers were used to decorate the float. The decorating team worked four days on the float ahead of the judging on Dec. 31. The Donate Life float won the Extraordinaire Trophy for most extraordinary float.
"It's one of the higher categories to win," she said. "The goal of many of the large floats is to win the Sweepstakes award, but this is kind of next in line to that, for sure. It's a huge accomplishment and a fabulous win."
Parsons said it was a hectic and busy time to decorate the float and it required meticulous attention to detail. For example, she personally used 600 roses, 400 carnations and 200 orchids and other flowers to decorate just a very small section of the float.
"My very first day was 14 hours, and that was the shortest day I had," she said. "We are very tired, but it's very satisfying. … It is physically demanding and then it depends where on the float we're decorating. I crawled in and out and off and on the float numerous times, over and through the gondolas, and then up on the top of the float base many times. It's challenging and you have to start to be even more flexible as more floral gets placed on the float. There's only a couple of spots you can have access to as we start to fill the float more."
She is a professional florist with Certified Floral Designer accreditation. She is also an accredited member of both the Canadian Academy of Floral Art and the American Institute of Floral Designers.
She got her first opportunity to be a floral decorate at the Rose Parade in 2018 as a result of her active involvement with the American Institute of Floral Designers. She will eagerly return again if she receives another invitation to be a floral decorator at the Rose Parade.
"It's so rewarding," she said. "I feel proud to be part of it and rewarding to finish it and to see it come to full fruition is something that I would not want to miss. … I love sharing the joy of flowers. It was a remarkable and amazing experience. I'm happy to represent Saskatchewan when I go."