Swift Current's CMHA gets generous partner in W.W. Smith
Posted on 10 January 2022 by Ryan Dahlman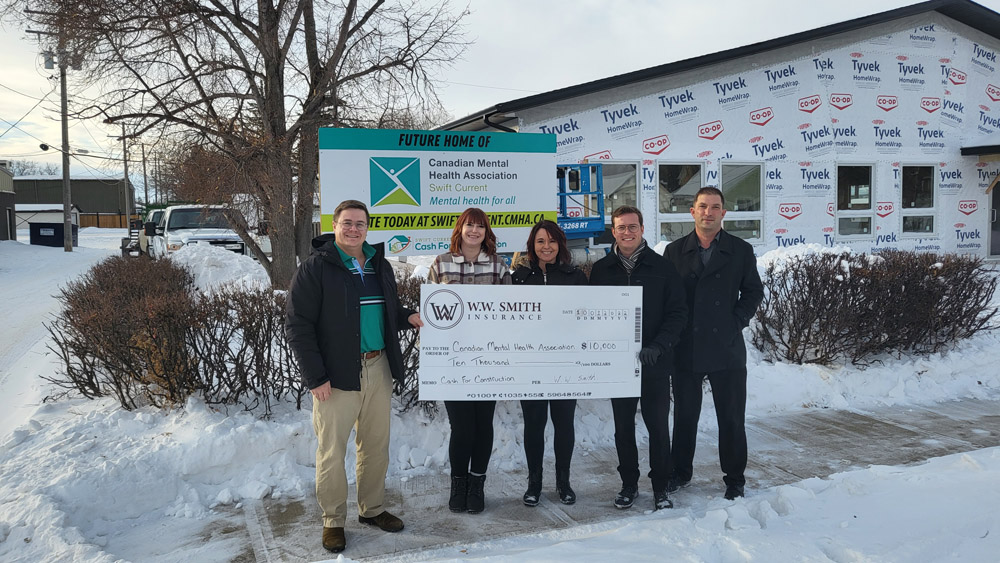 Listed from left to right in the photo are Todd Vallee, Shelby Harrington, Mellissa Fitzpatrick, Chad Parenteau, and Paul Hegglin.
Canadian Mental Health Association Swift Current Executive Director, Todd Vallee, would like to announce that W.W. Smith Insurance has partnered with the Canadian MentalHealth Association. W.W. Smith Insurance has generously donated $10,000 towards our new facility and will be recognized as a CMHA Advocate within the walls of our new home upon completion of construction.
Businesses and individuals wishing to contribute to the project will be recognized on our donor recognition wall, at the $500 + level (Friends of the CMHA). Other levels of recognition include the $5,000 + level (CMHA Supporters), $10,000 + level (CMHAAdvocates), and $25,000 + level (CMHA Benefactors Circle)
For further information about partnership opportunities, or the new building, Vallee may be contacted at directorsc@sasktel.net or 306-778-2440.