Successful fossil hunting season for RSM palaeontologist in 2021
Posted on 30 December 2021 by Matthew Liebenberg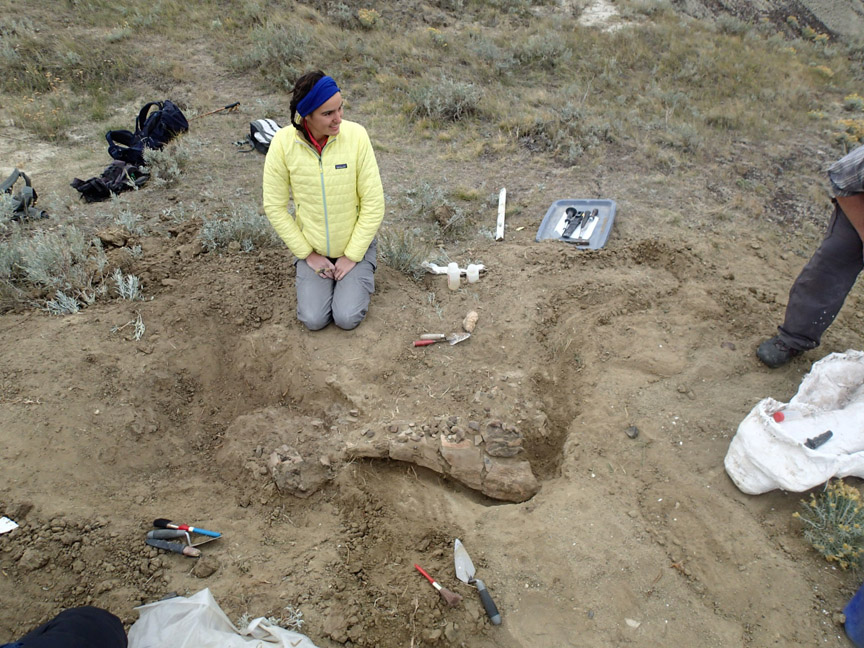 Two partial Triceratops fossils were unearthed in the East Block of Grasslands National Park. Photo submitted
The thrill of hunting for fossils never gets old for Royal Saskatchewan Museum (RSM) palaeontologist Dr. Emily Bamforth, who was glad to be back in the field during 2021.
Her fieldwork team visited a variety of sites during the summer and fall, and they did not return empty-handed to the T. rex Discovery Centre in Eastend, where she is based.
The most exciting fossil find during this year's fieldwork season happened in the fall, when the large skull of a Prognathodon, a prehistoric marine reptile, was unearthed in the West Block of Grasslands National Park (see full story in the Dec. 17 edition of the Prairie Post). But other interesting fossils were also uncovered during different trips.
"The Prognathodon was our big find from this year, but we also were able to get out to a few of the other sites that we've been working on," she said. "While we didn't find anything spectacular other than the Prognathodon, it was still a really good year to get out and to do some collecting."
The COVID-19 pandemic curtailed fieldwork activities in 2020, and it was therefore a welcome change to be able to return to a more regular fieldwork schedule in 2021.
However, the pandemic continued to influence field trips. Precautionary COVID-19 measures were in place to keep fieldworkers safe, for example wearing of masks were required when more than one person travelled in the same vehicle. In some instances, it meant wearing masks for two or three hours on longer trips.
"In most cases, we also tried to limit the number of people in vehicles to two," she noted. "That meant we had to take more vehicles out there, which of course is an accessibility issue, particularly if we're working on more sensitive land where we're trying to limit the number of vehicles we're taking in.
"We also were not able to have volunteers this year. We made it work, but it's always nice to have those extra set of hands."
Weather conditions added another challenge to the fieldwork planning, because the summer was very hot and dry.
"That limited how much fieldwork we could do, but also where we could go," she said. "Particularly if we were going somewhere where we had to drive on a farm track or a trail. We were really cognizant of the potential for fire and we weren't able to get into some of those sites that we normally would have gotten into, just because it was so dry out there."
Some of the fieldwork was therefore postponed to the fall, when weather conditions were more favourable.
"That's why we were out collecting in Grasslands where we found the Prognathodon in September," she mentioned. "That was partly because we had to push some of our fieldwork in those more sensitive areas into the fall, when the fire risk wasn't as high. But there were some sites we got to in the summer as well, like the ones that were a little easier to access."
The annual fieldwork season is planned to include known sites where fossils were previously found and totally new sites, which are locations with rock from geologic time periods that might contain prehistoric fossil material or sites where members of the public have found bones.
"So we have to strike the balance between going back to sites where we know there'll be fossils and checking out sites where we're not sure if there's going to be fossils or not, but there's a potential to find new material," she said.
One of the exciting fieldwork trips took the team to a site they had not visited before. The dinosaur bone bed is located near the town of Unity and fossils have not been collected there for about 30 years.
"For various reasons the museum wasn't able to get back out there, and then just last year the site kind of reopened again and we were able to get in there," she said. "So we spent some time up at that site this year. It's a pretty exciting sort of a dinosaur bone bed with horned dinosaurs and various other animals."
The age of the fossils found in this bone bed gives additional significance to the site, because they are from a different time period.
"Most of our dinosaurs are from the same age as Scotty the T. rex, so about 66 million years ago," she explained. "This bone is older by about 10 million years and we actually get a different suite of dinosaurs at the Unity site."
Bones found at the Unity site include Centrosaurus, a smaller horned dinosaur with different horns compared to the larger Triceratops, which was a horned dinosaur from the same period as Scotty. There are also bones from Gorgosaurus, a smaller and earlier relative of the T. rex, at the Unity site.
"So it's sort of the same kinds of dinosaurs, but different species when you look at the Eastend area versus Unity," she said.
Other fieldwork took place closer to Eastend in the badlands of the Frenchman River Valley. They returned to a site close to where Scotty was found.
"That's a site we always go to every summer, because it's close by and there's also a lot of material that we find there," she said.
A Triceratops skull was collected there in 1996, but no bones from the body. They were hoping to find some evidence of this horned dinosaur's body.
"We dug a big hole," she said. "Unfortunately, we didn't find anything, but that is often the way it goes in palaeontology."
They also went to another site in the Frenchman River Valley about 40 kilometres southwest of Eastend to look for more bones from a little-known T. rex skeleton. Ginny the T. rex was found in 2004 on a site located only about 1.5 kilometres from where Scotty was discovered in 1991.
"From Ginny we have the lower jaw and some bits of the upper part of the skull too," she said. "When we were out there this summer, we also collected some ribs from that animal as well. So that was pretty exciting. … We think we've got most of what's there now. We also dug the hill down and back a little more to see if we could find any more material, and it doesn't look like there is."
Another trip took the team to a large bone bed of prehistoric marine reptiles near the hamlet of Herschel in the Rosetown area.
"We did some digging and we actually got a lot of fossils out there, probably close to 50 bones of marine reptiles, which is good, considering we were only there for two or three days," she said. "It was pretty exciting. That site is still producing fossils. So that's always a good sign."
Most of these bones are from a short-necked Plesiosaur. They also found bits and pieces of a long-necked Plesiosaur, a tooth from a Mosasaur (a large marine reptile), as well as shark teeth and some fish bones.
There were field trips to both the East and West Block of Grasslands National Park. They collected two partial Triceratops fossils in the East Block.
"One was really big and one was kind of a teenager Triceratops," she said. "The younger animals are always a little rarer than the adults and this one is particularly important, because a lot of its skeleton is there. Normally with Triceratops you tend to find the skulls, which are the big bulky parts that have the thickest bone. You either find the skull or the body, you don't often find them together. This little one from Grasslands has both parts of the skulls and parts of the body."
They also found a small fossil turtle during this same field trip to the East Block, which lived about 66 million years ago during the same period as the T. rex. The turtle's shell is about 20 centimetres in diameter.
"It has the top of the shell and the bottom shell as well, but we haven't prepared it yet," she noted. "So we're not sure if there are any bones inside the shell, which will be really exciting. That's pretty rare. It was actually butted up close to one of the Triceratops bones. We think it maybe died and washed into a river, and then got stuck against the bone."
The purpose of an initial trip to the West Block of Grasslands National Park was to visit the Prognathodon fossil site, but rain made the road to that area impassable. The team therefore decided to investigate an area near the 70 Mile Butte trail, where a student found parts of a smaller Mosasaur that belongs to a group called Plioplatycarpids. It is a marine reptile that lived about 74 million years ago.
"These are probably the smallest Mosasaurs that were swimming around that time," she said. "It was not in a place that we had ever found Mosasaur material before. It was pretty exciting to find it. We found three vertebrae and part of one of the paddle bones. So enough to tell us that there was something there, but for this site we didn't have an excavation permit. We weren't able to dig into the ground too much, but we made a note of it. We GPS'd the site and hopefully we'll get back out there to poke around a little more to see if there's any more there."
Fossils from the same species might be found during annual field trips, but it still remains important and these discoveries will assist palaeontologists to gain a better understanding of the species and a prehistoric time period.
"Basically every fossil we find is significant, because it tells us something about the geologic history of Saskatchewan," Dr. Bamforth said.
They already have lots of skeletons from more common prehistoric species such as the horned dinosaur Triceratops and Brontothere, a large extinct mammal. This makes it possible to gain a better understanding of aspects such as their community structure, how they grew, sexual dimorphism, and the nature of pathologies that occurred in species.
"Even if a species is common, we can still continue to learn about that species," she said. "And it's probably good to keep in mind that we call them common, but dinosaurs are rare in the fossil record in general. The chance of being fossilized is less than one in a million. So every specimen we find is significant and the more individuals we have from one species, the more we can tell about the species in general as opposed to making generalizations based on one individual."
There is still a lot of work ahead after the fieldwork season. Fossils have to be sorted, catalogued, and studied.
"All of the material has to be prepared and it has to be catalogued into our cataloguing system," she said. "Every specimen gets its own number. … So we have to prepare and catalogue, which also includes identifying the specimens, and then they go into the collections and we do research on them or they get put on display. There's a whole lot that goes on between the collection and what people see in the museum."