Precautionary Drinking Water Advisory issued for properties located in Northwest Area of Swift Current
Posted on 14 December 2021 by Ryan Dahlman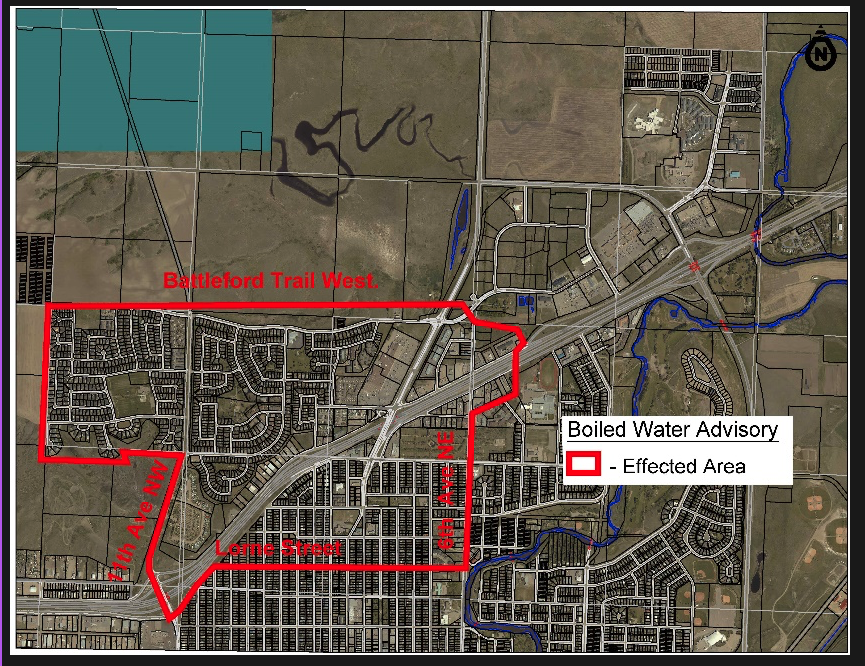 Contributed
The City of Swift Current wishes to advise property owners and residents that the Water Security Agency has issued a Precautionary Drinking Water Advisory (PDWA) for properties located in the Northwest area of Swift Current, effective immediately. This comes as the result of a water line strike by a private contractor that caused depressurization. Please read the Water Security Agency's PDWA Information Poster for more details.
The impacted areas are the Highland and Trail Subdivisions and areas located north of Lorne Street Northeast and west of 6th Avenue Northeast.Please consult the map below for impacted areas.
Generally, PDWAs remain in place for 48 – 72 hours, excluding weekends and holidays. As soon as the PDWA is lifted, the City of Swift Current will notify citizens through all available media channels.
Due to the high number of impacted properties, notices WILL NOT be placed on front doors.
The PDWA was put in place as a result of depressurization of the water distribution system. The PDWA will be lifted by the Water Security Agency following the pressurization of the system and the receipt of two consecutive sets of negative samples from the City.
Water Testing Process
Following water system restoration, water samples are taken and sent to the Provincial Lab for Water Quality Testing. There is an incubation period for water samples sent to the Provincial Lab prior to testing. Once testing is completed by the Provincial Lab, the results are returned to the City. When the water is deemed safe, the PDWA is lifted.
The City would like to remind residents that this is a precautionary advisory, and not an indication of unsafe/contaminated water. The following information outlines what you need to know about PDWAs as a resident.
Precautionary Drinking Water Advisories are precautionary measures taken when damage/depressurization occurs to a water supply system and repairs are required. During water supply repairs there is a risk of soil or other contaminants entering the water supply.
PDWAs apply to water that may be ingested through activities such as:
• Drinking
• Brushing teeth
• Soaking dentures
• Washing fruits and vegetables
• Washing dishes by hand (Use hot water cycle on dishwasher)
• Preparing ice cubes
• Swallowing water while bathing/showering
What to do following a Public Drinking Water Advisory
Once the PDWA is lifted, it is important to let each tap in your home run — one at a time — for about 20 seconds, allowing trapped air in your home's water lines to release. Should the water appear cloudy or discoloured, continue to let it run until it appears clear. This may take longer in the case of hot water.