Pioneer Co-op makes food donation of $4,000 to Salvation Army
Posted on 10 December 2021 by Ryan Dahlman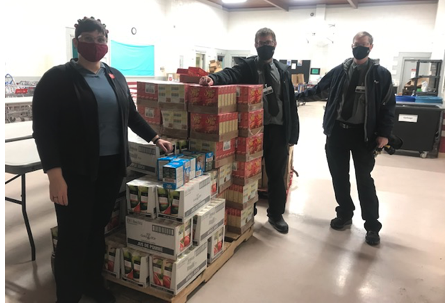 James Spur and Chris Wiebe from the Pioneer Co-op Wheatland Mall Food Store unloading $4000.00 worth of food and presenting it to the Salvation Army Food Bank.
There were smiles all around this week when Pioneer Co-op donated $4,000.00 worth of food to the Salvation Army Food Bank in Swift Current. The groceries will be used to fill food hampers for those less fortunate this Christmas season.
"We are pleased to be able to make this donation because we know the need is great, especially at this time of year," says Larry Kozun, Pioneer Co-op CEO. 'Strong values have always been part of how Pioneer Co-op operates and we are built on a foundation of community involvement and service. We care about and support the causes that matter to our members and we know everyone wants all families to have the best possible Christmas this year."
Kozun went on to thank the Salvation Army for always being there to provide assistance to those in need. "If you are able to help them out with a donation or some volunteer time, it would be much appreciated," he added.