Museum exhibition offers insight into complicated process of modern food production
Posted on 9 December 2021 by Matthew Liebenberg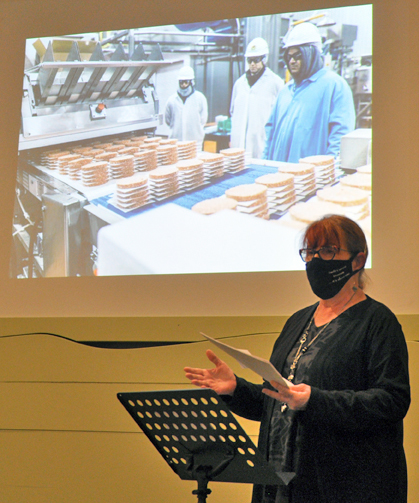 Stephanie Kaduck makes a presentation about the current exhibition at the Swift Current Museum, Nov. 24.
The convenience of a 21st century consumer society means it is easy to purchase food in a grocery store without giving much thought to how it came there.
The Swift Current Museum's current exhibition, To Market: Farm to Table, provides a glimpse into that process.
Stephanie Kaduck, the museum's education and public programs coordinator, carried out the research for this exhibition and also spoke to producers.
"We all eat three meals a day plus snacks, and most people don't even think about the work that it takes or the processes that have to take place in order for that food to appear in the grocery store," she said.
The information in the exhibition is displayed in different sections, each highlighting an aspect of the overall theme.
The historical section features information and images about the development of agriculture in Saskatchewan and early farming techniques.
There are references to issues that are still of great relevance to farmers, such as the 1930's drought and the development of government supported initiatives to promote more sustainable agricultural practices, such as the Prairie Farm Rehabilitation Administration and the research station at Swift Current.
There is a section about First Nations agriculture that refers to their knowledge of the land and the natural vegetation that they harvested for various purposes. There is reference to the success of First Nations farmers in the late 19th century, which resulted in the creation of federal government's Peasant Farm Policy to place limits on Indigenous agriculture on the prairies.
"I've never heard of the Peasant Farm Policy," she said. "That just absolutely floored me, that Indigenous farmers were doing really well and not being able to sell their product just to ruin their farming potential."
Kaduck contacted several producers in the Swift Current area and elsewhere in the province to collect information about current agriculture processes. The information in this section of the exhibition highlights the extent of the work carried out to produce food.
"I needed to speak directly to producers and get them to write down their process," she mentioned. "I just said write down all the steps that you have to go through, because I didn't even know some of the details of what they have to do."
The remaining part of the exhibition provides details about what happens to food after it leaves the farm. It includes information about the processing of foods and how produce gets to the grocery story.
"I wanted to find the right language to get people thinking about their food, because right now we're in a bit of a food crisis," she said. "The price of food is through the roof and people are inherently wasteful, buying food and throwing it out, because they don't get around to eating it. So when you think about exactly what it takes to give you a ham and cheese sandwich, then maybe it gets you thinking about if it took that many people that much work and costs this much, maybe I better be a little bit more careful about my food choices and using the food effectively."
The information about different meal options for breakfast, lunch, supper, dessert, and snacks provides a breakdown of the different steps to create an item before it is enjoyed by a consumer.
"We have the availability of food that most of the world doesn't have, and we get a little grumpy because the broccoli looks a little soft and how could that have happened," she said. "That's the whole from farm to table issue. If the truck is slowed down or if the cooling isn't adequate at any stage of the processing and transportation, then your broccoli is not going to be perfect, but we expect food that's been shipped from around the world to be flawless."
The exhibition highlights the long distances and the complex details of the whole process to bring food to consumers. For example, most bananas consumed in Canada are produced in Latin and South America. They spend time in "forced-ripening" centres before ending on the grocery store shelves.
"The bananas are grown, they're harvested, then they go on container ships that have to be cold, and then they go to a cooling centre," she said. "They go to a ripening place before they get shipped to stores. So they are not harvested ripe."
An entire section of the exhibition provides details about food additives, varying from emulsifiers to artificial flavours and so-called natural flavours. It includes information about what to watch for, such as trans fats and high fructose corn syrup.
"One of the things that blew me away was natural flavour," she said. "They are natural, because in order to be a natural flavour, it has to come from something that lived, but it doesn't have to be anywhere related to the product that you think you're getting."
Kaduck hoped this exhibition will provide visitors with some food for thought about the choices they make as consumers.
"I hope that they will become more thoughtful consumers, that they'll pay attention to their purchases, maybe make a meal plan so that there isn't any waste, and be more aware of things that the labels are telling you," she said.
The exhibition To Market: Farm to Table continues until Dec. 31. Admission to the Swift Current Museum is free. The museum is open Monday to Friday from 9 a.m. to 5 p.m., and on Saturdays from 1-5 p.m.