Businesses comes through with amazing donation for Swift Current's Legion
Posted on 9 December 2021 by Ryan Dahlman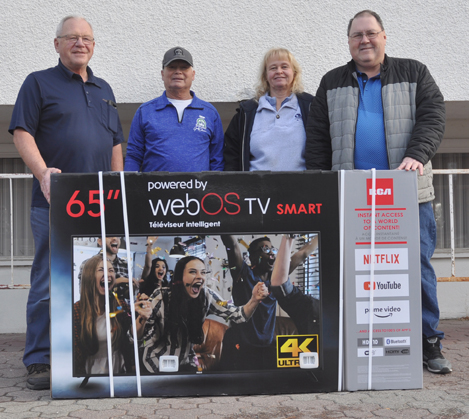 The presentation of the large 65 inch television took place at the Legion Hall, Nov. 27. From left to right, Rodger Ruf, Bill Lee, Shirley Friesen, and Shawn Pratt.
Watching the Saskatchewan Roughriders and other sports events on television in the lounge at the Royal Canadian Legion Branch No. 56 in Swift Current will become more enjoyable after the donation of a large 65 inch television by Bill Lee of Lee's Tree Care.
Shawn Pratt from Pratt Denture Clinic and Shirley Friesen donated a stand, which will make it easy to move the television around as needed. All three donors are Legion members who want to support the organization.
Lee said he hopes the large television will help to attract more patrons to the Legion. According to Swift Current Legion Vice President Rodger Ruf there are smaller televisions in the lounge and the new large screen will therefore make a real difference.