Initiative by Swift Current resident brings festive cheer to seniors
Posted on 8 December 2021 by Matthew Liebenberg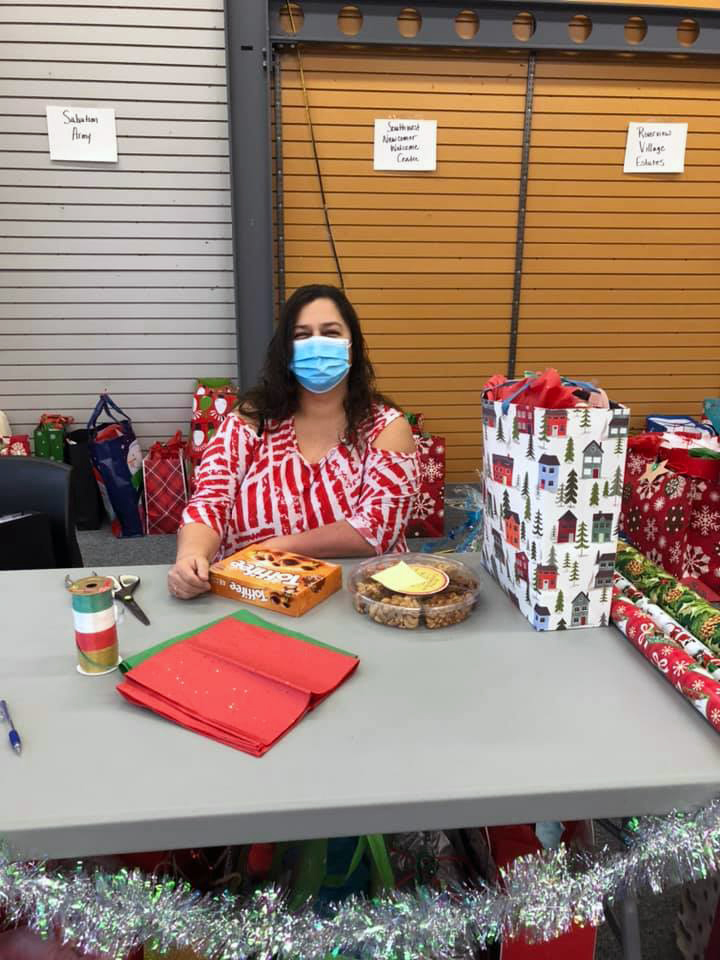 Kathy Jennings, who started the Adopt a Senior for the Christmas Holidays program, pictured wrapping gift items inside the drop-off location for gift bags at the Swift Current Mall in December 2020.
An initiative by a Swift Current resident will again be bringing festive cheer to seniors in the area when they receive personalized gift bags this Christmas.
Kathy Jennings started the Adopt a Senior for the Christmas Holidays program for Swift Current and area in 2020 due to her concern about the impact the COVID-19 pandemic might have on seniors, because it made it more difficult for them to connect with family during the holiday period.
She therefore wanted to do something to create a connection between seniors and community members in a safe manner.
"I had found out that there were no other programs available because of COVID that has to do with the seniors," she mentioned. "So I said, we can't have that. We've got to do something for the seniors and make it safe for them as well."
She reached out to various organizations in the community, including the Salvation Army, retirement homes and independent living agencies. As a result, 566 seniors signed up last year for gift bags and this Christmas even more seniors are participating in the program, with 672 registered to receive gifts.
"Last year a lot of the seniors couldn't see their families in retirement homes or independent living, they just couldn't see anybody," she said. "That's why this program was put together, so that they had a little something special under the tree. COVID is still around with us and we just want to make sure that everybody is still enjoying their Christmas. … It's just more putting smiles on everybody's faces and giving back."
The format of the program remains the same for this year. She provides a checklist of questions to seniors who register with the program, on which they indicate details with regard to gift items on their wish list.
"It could be things like what colour and size of slippers and socks, do you need a sweater, the things that you need at your house, what kind of things do you like to do to keep yourself busy, like scrabble or puzzles or crosswords," she explained.
She then uses the Adopt a Senior for the Christmas Holidays Facebook page to reach out to and connect with people in the community to participate in the program. Each participant receives details about a senior and they can then do the shopping to fill a gift bag.
"They go shopping, they put the bag together, and they drop it off at our drop-off point," she explained. "And then from there we just make sure that everything is secured and everything is there that should be there, we wrap a gift or two in the bag, and then we arrange delivery the week of Christmas."
The format of the program means that seniors will receive personalized gifts based on their own wishes for what they want for Christmas.
"That's how I wanted it, and what I love is the families and the kids, how they make Christmas cards," she said. "Last year we had schools that participated and they wanted to make Christmas cards for all the seniors. It's kind of cool how it worked last year and the same this year."
She noted that those gift-buying participants vary from families to individuals and also businesses that want to contribute and provide gift bags to seniors.
"We have lots of families, because it's a great way for their kids to learn about giving back or making sure that you keep seniors in mind," she said. "We've had businesses that will say they'll take a senior or two and then put a bag together for them. We have individuals, we have schools, some teachers."
She saw the generosity of participants last year when they started to return the gift bags, and she realized some filled it with even more items than required.
"You're given six to 10 suggestions on the list, because it was $50 and up, whatever was comfortable for them," she explained. "Many families, instead of just buying one or two or three, they would buy everything or at least a good 90 per cent of those items. It was amazing how many families or individuals or businesses went above and beyond to make sure that this senior got a really good Christmas."
The drop-off location for gift bags is located inside the Swift Current Mall, which provides the space free of charge. Other businesses also assist in various ways. MNP provided volunteers on several weekdays in the two weeks preceding the final drop-off date of Dec. 12 to be present at the drop-off location.
The Haunted Town of Lil Sur Mur, a Halloween theme park south of Swift Current started by Andy Keys and Rene Panasiuk, recently donated $1,885 from a quilt raffle to the Adopt a Senior program. Canadian Tire in Swift Current then made a commitment to match this amount for gift items bought at the store for this program.
Winmar will again be using a fogging machine to disinfect gift bags before delivery. The delivery of the gifts in the week before Christmas will be done by Jay's Removals and Storage as well as AM Delivery and Courier Services.
As was the case last year, Jennings also used the Facebook page this year to ask for volunteers to assist with the wrapping of gifts. Safety precautions and protocols are also followed during this process. Volunteers have to be masked and fully immunized against COVID-19. She anticipated this year's gift-wrapping activities will be as much fun as last year.
"We had volunteers who didn't know each other," she said. "So they got a chance to just make friends and talk, or some who hadn't seen each other in a while and were catching up while they were wrapping."
Gift bags will not be handled for several days before delivery as an additional precautionary measure against COVID-19. Only a limited number of volunteers will assist with delivery, who will be wearing masks and gloves.
Jennings received positive messages of thanks from seniors after last year's Christmas delivery of gifts. She was especially touched by a telephone call from a 100-year-old woman, who wanted to say thank you to the program and the family who provided her gift bag.
For Jennings the response to her initiative has been really heartwarming and she appreciates the support from everyone who participated last year and also this Christmas.
"It's all about community," she said. "The community really steps up and it's just amazing how everybody helped volunteer and all the people in the community that gave those gift bags. It's just amazing when people pull together."
More information about the program is available on the Facebook page Adopt a Senior for the Christmas Holidays Swift Current & Area.