Interactive gaming console helps to improve well-being of long-term care residents
Posted on 2 December 2021 by Matthew Liebenberg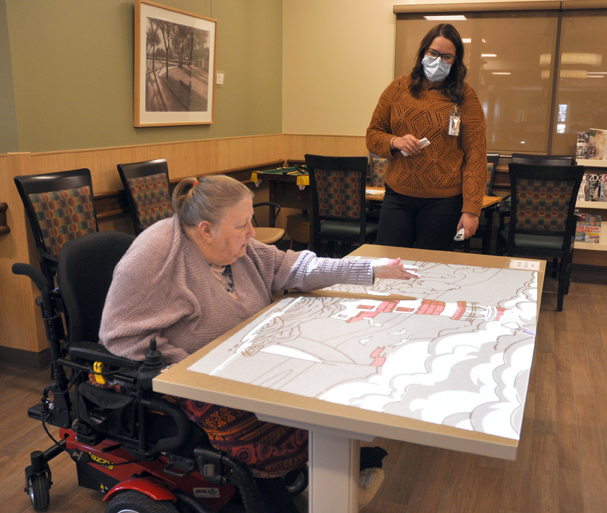 The Meadows resident and Auxiliary member Sharon Sletten demonstrates the Obie interactive gaming console while recreation therapist Sara Stukings looks on.
The use of an interactive gaming console at The Meadows in Swift Current is helping to improve the physical and social well-being of long-term care residents.
This technologically advanced projection device, known as Obie, is installed to a ceiling in the facility. It can then project a variety of interactive games onto a light-coloured surface, which can be a table top, floor or wall.
"There are lots of different options, so that it can be adapted for different residents," recreation therapist Sara Stukings said. "If a resident is unable to use their hands, we can put it on the floor and they can utilize their feet to play the games. It's meant to be adapted for residents to ensure that they're able to partake and enjoy the game, and hopefully increase quality of life at the same time."
She has already seen various benefits for residents since the installation of Obie took place about three months ago.
"We've had a very positive response from residents," she said. "We've had a few family members bring them here and we have a number of residents that like to get together in small groups to play as well or even just one-on-one with our recreation therapy staff. It allows those residents that don't get as much engagement or are unable to engage in the other programming within the facility an opportunity to be engaged cognitively, physically and social-emotional."
Obie is therefore a useful device for the recreation therapy program at The Meadows, which aims to increase the quality of life of residents.
"We've seen residents who don't normally have a large range of motion increase that by reaching over the table, their cognition matching, that kind of stuff," she said. "We've seen a lot of them have been able to work through that as a team or by themselves with a little bit of assistance by staff or independently. The interactive game console hits all of those main areas or domains that we focus on."
According to Stukings the recreation therapy program at The Meadows wanted to purchase an interactive game console for several years, but the cost of such a device put it out of reach.
"We're always looking for different resources and interventions that we can use with residents to increase quality of life," she said. "We had seen another facility within Saskatchewan had gotten the Obie and that prices had gone down. … So when we saw that the pricing was more reasonable, we reached out to The Meadows Auxiliary, asking if it was something they'll be willing to fund for us and help us with. They graciously said yes, and we've been very thankful for that."
Sharon Sletten is a resident at The Meadows and also an Auxiliary member. She supported the purchase of Obie, because she felt it will be a real benefit for residents.
"I love it, and that's why I wanted it for the residents," she said. "It's really great for motion, great for eye-hand coordination, to get the brain moving maybe in a different way than they would if they were just sitting and not engaging in things."
She appreciates the opportunity to be a voice for residents through her involvement with The Meadows Auxiliary.
"As a resident I'm very grateful that they have brought me in on The Meadows Auxiliary, because my focus is to think of all residents, not just me, and to think of those that are not able to do as much due to circumstances," she said. "I want residents to have a good quality of life, because I have a great quality of life being in long-term care. I've been in since 2011. I've always been independent, hopefully that last. I'm very grateful that they have kept me on as a resident perspective."
A variety of games are available for use on Obie, rated for helpfulness to increase cognition, movement and social interaction. Each game experience can be tailored to the needs and abilities of participants, which includes options to set the difficulty level and to control sound effects.
There are 25 games available on the Obie system at The Meadows, and additional games can be purchased through subscription. Stukings referred to several games that have already become popular among residents.
"The balloon popping game really focuses on cognition, that range of motion or fine and gross motor skills, and has residents having to pop a certain number of each colour of balloon, which are always moving on the screen as well," she said. "We have the matching game, where residents need to remember where certain cards are when they flip to match them. There's the piano game, where they can play the piano or follow the tune, and the painting one that allows residents to paint a picture with the movement of their hands."
The format of some games makes it easy for residents to interact socially and to play together as a group.
"We have a number of residents that like to do the balloon popping game together or the matching," she said. "Lots of them like to come and create a puzzle together, just how they used to in their past leisure lifestyle. Lots of them would spend time sitting around the table doing a puzzle with their loved ones or their friends. This is just an opportunity to allow them to engage in that past leisure lifestyle again."
There is still a lot of potential to expand the use of Obie among residents, for example through the involvement of family members. The intention is to have training sessions for family members to show them how to operate the interactive game console. This will allow residents to enjoy a game with visiting family members during evenings or over weekends.
Eunice Morck, the president of The Meadows Auxiliary, said the funding request for Obie was certainly an unusual one.
"It's a very unique thing and it does what a lot of other resources that we buy just can't do," she mentioned. "We did a lot of research about the success it had for other places, and the recreation therapist had done a lot of research as well. We didn't take it on lightly, but we're impressed with what it's able to do."
The Meadows Auxiliary came into existence in November 2017, when its first meeting took place.
"Our role is to support the leisure and quality of life needs of the residents," she said. "They get a budget for certain recreation things, but the budget would never cover extra things that certain residents need to succeed in interactions."
The Auxiliary also accepts donations in support of palliative care at Clover House, which is the hospice house at The Meadows.
She noted that 2021 has been a particularly busy year for The Meadows Auxiliary. It already approved 16 different funding requests for various items and projects, including Obie. Funding was provided to projects such as the purchase of five folding card tables and support for a companion animal project at one of the homes at The Meadows.
Other projects supported an art program for residents, the purchase of four flower pots and eight large plant pots for patios, 10 pairs of free weights, a wheeled filing cabinet and supplies for the Colouring Club, three portable DVD players with carrying cases and an assortment of DVDs, five clamping desk lamps for use on puzzle tables, and the purchase of six core games for each of the 22 houses.
"We feel what we've been asked for this year are really valid asks, and it's pretty hard to say no in order to just keep the money in our account," she said. "You're not to accumulate funds as a registered charity, and the funds that we have are for residents or for their benefit. So we have been supporting what staff have been asking for, because they're valid asks."
The Meadows Auxiliary had a solid financial start with funds that still remained from the former Prairie Pioneers Lodge Auxiliary.
Financial contributions to The Meadows Auxiliary are often memorial donations made by family members of former long-term care residents who received care at The Meadows. For more information about the Auxiliary and to make a donation, call 306-773-7537 or 306-773-6935.