Reopening of Dorie's House already making a difference for youth
Posted on 1 December 2021 by Matthew Liebenberg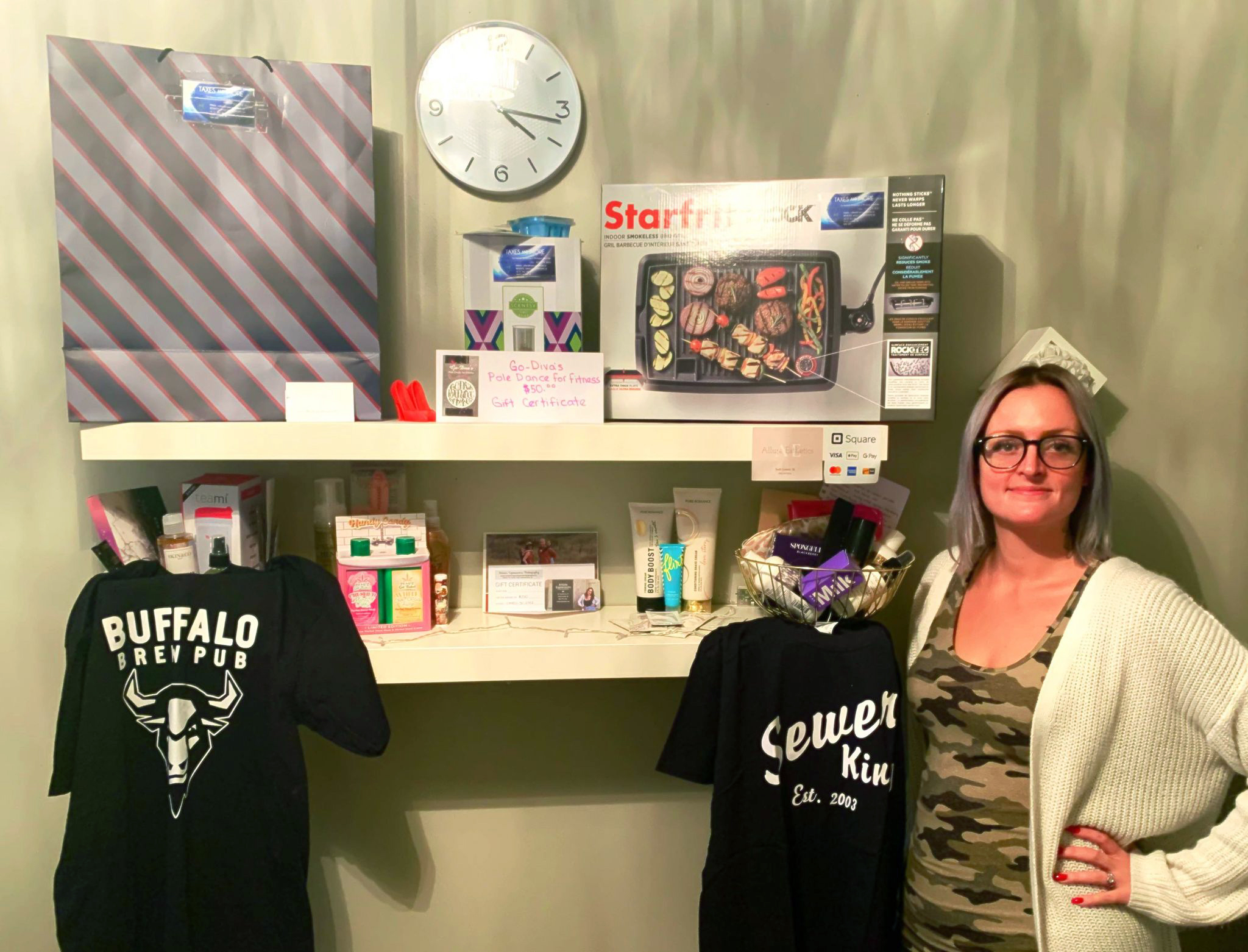 Swift Current business owner Kaitlin Fehr with some of the prizes donated by local businesses for her annual holiday giveaway, which this year will benefit the Dorie's House Treatment Centre.
Dorie's House immediately started to make a difference in the lives of youth when it reopened for residential support services this fall.
The reopening of the facility as the Dorie's House Treatment Centre is a result of an agreement between the Southwest Youth Emergency Shelter (SWYES) and the Saskatchewan Health Authority (SHA).
Outpatient services at the facility started earlier this year, while inpatient addictions treatment and emergency housing support started this fall.
SWYES hosted an open house on Sept. 23 to thank the community and to give people an opportunity to tour the facility before the start of residential support.
According to SWYES Board President Shaun Hanna the facility's reopening after the open house happened faster than scheduled.
"We were actually scheduled to be open officially to clients the following day on Sept. 23, but we ended up opening at five o'clock on the 22nd, because we had an emergency shelter stay that was required," he recalled. "So it's great that the resource is now there."
Since then, the two emergency shelter spaces have been in regular use. Dorie's House also offers six inpatient treatment spaces for youth from across the province who struggle with substance misuse and four to six outpatient spaces for individuals from Swift Current and area.
"It's an indication that what we've been saying all along is indeed correct," he mentioned. "There is a need that was previously underserved in this area of the province and now we have SHA, who has really oriented themselves to doing upstreaming services, to do preventative care in the province, and they've just done a fantastic job of targeting that."
SHA Mental Health and Addictions South West Director Michael Seiferling is also pleased with the use of the service provided by the Dorie's House Treatment Centre since it reopened.
"We've not had a day in operations where we haven't had an active client in the program," he said. "So that speaks a lot. … What's really important to note is the immediate gap that the service has filled, which is why we had some participants right off the bat. One of the most rewarding things of my career is to be able to have a situation where we're connecting a client with a service that wasn't there three weeks before, and wouldn't have been there if not for the effort and the partnership of both the SHA and Dorie's House."
Dorie's House reopened in the midst of the fourth wave of the COVID-19 pandemic in Saskatchewan, which he felt might have influenced the initial use of the treatment service provided by the facility. He was therefore expecting the use of the service will increase even more going forward.
"We know that a residential treatment model for youth is not going to be utilized as strongly as it has been in the past in pre-COVID times," he said. "We would like to see more referrals come into the centre, and I think once we get over this fourth wave hump then we'll really start to get back to a point of normality."
Hanna felt the transition for Dorie's House from what was originally planned to be an emergency shelter to being a treatment centre for youth was not as difficult as he initially anticipated. There was already a focus on healthcare and mental healthcare in the project since its inception and 25 per cent of referrals during the initial pilot project for Dorie's House came from SHA.
"We had wonderful boards in the past that were really able to focus on the policies and procedures and how to run that recreational and residential support service," he said. "So the biggest question was what additional things do we need to supply our youth workers with so that the treatment portion would be housed effectively and efficiently, And the SHA just has been fantastic to work with. They have a transition team that works very closely with clients and they have a project lead that had been really responsive to figuring out the nuts and bolts."
Seiferling said the treatment centre makes it possible to provide a quick access path to a more therapeutic home life environment for youth struggling with substance abuse or at a higher risk of substance abuse. The availability of emergency shelter beds is another benefit that can help at-risk youth with the transition to the treatment program.
"It's really that continuity of care from ER presentation to inpatient to emergency shelter to treatment that we now have the ability to offer families in the southwest in a way that we've never been able to do before," he said.
An added benefit is that Dorie's House is a custom-built facility that was already suitable for use as a treatment centre, which required only minor adjustments to the use of interior space.
"What we saw in the facility was the ability to do both the inpatient and the outpatient program, because the design of the building works really well," he said. "There's the upstairs that's primarily for the residential and then the downstairs that have more group and teaching areas where you could run some large programming within that area. The other thing that was unique about our program design is it's truly a partnership with Dorie's House. So we actually have an SHA staff that works in the building and we have a nursing support that's attached to the treatment centre."
This integrated staffing model is not typical of partnering with a community organization. Another unique aspect of the cooperation between SHA and SWYES is the use of an integrated health record. This includes an arrangement that allows the treatment centre to have access to some data from the mental health information system.
"Our SHA staff work collaboratively with Dorie's House, and Dorie's House is actually functioning within the provincial mental health record," Seiferling said. "There are appropriate security separations. We actually have a data-sharing agreement with Dorie's House, which defines clearly which pieces of information are shared between the records and which are not. It has opened up in an unprecedented way the fact that a community-based partner running a treatment centre is actually using the same information system as the SHA to deliver care."
The construction of Dorie's House was the result of strong community support, which resulted in the community-funded construction of the facility. According to Hanna there has been ongoing interest and support in the community for the facility since the announcement earlier this year of the agreement with SHA and its role as a treatment centre.
"People seem to be very welcoming and open and supportive of the project, and that has just made the whole process a lot easier for all of us," he said.
This interest has resulted in enquiries from people about how they can support the operation of the Dorie's House Treatment Centre.
"We're fielding questions from people wanting to donate supplies all the time," he said. "And the answer is yes, we will happily take donations of any kind, whether it's non-perishable food items, clean and in good condition clothing, recreational stuff, financial contributions. We're really surprised and very grateful."
The contract with SHA will provide SWYES with funding for the provision of residential care at the treatment centre, but Hanna said their intention is to continue with additional fundraising.
"We're able to run effectively and cover our labour cost, that's always been the highest thing," he said. "But there's lots of things that we look to our program for ways that we can expand that may go beyond the services of our contract, which will actually be value adding and helpful to the program and helpful to the community. … The other reason why we want to continue to be involved in those fundraising efforts is just so people continue to be aware of what we're doing and how we're making a real impact."
Swift Current resident Kaitlin Fehr, the owner of local business Allure Esthetics, selected Dorie's House for her annual holiday giveaway.
"I selected them this year, because they just reopened and there's no better time than around the holidays to give them a slew of things as gifts, and I also chose them because we definitely need a centre like that in town," she said.
She started this fundraising initiative last year with the intention to select a different non-profit organization each year as the beneficiary. Last year's inaugural holiday giveaway raised over $1,600 for The Center, which offers various services and support programs to youth.
"I honestly enjoy doing things like this and helping out our community in a way that is feasible for me to do with my busy schedule," she said. "And I like to pick charities that are kind of pertinent to my family and my life."
As a former Social Services employee, she appreciates the importance of a facility such as Dorie's House to provide support to youth dealing with substance misuse.
"So I know there's a bunch of kids in the community that do need this kind of help," she said.
She has received a variety of prizes donated by local businesses for the giveaway. Members of the public can win these prizes by donating items for Dorie's House.
Fehr is accepting donated items until Dec. 23, and she is looking forward to dropping of all these items at Dorie's House.
"It's fun to see businesses support not-for-profits, it's fun to have people win stuff, and the best is when I drop off whatever I'm dropping off on the 24th, because I'll feel like Santa," she said.
A wish list of items for Dorie's House is available on the Facebook and Instagram accounts for Fehr and for Allure Nail Salon & Boutique https://www.bestprosintown.com/sk/swift-current/allure-nail-salon-and-boutique-/. Giveaway participants will gain one entry for a prize for each wish list item donated. Contact Allure Esthetics at 306-750-0042 to arrange for pickup of donated items for Dorie's House.