Healthcare Foundation receives large bequest from Kraus estate
Posted on 1 December 2021 by Matthew Liebenberg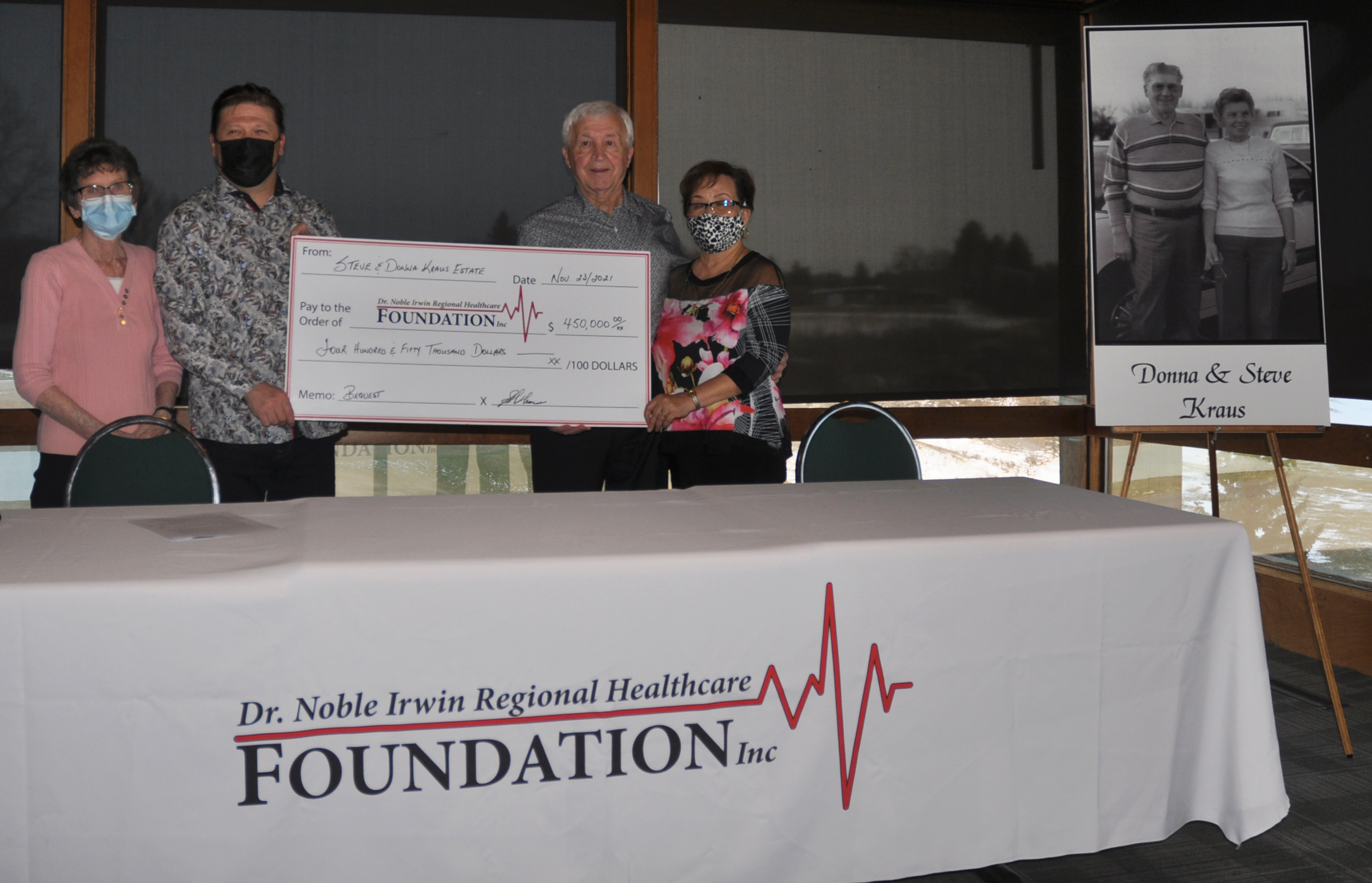 A cheque presentation for $450,000 from the Kraus estate took place during the Nov. 23 announcement. From left to right, Mary Hoffart (family friend and estate executor), Jim Dekowny (Dr. Noble Irwin Regional Healthcare Foundation executive director), and family representatives Sheldon and Elizabeth Kraus.
Funding in support of healthcare services in southwest Saskatchewan received a booster shot with a large donation to the Dr. Noble Irwin Regional Healthcare Foundation.
Foundation Executive Director Jim Dekowny announced a donation of $450,000 from the estate of Donna and Steve Kraus during a media event, Nov. 23.
He was joined for the announcement by Sheldon Kraus from Saskatoon, who represented the Kraus family.
"This bequest will push southwest Saskatchewan towards a higher level of healthcare excellence," Dekowny said. "We are inspired and truly grateful for this remarkable gift. It is very clear that Donna and Steve believed in the importance of having quality healthcare available to all residents of Saskatchewan. Their generous gift to the Foundation will enable current and future generations access to high quality healthcare equipment close to home."
He added that this bequest will magnify the Foundation's mission to disburse funds to improve the quality and availability of healthcare for all residents in southwest Saskatchewan.
"As we move forward with the bequest, we want to ensure that the funds go towards the areas of greatest needs in southwest Saskatchewan and ensure that the Kraus family is properly honoured for each campaign we support and they support," he said. "Currently we are working with our partners to determine which projects are most vital."
Dr. Noble Irwin Regional Healthcare Foundation is one of three non-profit organizations in Saskatchewan that each received an amount of $450,000 from the estate of Donna and Steve Kraus. The other two beneficiaries are the Jim Pattison Children's Hospital and Telemiracle.
"When we finally settle the estate, there will be a little more coming to each charity, because we have at least some funds there to get things accomplished," Sheldon Kraus said.
He shared some fond memories about the visits by his uncle and aunt with the family in Saskatchewan.
"While my uncle and aunt lived in Vancouver, they came out to Saskatchewan every couple of years to visit and they would stay with my parents," he recalled. "My dad was two years younger than uncle Steve and he was very close to the two of them, and they would tell stories and laugh for hours."
In return, Sheldon and other children in the family visited their uncle and aunt in later years when they were older.
"We always came to visit them when we got older and left home," he mentioned. "My parents said you must come and visit. So that was a routine we had to do, and uncle Steve and aunt Donna were very, very good to us. They were very nice to us, and I guess we must have been nice to them. So that worked out very well."
Donna and Steve both grew up in Saskatchewan. She was from Ernfold and he was from Wakaw. She went to Vancouver as a young woman to be with relatives and to find employment.
"She met Steve at a dance, and according to the people that I talked to about this, the two of them loved to dance," Dekowny said. "They soon married and spent their entire working lives in Vancouver. They owned a construction business and worked together, while Donna also worked in the food service industry."
They enjoyed travelling and for the last 20 years of their working lives they spent October to April in Yuma, Arizona. They moved back to Saskatchewan after their retirement to be closer to family. They both lived into their 90s. Steve passed away in January 2010 and Donna in June 2020.
Sheldon felt it was a great decision by his uncle and aunt to support healthcare in this manner through a bequest to the Healthcare Foundation.
"Uncle Steve and aunt Donna made a decision many years ago that they were going to give back to society and they didn't have a family," he said. "So they did make a bequest to a number, actually 23 people, and my aunt specified only those that are alive will receive it. So I think about 19 or 20 received a benefit and the rest was to go to charity and these specified three charities."
Dekowny told the Prairie Post after the announcement this was one of the largest bequests ever received by the Healthcare Foundation. It came as a pleasant surprise when he opened the letter from the estate lawyers with details about the bequest.
"This is amazing," he said. "When I opened that envelope up, I thought it was $45,000 and I'm like, that's neat, and then I thought there's a lot more zeroes here than that. So I was tickled pink. It was a great day, a great week for us, and it's just a blessing that we can do good things in the southwest with this money."