Fox Valley, Shaunavon and Vanguard does the southwest proud
Posted on 29 November 2021 by Prairie Post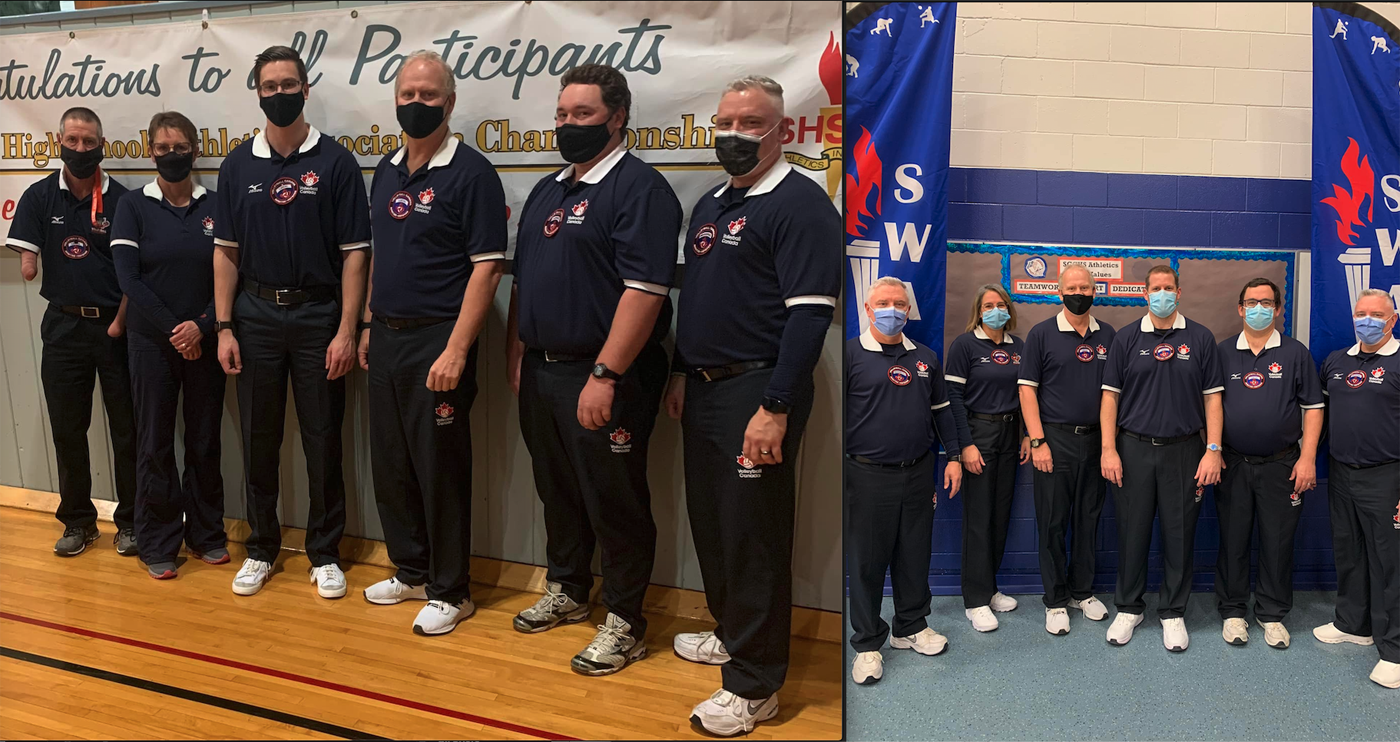 Officials for the girls' competition and the boys' competition worked hard over the weekend.
By Valerie Gordon
This past weekend signalled the official end for FALL sports for SWAC and the Saskatchewan High School Athletic Association.  The top 1A-4A boys volleyball teams battled for Provincial gold in gyms across the province. 
3A Shaunavon Shadows were back in Unity for the Provincial Championships. Their first pool game had them matched up with the #1 seed in the province Saskatoon Christian Academy. Shaunavon battled hard but came up on the losing end of a 21-25, 19-25 score. They rebounded with a win over Dalmeny (25-13, 25-16). The team finished Friday night with another tough match against Carnduff losing 20-25, 20-25. In the final pool game on Saturday, Shaunavon pulled out a win over Biggar (25-16, 26-24). After pool play, Shaunavon was third and crossed over to play Unity in the quarter finals. It wasn't in the cards for Shaunavon to win the rematch of the regional final. They lost 25-14, 25-17 and were eliminated from the tournament. The team of only six players definitely showed they can hold their own against 3A teams in the province.
Fox Valley was the host site for the 1A boys SHSAA Provincial Championship. Vanguard started the tournament with two wins (25-22, 25-14 over Lafleche, 25-21, 25-19 over Yellow Grass) and one loss Friday evening to Anaheim (21-25, 21-25). In the Saturday pool game, Vanguard lost to Rouleau (16-25, 5-25). That left the Valkyrs in a three way tie (2-2) for 2nd, 3rd, 4th in their pool. Once the tie break was applied, Vanguard was 4th and had to play the cross over quarter final against #1 in the other pool. It was a fantastic game, and Vanguard came so close to advancing, but lost 23-25, 24-26 to Muenster. It should be noted that this loss was against the team that eventually won the bronze medal. Vanguard had also lost to Anaheim (the team who won bronze). It's safe to say that Vanguard easily competed with the top teams in the province.
Host Fox Valley finished the first day of competition with a 3-0 record. They had wins over Ogema (25-17, 25-15), Beechy (25-10, 25-18), and Medstead (25-13, 25-10). Saturday was not so kind to the Legends. They lost the game to determine first place in their pool vs Muenster (25-13, 25-14). They took their 3-1 second place record into the quarter finals to play the #3 team Annaheim in the quarter finals. This was a tremendous match; the gym was loud, and the volleyball was "edge of your seat" exciting. Unfortunately, the home team Fox Valley legends was on the losing end in this match (25-22, 18-25, 11-15) and they were eliminated from further competition. Just like Vanguard, Fox Valley played strong matches against the eventual gold/bronze medalists and should be considered one of the most competitive teams in the province. Thanks to commissioner Pat Wilde and the school/community of Fox Valley for putting on an excellent Provincial event.
Special thanks to our SWAC volleyball officials who worked our two provincial events. We appreciate you taking time away from your jobs to support school sport. The same thanks should be extended to ALL our fall officials!! Without our officials being willing/able to officiate our league/tournament/playoff games, schools sport would cease to exist. SWAC is also thankful that, if our officials have a boss/supervisor in their normal lives, that person also sees the value in what you are doing for our student/athletes.
With fall sports complete, our attention will now turn to our WINTER activities (curling, basketball, wrestling). Junior and senior basketball leagues will be organized this week. School junior/senior curing intent will also be decided this week. SWAC is looking forward to seeing our students safely participate in our new slate of activities.