Swift Current elder blesses Métis Nation flag during special ceremony
Posted on 24 November 2021 by Matthew Liebenberg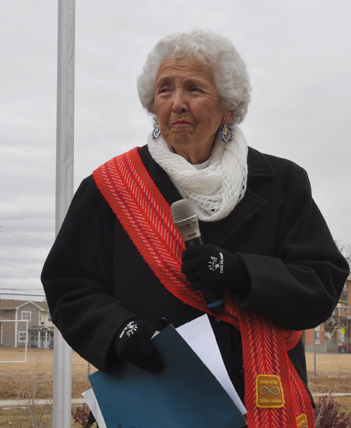 Swift Current Métis elder Cecile Blanke
Swift Current Métis elder Cecile Blanke hosted a special ceremony on Nov. 12 to bless the Métis Nation flag flying permanently in the city as a symbol of reconciliation.
The Métis Nation and Treaty 4 flags were previously raised as permanent new additions to the flag court along Central Avenue North during an event held in late September.
It was important for Blanke to have this blessing ceremony for the Métis Nation flag and to highlight the long history of the flag.
"It was not blessed when they put it up there, and whenever we have the flag for a celebration, it needs to be blessed," she said afterwards. "We need to say a Michif prayer, which I did, and that's like saying 'It's OK, it's up there.' It was before, but it's like us introducing it to the Creator so it can be approved."
She felt it is important to have the Métis Nation flag installed permanently in the city, because it is the oldest flag in Canada with a history that can be traced back to the voyageurs in eastern Canada in the 1700s.
"When I heard it was going to be put up, it was a really good feeling and I thought now people are going to know about our flag," she said. "We see it in the schools and our curriculum is being taught in the schools about Métis, but for years it wasn't. And so a lot of the people that are not in school, they don't know our history. They don't know about that flag. And that's why it was important for me to do this today."
She noted it was also significant to have the Treaty 4 flag flying permanently in the city at the flag court.
"The other flag means a lot too," she said. "I knew Gordon Oakes from Nekaneet, and he designed that flag. I knew him very well. He was a fantastic leader. So I go a long way with First Nation and Métis."
The blessing ceremony for the Métis Nation flag was made even more special, because the event took place on her 87th birthday and she has deep roots in southwest Saskatchewan.
"I belong here and my ancestors were here for so many years," she said. "This flag is so special for us to have and that's why we wanted to come here to bless it and to tell about it and to record the history. The City was glad that I was going to do it, because they said they need to know what that flag is all about."
Blanke is passionate about raising awareness of Métis history. She also made a presentation to students at Maverick School a few days before the blessing ceremony for the flag.
"I told our Métis history and that's the fourth time I've been to Maverick," she said. "It's different students every time and they always appreciate me coming to give the history. So I'm out there, even though I'm 87 today."
She noted during her presentation at the blessing ceremony that the Métis Nation flag's installation in the city has an important symbolic purpose.
"It is a reminder that Métis have been in this area for a long time," she said.
She traced the origins of the Métis Nation flag back to the voyageurs and the early fur trade. She mentioned that there are two variants of the flag. The infinity symbol is featured on both, but on one version it is against a blue background and on the other version it is against a red background.
"These two flags belong to the Métis," she said. "When we see the flag flying anywhere, it gives us a deep feeling and knowing it belongs to us."
She spoke about the historical presence of Métis in the Swift Current area and in southwest Saskatchewan.
"The Métis have lived here from the late 1800s until now, from Saskatchewan Landing, Swift Current city, and Lac Pelletier valley," she said. "For many years we were in hiding after Louis Riel lost the battle at Batoche in 1885. We were ashamed of who we were and we were discriminated against."
Blanke referred to the negotiations between Métis leaders and the federal government, which eventually resulted in the recognition of Métis as one of Canada's aboriginal people in the Constitution Act of 1982.
"Our culture is so unique," she said. "It's like two rivers together and flowing into the ocean with no separation."