Swift Current Curling Club wants city to become a curling destination
Posted on 24 November 2021 by Matthew Liebenberg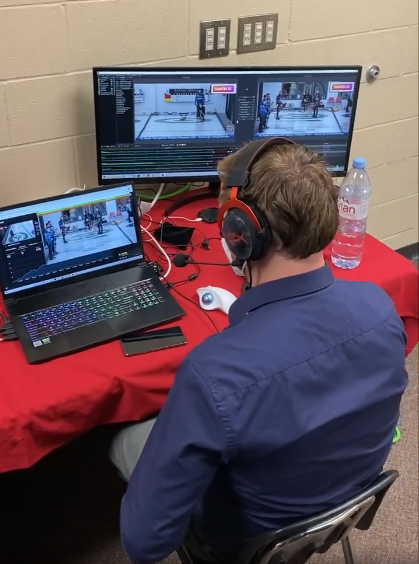 A video production technician monitors the Curling Stadium system during the IG Wealth Management Western Showdown hosted by the Swift Current Curling Club during the Thanksgiving weekend. Photo courtesy of Swift Current Curling Club
The Swift Current Curling Club wants the city to become a curling destination and a new online streaming platform can help to achieve that goal.
The club is a founding member facility for CurlingZone's new Curling Stadium, which is an online streaming platform that makes it possible for curling fans around the world to watch curlers in action during tournaments in Swift Current.
The SaskTel Curling Stadium system made its debut in Swift Current when the curling club hosted the IG Wealth Management Western Showdown during the Thanksgiving weekend, which featured some of the world's top men's curling teams.
The high-definition cameras of the Curling Stadium system will again be livestreaming curling action from Swift Current when the Saskatchewan Curling Tour's (SCT) third mixed doubles event of the season takes place at the Innovation Credit Union iPlex, Nov. 26-28.
Swift Current Curling Club General Manager Chris Haichert said the club is building on the legacy of hosting the World Women's Curling Championship in 2010 and 2016.
"Curling and the citizens in our community definitely rally around events like that and sure show up to support it," he noted. "So our goal with this system and our curling club is to not just make this another curling club in Saskatchewan, but make this the perennial curling club or the marquee curling club in Saskatchewan where high-performance teams can curl. We have world class ice and a world class facility, and this camera system with Curling Stadium that we've installed is just another perk that we're able to offer curlers and curling teams across the world who want to come to our facility to train, practice and compete."
The partnership with CurlingZone resulted in the installation of over $50,000 of high-definition video equipment with cameras on the ice sheets at the Swift Current curling facility.
"We installed 24 of them throughout our entire facility, including cameras at the ends of the sheets and cameras over the top of the houses," he said. "With these cameras we're able to livestream worldwide every single game, every single rock thrown at our facility all season long."
The club received positive feedback about the system from teams that competed at the IG Wealth Management Western Showdown, because their fans were able to watch the livestreamed games from anywhere.
"It's a great production that we have," he said. "You can go to the Swift Current Curling Club website and there's a 'watch live now' button right on the home page. That takes you directly to the club's YouTube channel, and on there you can watch any live game that's going on. You can pick what sheet you want to watch and the other nice thing about it is that all games are going to be archived on the Swift Current Curling Club YouTube channel. So if there's a great shot you made, you can go back at any time and continue to rewatch and celebrate the big shot."
The benefits of the Curling Stadium system were already evident during its debut in Swift Current. There were over 315,000 views with over 5.2 million minutes of curling watched during the four days of the IG Wealth Management Western Showdown.
"It's an excellent deal for the club, and now we're able to really drive home for our sponsors some more advertising, because they're now going to be seen worldwide by online viewers all season long," he said. "There's a big audience for this worldwide. It's an excellent way for us to showcase the Swift Current Curling Club and our city and businesses in our city that have partnered with us."
The Curling Stadium system is still a new concept and worldwide it has so far only been installed at six facilities. Swift Current is one of only two locations in Saskatchewan with such a system. The other installation was done at the Martensville Curling Club.
"The Swift Current Curling Club has these installed all season long and we're going to have them next season as well," he said. "And we're going to do our best to continue to partner with this company to bring this ability to showcase our curling club, our city, our sport all across this livestream feed."
According to Haichert, the Swift Current Curling Club's goal of placing the city on the map as a curling destination is the result of a willingness to think outside the box and to look at ways to grow grassroots and high-level curling in the community.
"We have a very progressive and willing board of directors who really want to see our club grow," he said. "Ultimately we would love to see our club grow in a sense that we're able to offer curling to anyone in the city of Swift Current and the southwest that wants to come and utilize this amazing facility that we have here. We're also motivated to grow the sport. We have a lot of individuals here who are very passionate about the sport of curling, and we have some very high-profile curlers in our community."
He noted that club membership and participation had been on an upward trend before the COVID-19 pandemic, which has presented a major challenge to the club.
"It has been an absolute nightmare on our organization and I realize every organization is suffering the effects from this global pandemic that we're in, and we're no different," he said. "We have taken a hit as a result of that, but with having a very proactive board of directors and staff at this curling club who have a passion for this sport, we're going to continue to work extremely hard to make sure that the Swift Current Curling Club not only makes it through this pandemic, but comes out on the other side growing and expanding and ensuring we can offer this sport to anyone who wants to give it a go."
The Swift Current Curling Club will for the first time be hosting a SCT Mixed Doubles event from Nov. 26-28. It will be an opportunity for in-person spectators an online viewers to experience a different and newer form of curling with two-person teams consisting of one male and one female. It was introduced as an Olympic event at the Winter Olympics in South Korea in 2018, where Canada's Kaitlyn Lawes and John Morris won gold.
"Lots of rocks in play, fast paced and it's geared to be a lot more exciting for the fans and the spectators viewing," Haichert said.
The Swift Current Curling Club will also be hosting several other high-profile events during the rest of the curling season.
"We have a jam-packed schedule this year, and I think a big reason for that is as a result of the Curling Stadium cameras that we've put into our facility," he said. "We've got the majority of our weekends booked solid with excellent events."
There will be a SCT Women's Tour event from Dec. 3-5, an U15/U18 youth bonspiel on Jan. 1-2, the SCT Men's Tour Player's Championship from Jan. 7-9, the Saskatchewan Senior Men's qualifier from Jan. 14-16, the Saskatchewan Firefighters Provincial Championships from Feb. 4-6, the South West Saskatchewan High School Regionals from March 4-5, the Saskatchewan High School Provincials from March 11-12, and the Saskatchewan Mixed Provincial Championships from March 16-20.
"It's really nice to see our curling club hosting several high-profile events and provincial championship events," he said. "So anyone interested in watching some great curling, this is the year to do it. Our schedule is nice and full, which has been excellent."