Swift Current Lions Club project recycles eyeglasses for people in poor countries
Posted on 17 November 2021 by Matthew Liebenberg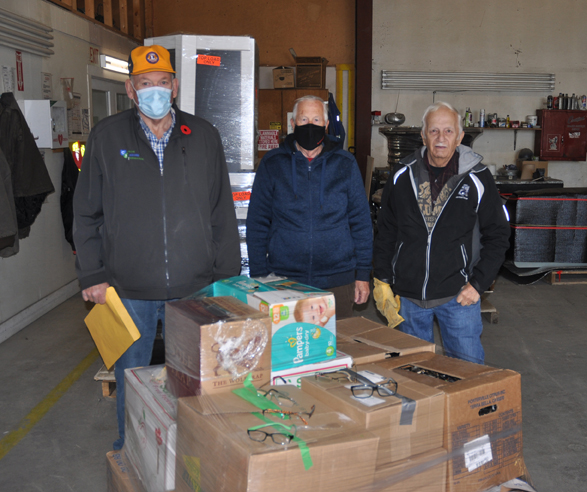 Swift Current Lions Club members stand with a shipment of close to 5,000 old eyeglasses, Nov. 1. From left to right, Jim Parsons (club president), Louis Perras, and Wes Vibert (eyeglass project chair).
Swift Current area residents who donate their old eyeglasses to a long-time project of the local Lions Club are helping to give the gift of sight to people in poor countries.
The Swift Current Lions Club shipped close to 5,000 old eyeglasses to an eyeglass recycling centre in Calgary in early November.
This was the first time since 2019 that the club was able to send a pallet filled with boxes of old eyeglasses to Calgary, because the recycling activities came to a halt during the COVID-19 pandemic.
"They've opened up again and this probably gives us about 35,000 that we've sent," Swift Current Lions Club President Jim Parsons said. "It's our club that collects them and there's a couple of Lions clubs in the area that have also brought some in."
Club members have been carrying out this project in the Swift Current area for over 15 years, and it has been well supported in the community.
"We have four places in Swift Current that collect them for us and the support is tremendous," he said. "It has increased or built over the last few years. People know we're doing it and so it's got bigger and bigger actually."
Three optical dispensers in Swift Current – Optical Image, Vision Care, and Walmart Vision Centre – participate in the project. The fourth collection location in the city is the Lions Club drop box in the Swift Current Mall, where people can drop off their used glasses.
"You buy a new pair of glasses and you leave your old pair at the optometrist," Parsons explained. "Lion Wes Vibert, the eyeglass project chairman, goes around and collects them. He'll get a gunny sack full of them probably every month."
The project will accept any kind of glasses, whether prescription, sun or safety glasses, and even separate lenses as well as broken glasses. In most cases glasses with broken or missing parts can be recycled, but there are some exceptions.
"I do a bit of culling too and if there's some that I know that's just not going to be used, I'll toss them out," Vibert said.
Parsons added that glasses damaged by welding sparks are other activities will not be suitable for recycling.
"Sometimes they get glasses that are specked from welding or something like that," he noted. "They're not much good, but other than that, they're not too fussy. They take just about anything."
Each shipment of eyeglasses from Swift Current to Calgary is transported by Rosenau Transport at no cost. The Lions Club appreciates the company's support for the project.
"Rosenau from day one has helped us and we appreciate that," Parsons said. "It certainly works good for us."
The Swift Current project is part of a broader Lions Clubs International initiative, called the Lions Recycle for Sight program. After collection the glasses are taken to the nearest Lions eyeglass recycling centre, where it is sorted and the prescription of each pair is determined by a lensometer. The glasses are then cleaned and packaged for distribution to developing countries.
The eyeglasses from the Swift Current area are taken to the Canadian Lions Eyeglass Recycling Centre (CLERC) in Calgary. Lions volunteers will process the eyeglasses, and through a partnership with the Calgary Correctional Centre there is also an opportunity for offenders to contribute to society through their work to recycle eyewear.
Operation Eyesight started the program in 1996 at the Calgary Correctional Centre. The Lions took it over in 2003. Some glasses are still processed at the correctional facility, but about 80 per cent are now done by Lions volunteers in a rented bay at a warehouse in Calgary.
The recycled eyeglasses will be given to people with vision problems during visits by Canadian optometrists to different developing countries around the world.
Restrictions on international travel due to COVID-19 had an impact on the program and therefore CLERC did not accept old eyeglasses for a period.
"They quit taking glasses, because the optometrists weren't travelling around the world," he said. "So it slowed things down, but they started it up again now and said they'll take them. So we're more than happy to send them."
Over 3.8 million recycled eyeglasses from CLERC have been distributed in 89 countries from July 1, 2003 to March 31, 2018. These eyeglasses have been sent to 35 countries in Africa, 18 countries in South Asia, 12 countries in Central America, 10 countries in South America, eight countries in Eastern Europe, and six countries in the Middle East.
People receive the recycled eyeglasses for free and it can make a real difference to their lives. Improved vision can mean better education for children and for adults an opportunity to be employed.
The World Health Organization estimates that about 153 million people around the world have visual problems as a result of uncorrected refractive errors, which can be addressed through eye examinations and the use of corrective glasses.
The Swift Current Lions Club will continue this project in the Swift Current area, and residents are asked to donate their used eyeglasses to this initiative instead of throwing it away.