Citizen of the Year receives standing ovation at SCBEX awards ceremony
Posted on 10 November 2021 by Matthew Liebenberg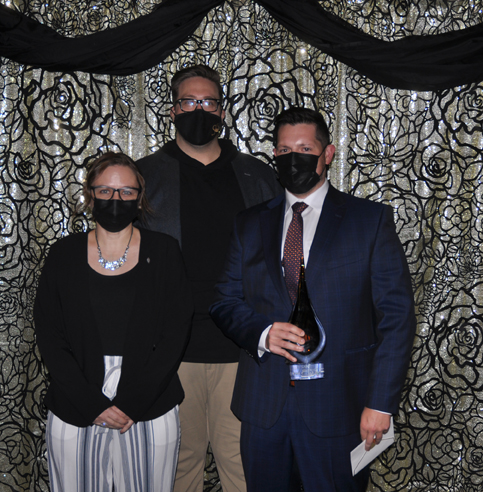 SCBEX Citizen of the Year award recipient Dr. Kevin Wasko (at right) poses for an official awards photo. Standing with him are, from left, Kara Thompson, representing the award sponsor Community Futures Southwest, and Swift Current & District Chamber of Commerce Board Chair Shaun Hanna.
There was plenty of applause during the presentation of awards at the 23rd annual SCBEX Spirit of Swift Current Business Excellence awards ceremony on Oct. 29, but the standing ovation came with the announcement of the evening's final award winner.
The entire audience rose to their feet with the announcement that local physician Dr. Kevin Wasko won the SCBEX Citizen of the Year award.
He paid tribute to healthcare workers during his acceptance speech and said he is accepting the award with them and for them. He spoke afterwards during a media interview about what this award represents to him.
"What I think this represents is a recognition of how hard healthcare workers have been working the last 19 months and that it's been a challenging time," he mentioned. "And that our community realizes that and recognizes it and values the long hours and the emotional and physical toll that's taken on our healthcare workforce."
He grew up in southwest Saskatchewan and has been working as a physician in Swift Current for the past 10 years. He is currently the Physician Executive for Integrated Rural Health in the Saskatchewan Health Authority (SHA), but he continues to work in the emergency department at the Cypress Regional Hospital.
His duties as a member of the SHA leadership team and as a practising physician has given him a variety of perspectives on the healthcare situation in the province during the COVID-19 pandemic.
"It's been a very unique vantage point as someone who practices medicine every week," he noted. "I work predominantly in the Swift Current Emergency Department, but I've worked in 10 different hospitals across rural Saskatchewan this year at various points of time and I've really gotten to connect with different healthcare workers."
He therefore had the opportunity to see what healthcare workers are going through at their own locations and to see how they demonstrated resilience in their own communities.
"I think that's unique for me clinically," he said. "But then also to be part of the vaccine rollout as a provincial lead for that, planning for the worst at times but also hoping for the best, and to be able to have that role, a birds-eye view in what we will do to deliver healthcare services across the province, and then actually implementing it at the front line. So it's been a very unique experience. At times it's been challenging, but it's also very rewarding."
He has also become a strong advocate for vaccines, because he views it as part of the duty of physicians under their code of ethics to provide truth and to address misinformation.
"Everyone brings their own viewpoints to things, and sometimes different biases or experiences that paint how they view things," he said. "What I wanted to bring to the public was that science is real, science should be trusted. That medical professionals are here for you, not part of a greater conspiracy, some sort of underhanded undertaking. We want the best. We listen to evidence. We implement evidence. It isn't always what people want to hear, but we still have to persevere and really uphold that."
He acknowledged the challenges that businesses have faced during the pandemic and he does not agree with the view that public health measures during the pandemic is a health versus economy trade-off.
"I completely recognize that businesses have had it hard this year," he said. "No one doesn't think that. … They've demonstrated resilience like few others in being able to keep their businesses going. But when people are healthy, customers are healthy, people feel safe, they're going to support local businesses. And I think that's above all what we need to balance. That ability for people to maintain health, to feel healthy, to feel confident, and they will go and support their local businesses."
Swift Current & District Chamber of Commerce CEO Karla Wiens felt the standing ovation for the recipient of the SCBEX Citizen of the Year award was a fitting acknowledgement.
"From Dr. Wasko's perspective I hope that really spoke to his heart that he does have community support and we definitely do care about our frontline and healthcare workers," she said after the awards ceremony.
This year's ceremony presented a new challenge to the Swift Current & District Chamber of Commerce, because it was a hybrid event that combined an in-person awards ceremony at the Living Sky Casino with a virtual event.
"This was new for us, and we wanted to make sure that those virtual viewers had a really good time and had lots to do," she said.
There was a smaller audience than previously at the awards banquet and ceremony. The livestreamed broadcast included a pre-show with celebrity messages, trivia challenges and prizes to entertain viewers in the run-up to the awards ceremony.
"I am very happy with tonight," she said. "We have fantastic nominees, finalists and award winners. It's always so heartwarming to be able to hand an award to someone live and catch that emotional gut reaction, because these people deserve to be celebrated all the time."
Last year's SCBEX awards presentation was entirely virtual due to the COVID-19 pandemic. For Wiens the experience of standing on stage in front of a live audience was far better than staring at a camera in a studio for a virtual event.
"When I said I was happy to see these beautiful smiling faces when people were seated at their tables, I am not kidding you," she mentioned. "It is such a relief from my heart just to see people gathering safely, respectful of each other. … Even though I have my mask on, I've been smiling all night. It has been great."
There was a good response to the nomination process for this year's awards and the chamber received 121 individual nominations in eight award categories. A selection committee comprised of last year's SCBEX award recipients had the difficult task of selecting the three finalists in each award category. Thereafter it was the task of the Swift Current & District Chamber of Commerce board members to vote individually on the finalists in each award category to determine the winners.
"It would have been very tough," she said about their decision. "All of the finalists this evening were outstanding."
The full awards ceremony can still be viewed online on the chamber's YouTube channel. The winners of the 2021 SCBEX awards in the different categories are:
Start-up/New Business of the Year – Urban Cellars
Small Business of the Year – Wildflower Florists
Medium Business of the Year – Optical Image
Large Business of the Year – Plewis Automotive Group
Not-for-profit Business of the Year – Southwest Newcomer Welcome Centre
Employer of Person(s) with Disabilities – Canadian Tire
Home-based Business – Surround Sound Music
Hall of Fame inductee – Voth's Brandsource
Member Business of the Year – Pharmasave Swift Current
Citizen of the Year – Dr. Kevin Wasko