Prairie Quills Writers' Group host reading Nov. 5
Posted on 16 November 2022 by Matthew Liebenberg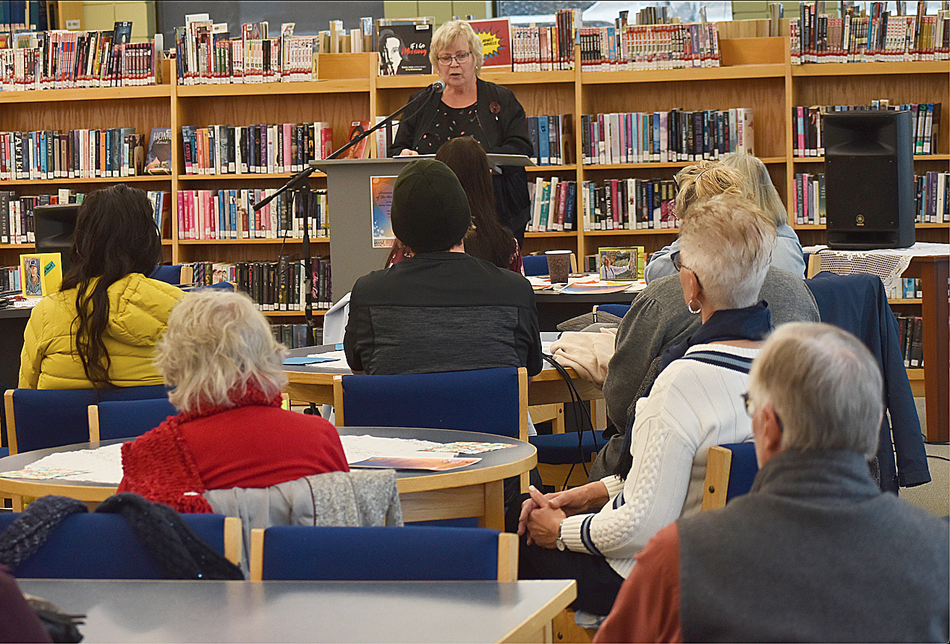 Audience members listen to a reading by Prairie Quills member Peggy Worrell, Nov. 5.
The Prairie Quills Writers' Group hosted a reading event with the theme Seasons of the Heart at the Swift Current Branch Library, Nov. 5.
Five readings by members of the group were scheduled to take place, but poor weather on the day of the event meant two readers from outside the city were unable to attend.
The three writers who presented their work created very different stories around the same theme, which illustrated their skill to approach an assigned theme from their own unique view.
Peggy Worrell read a piece called A Bugger of a Storm, which describes a family's time in the basement of a farm house during a severe storm.
Tina-Marie Letwiniuk's short story The Last Key describes a young woman's decision to end a relationship and take control of her life.
Dianne Miller shared her poignant short story The Window, which is about a live-in caregiver's view of the changing seasons through a window in the home of her elderly employer.
The Prairie Quills provides a forum for anyone interested in writing to interact with other writers and develop their skills. They meet on the third Tuesday of each month from September until June. The group currently has 10 members and new members are always welcome to join. For more information, send an e-mail to: dorm@sasktel.net