Lyric Theatre Digital Stage Write Out Loud host four SW Sask authors Feb. 16
Posted on 9 February 2022 by Prairie Post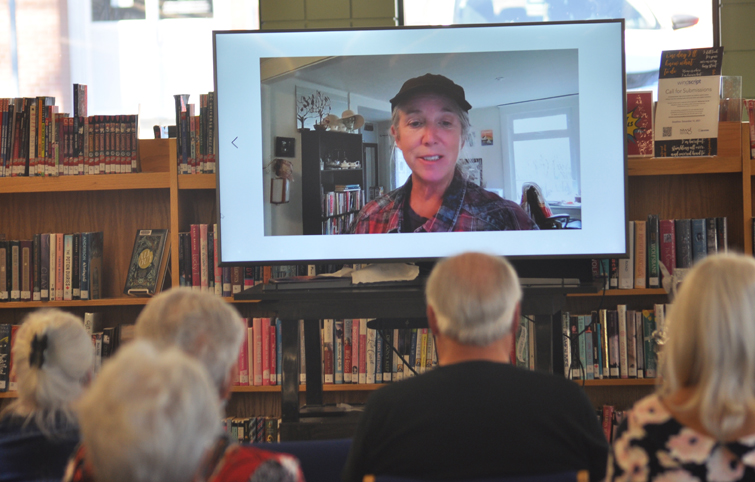 The presentation by Prairie Quills Writers' Group member Tina-Marie Letwiniuk took place virtually during the reading event, Nov. 6, 2021.
The Lyric Theatre Digital Stage Write Out Loud is pleased to feature four talented local authors online beginning 7 p.m., Wednesday, February 16.
Jill Cavanagh, a retired teacher, counsellor, and lay minister at the Eastside Church of God, has released a richly illustrated book, "If I Had a Sister". Jill's book traces the many important relationships in her life that filled her longing for a sister of her own.
Norma Hunter is a farmer from Shaunavon. She describes herself as a combine-driving, cinnamon-bun-making, babysitting woman. Norma has published three children's books and is presently working on her first novel.
Tina-Marie Letwiniuk is an emerging author who challenges herself by exploring various genres including sci-fi fantasy, memoir, flash fiction, and most recently, creative non-fiction. She is currently working on a collection of stories called "A Walk with Grief", based on her journey since her husband's passing in 2015.
Melanie Larson from Simmie is a children's picture book author. She's released three books in her "Tractor Troubles" series (one of which was translated into French and German) and two in her "Adventures of the Barnyard Boys" series.
Until the Lyric is open for performances, WOL presenters may be accessed on and following their scheduled dates through the theatre's Facebook page or at "Lyric Digital Stage Write Out Loud" on YouTube.