The McDades show some sibling love at the Empress 
Posted on 28 January 2022 by Ryan Dahlman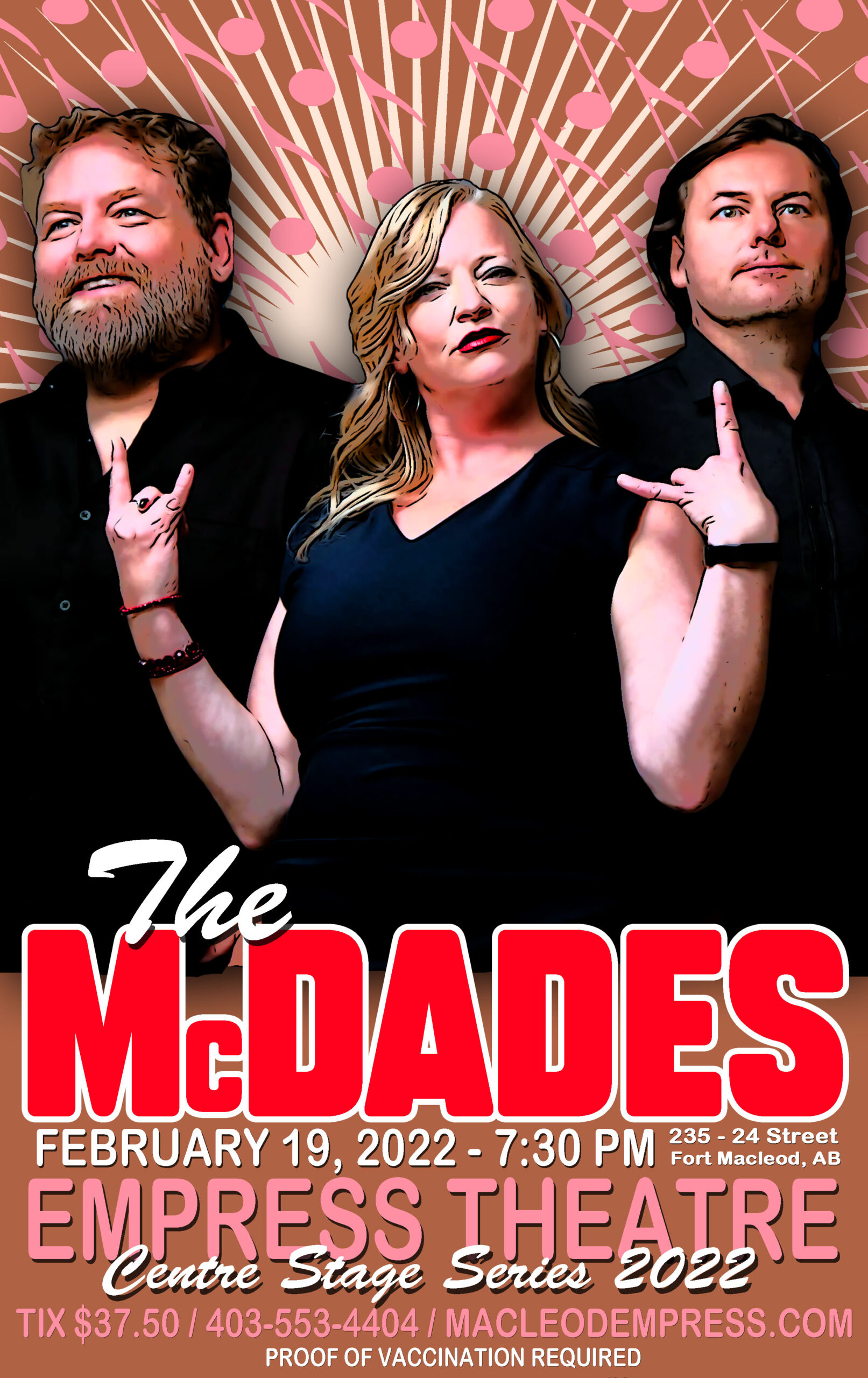 Juno Award winners The McDades are kicking off this season's Centre Stage Concert Series at the Empress Theatre on Saturday, Feb. 19 at 7:30 p.m. 
The Edmonton-based sibling folk trio includes Shannon Johnson (violin and vocals), Solon McDade (bass and vocals), and Jeremiah McDade (multi-instrumentalist and vocals).
The McDades were performers at an early age, playing folk music with their parents, Terry and Danielle McDade, in the McDade Family Band for 20 years. They formed The McDades in 2000.
In November 2021, the band released their third album, The Empress. In the tarot, The Empress is the third card, and represents the productivity of the subconscious, bringing strong bursts of creative and artistic energy. When deciding on a title for the album, the trio says they were "drawn to the concept of the Empress and also to the symbolism of the number three, both having ties to creativity, growth, new ideas and expression."
The McDades are known for stretching the boundaries of traditional music, but with much wider inspiration that is full of side trips and improvisations. As a group they love the experimentation and exploration of new ideas and arrangements; the freedom to express themselves within an art form, but without constraints. The Empress, though Celtic at heart, includes splashes of classical, jazz, bluegrass, Indian classical music, and rock. The original tunes, traditional songs and three covers on the album showcase The McDades' love of exploration.
The McDades won a Juno in 2007 for their album Bloom in the Best Roots/Traditional Album (group category), along with a 2007 Independent Music Award for Best World Album Traditional, and two Canadian Folk Music Awards for Best World Group & Best Instrumental Group.
Tickets for The McDades are $37.50 and available at MacleodEmpress.com or by calling 403-553-4404 (toll-free at 1-800-540-9229). For information or details, please contact empress@empresstheatre.ab.ca or 403-553-4404.
Upcoming Centre Stage concerts: Celeigh Cardinal, March 12, 2022 Kobo Town, April 8, 2022 The Ennis Sisters, April 29, 2022
The Empress Theatre is currently operating under the province's Restrictions Exemption Program. Prior to entering the theatre, patrons must show proof of full vaccination and photo identification. Masks must be worn to enter the theatre. The concession and bar will be open at this show.