Swift Current Museum hosts unique interactive exhibition
Posted on 20 January 2022 by Ryan Dahlman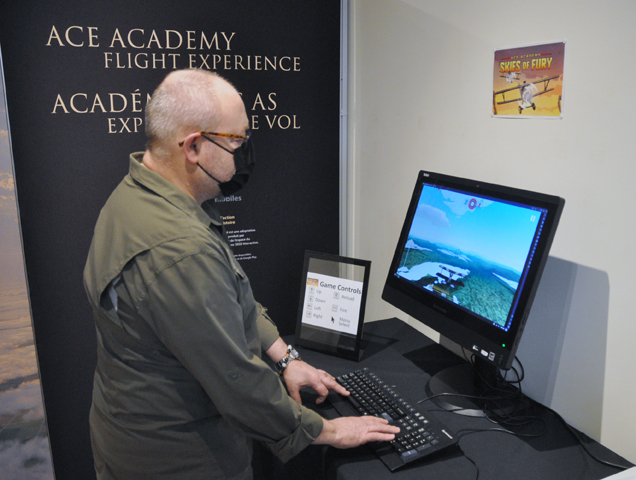 Swift Current Museum Director and Curator Lloyd Begley plays the Ace Academy education game Skies of Fury, which is part of the travelling exhibition.
Technology and history are coming together in a unique way in a travelling exhibition at the Swift Current Museum.
The Ace Academy: Flight Experience exhibition was created by the Canada Aviation and Space Museum.
It offers an immersive experience to visitors and allows them to pilot a First World War biplane through the use of motion sensing technology.
"You stand on the target and the camera will pick you up," Swift Current Museum Director and Curator Lloyd Begley explained. "It will give you a brief explanation of how things work and basically you move your body. So you steer the aircraft with your arms."
The interactive experience is activated when someone stands on a rondel in front of a large screen. Player can manoeuvre a realistic rendering of the Canada Aviation and Space Museum's Sopwith Ship Camel biplane when they move their arms up and down and tilt their bodies.
A player will participate in a dogfight against enemy fighter planes over the warfront during the First World War. They need to evade enemy aircraft and try to get into position to fire and shoot down their opponents.
The different body movements required to fly the biplane will give players a sense of how an aircraft reacts to different inputs.
"You really notice that when you step into the simulator itself, when you're using your body movements to control the aircraft," he said. "You kind of get the idea of how things react to the control surfaces themselves."
The flight experience in this travelling exhibition is based on Ace Academy, an educational game produced by the Canada Aviation and Space Museum in partnership with SEED Interactive. The exhibition includes two computers that allow visitors an opportunity to explore the two Ace Academy games, Skies of Fury and Black Flight.
These games allow users to learn about flight and explore information about how aircraft fly. It also features other historic aircraft from the Canada Aviation and Space Museum's collection of war planes from the First World War.
"So it's a video game on how to fly an aircraft," he said "You learn about the control differences and you see the vortices coming off the wing, pressure differences that keep the aircraft in flight. It demonstrates theory of flight and how things came to be."
This exhibition came to Swift Current from Ontario, where it was previously on show. It had been on display at locations across the country and the Swift Current Museum was eager to also bring it to Saskatchewan.
"It's not that often that we get travelling exhibitions," Begley said. "We were looking at ways that we could enhance visitation and encourage people within our community to experience something new."
A few historic photos are added to the exhibition to create a connection with Swift Current's own military history.
There is an image of soldiers from the 209th Battalion marching in front of the train station building in downtown Swift Current in 1914. Another photo shows soldiers from this same battalion on the parade ground at Camp Hughes in Manitoba during their training before departing for Europe during the First World War.
There is also a cut-out image from the Second World War taken at the Swift Current Airport, which was used as a flying training school for British and Commonwealth pilots.
"In recent years we've been involved in archaeology at the airport," he noted. "We have talked at length in some of our exhibitions with respect to those members of our community that have taken part in service to their country with respect to the Royal Canadian Air Force or in the case of the First World War the Royal Air Force. And so this opportunity came up with the Canada Aviation and Space Museum to host a small exhibition that would give members of our community a little bit of history regarding the theories of flight, the control of an aircraft, control surfaces, different theories to keep aircraft aloft."
The exhibition Ace Academy: Flight Experience will be at the Swift Current Museum until Feb. 12. Admission is free. The museum is open on weekdays from 9 a.m. to 5 p.m. and Saturdays from 1-5 p.m. Groups interested in visiting this exhibition outside regular hours can make a special arrangement with the museum.