Art Gallery of Swift Current establishes new exhibition format with Member's Salon and Sale
Posted on 8 December 2021 by Matthew Liebenberg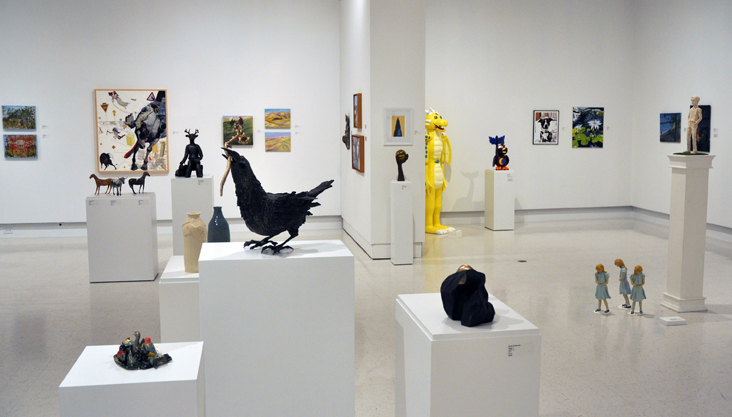 Artworks by 45 different artists are on show at the AGSC Member's Salon and Sale until Jan. 5.
The inaugural Member's Salon and Sale at the Art Gallery of Swift Current (AGSC) provides a new exhibition opportunity for emerging and more established artists.
Gallery Director Heather Benning said this is a new initiative to have a Member's Salon with a diverse range of artworks.
"The motivation behind this is to encourage community uptake into the Art Gallery," she said. "It's an opportunity for our local artists to showcase and sell their work. We chose specifically the holiday season to exhibit this work and it's also a form of encouraging the community to shop local and to not only purchase within town, but support our local artists and support the Art Gallery."
The intention is to make the Member's Salon an annual tradition at the gallery, starting mid-November and throughout December.
"It's a wonderful mix of established artists and emerging artists, and all of the work communicates well together," she said. "We're very happy and I'm assuming it will only be a snowball effect and more people will be interested in years to come, especially once we're able to have a reception."
The uncertainty about the COVID-19 situation before the opening of this exhibition resulted in a decision not to have a public reception.
The Member's Salon features 45 artists and 106 artworks in different media, and most of the artworks are for sale.
"One of the wonderful things about this exhibition is that it is so varied, and the artists too are so varied in terms of their geographical location," she said. "It's interesting to see how artistic our region is and then also to be able to bring in artists from further away as well to exhibit."
She felt the Member's Salon provides a great opportunity for emerging and established artists to exhibit their works together in the same gallery space and to learn from each other's work. A number of art pieces in the exhibition were created during creative classes and workshops hosted by the AGSC.
"Participants in this exhibition took the bronze class," she said. "So we'll see a lot of bronze sculptures in here and we also have artists that have taken other classes. The printmaking class by Marsha Schuld for instance has a few."
The exhibition of a completed artwork is part of the artmaking process, and the Member's Salon provides a useful opportunity to artists.
"For a lot of artists, especially when they're starting out on their career, it's not easy to build a large body of work in order to be able to show it in a public art gallery," Benning said. "It takes a lot of time and so this is a way that they can test the waters and see how the public responds to what they're making."
The inclusion of a prize with details about an artwork adds another dimension to the exhibition when people walk through the gallery space to view each piece.
"I think for some people it will inform them of the value of different forms of art," she said. "I know some people are quite shocked by the prizes of some of the bronze works, but the bronze is an expensive material to work in. We get to see not only the labour of the art, but also the monetary value of it to appreciate and understand what some work is worth. There's some artists who have lower price tags on their work and maybe their work is worth a bit more, but they're also testing the waters to see what will sell."
The submission requirements for this exhibition were that artists are 18 years or older, Saskatchewan residents and that they have a current AGSC membership.
The AGSC began to offer memberships as a new initiative since late August. It provides a means to support the arts in the community.
"Most art galleries have memberships," Benning noted. "So we wanted to do one as well and follow the kind of growing tide that all galleries are following across Saskatchewan and nationally. And it's a way for us to offer additional services to our patrons who are frequent users of the gallery."
The annual membership fee ranges from $20 for students and seniors to $25 for individuals and $45 for couples or families. Membership can be purchased online or in person at the AGSC.
AGSC membership offers various benefits, including 15 per cent discount on art supplies and classes, as well as 15 per cent off custom framing from Artistic Expressions for original works of art made by the member.
Members receive newsletters with information about events at the gallery and details about classes and workshops offered by the AGSC. They can also participate in the annual Member's Salon and Sale.
The 1st annual AGSC Member's Salon and Sale will be on show at the main gallery until Jan. 5, 2022. Admission is free and gallery hours are noon to 5 p.m. on Monday, Friday and Saturday, and noon to 6 p.m. on Tuesday, Wednesday, and Thursday. The gallery is closed on Sunday and holidays.