Prairie Quills Writers' Group celebrates 20th anniversary with reading event
Posted on 17 November 2021 by Matthew Liebenberg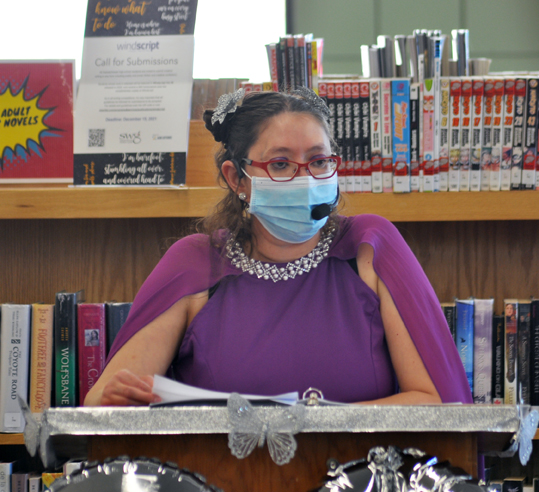 Tekeyla Friday reads from her short story during the Prairie Quills Writers' Group event, Nov. 6.
The Prairie Quills Writers' Group had plenty to celebrate at an afternoon reading event held at the Swift Current Branch Library, Nov. 6.
It was an opportunity to celebrate the group's 20th anniversary by sharing their most recent work with an audience. It was also the first time in two years that they hosted a public event.
Prairie Quills President Tekeyla Friday said it was a really good feeling to gather again with other members of the group in front of an audience.
"It's been a long time since I've seen the members other than through Zoom and having an in-person with a live audience and getting the reactions to your stories that they can give you, hearing them laugh at the funny parts and that sort of thing," she said. "It was refreshing."
The presentation of their work during an in-person reading is important and there are several benefits for writers.
"You get a lot of confidence from performing for an audience and you also learn different things, like when you notice body language of people," she said. "You can tell if they're engaged or not engaged with your story, you can tell if your pacing is too fast or not fast enough, that sort of thing, because just in the mild shifting or twitching of the audience you get a lot of feedback."
The theme of this reading event was Bumper Humour, a reference to the wide variety of amusing and often peculiar bumper stickers that are so commonplace on vehicles.
The group came up with several ideas for a theme during their September meeting, and then held a vote to pick the winner. The selection of a single topic to write about is a useful way to create an interesting writing challenge for members.
"It was fun, because you got to pick your saying or bumper sticker or whatever it was that you wanted to, which is unique to you," she said. "So as soon as bumper sticker was the winner, I knew exactly what bumper sticker I'm writing about. Some might have done some research and some might have had experiences to where they've seen some of the not-so-nice bumper stickers."
Six Prairie Quills members shared their interpretation of this topic during the reading event. Dianne Miller wrote a lighthearted story about the efforts of a boy to make a meal and carry out other tasks while at home alone with his siblings.
Friday's story was inspired by a bumper sticker she received from a friend. It is a story of a woman who followed her son's advice to buy a bumper sticker after she complained about all the tailgaters in the city.
Morghie Flaterud created a humorous four-page comic about the backyard antics of a teenager while his mother shares a cup of tea with a visitor. Peggy Worrell used an often-seen anti-Trudeau bumper sticker as foundation for a piece of creative nonfiction that reflects on the difference between free speech and hate speech.
Madelon Smid created a story written in first-person style about a strange encounter with a tailgater while she was on a long highway trip between Manitoba and Saskatchewan.
There was also a virtual reading by Tina-Marie Letwiniuk, who wrote a story about forgiveness that recounts the experiences of a woman struggling with alcohol addiction and a life-changing moment after she saw a bumper sticker on a vehicle at an intersection.
The COVID-19 pandemic has influenced the activities of the Prairie Quills in various ways. Their regular meetings continue to take place virtually, but Friday felt they have successfully adjusted to this change.
"We can still do the writing and we still take the time to have our exercises," she said.
Member of the group came together for one social event in June, which was socially distanced in an outdoor setting, but she was unable to be there. The group started something new in 2019, when they began meeting at different venues in the city and the pandemic meant they could not do that anymore.
"We were actually visiting different venues in Swift Current and being inspired by that atmosphere," she said. "We are not able to really do that comfortably due to the COVID parameters and everyone trying to be safe and wanting to stay safe."
A significant benefit of the virtual format of the meetings is that participation by individuals from outside Swift Current has become much easier.
"Zoom has opened our eyes to other benefits, for example three of our members are in the rural area," she said. "One member had quit coming to Prairie Quills years ago because of the drive, of always having to come in and meet. So now he's able to attend, and we can broaden our field for those who may be in Hazlet or Frontier or Climax or further out in the rural region."
It was announced during the reading event that the group has a new logo, which will give them a clear visual identity. It features a stylized image of a quill pen and the name Prairie Quill Writers written next to it.
"It is useful for us so that our group identity is there and when people hear Prairie Quills they think of the writers," she said. "So there's that intention to really put a brand to the group, to who we are. It's easier for a logo to appear on a poster than try to write who we are."
Friday made a gift presentation at the event to Prairie Quills founding member Madelon Smid, who has become the first lifetime member of the group.
The group was formed after Smid presented an eight-week writing course in Swift Current. She asked participants on the final day of the course in November 2001 if anyone was interested in joining her to start a writing group.
There was an immediate positive response from five individuals and during the past two decades the group had around 50 members, with annual membership varying between 10 to 12 individuals. Friday said Smid has made a significant contribution to the group.
"She helped a lot of us with critiques, showing us what strong writing is, and showing us how to meet traditional marketing guidelines and just helping all of us be better," she mentioned.
Prairie Quills provides a forum for writers to meet and grow. Friday has been a Prairie Quills member since 2005. She felt the group has helped her to sharpen her writing skills to become a published author.
"They've given inspiration and encouragement," she said. "And having someone critique your piece is huge, because editors of traditional publishing companies don't have time for that anymore. When you can get a really good critique, then you know if you've missed a plot point or maybe you need to change some sentences or strengthen your writing in that area, which makes it more impactful and more powerful. That's why I continue to stick with them, because we always need help."
Fifteen past and present Prairie Quills members are published authors. Members gain skills and knowledge through participation in group activities, such as workshops and writing exercises.
"We are always encouraging new members to come and check us out," she said. "There's so many different dynamics and skills that we can offer new writers or emerging writers, and really help them as well as share in the fellowship of writing and critiquing each other's pieces and help each other."