New Blenders season features diverse line-up of Canadian musicians
Posted on 30 September 2021 by Matthew Liebenberg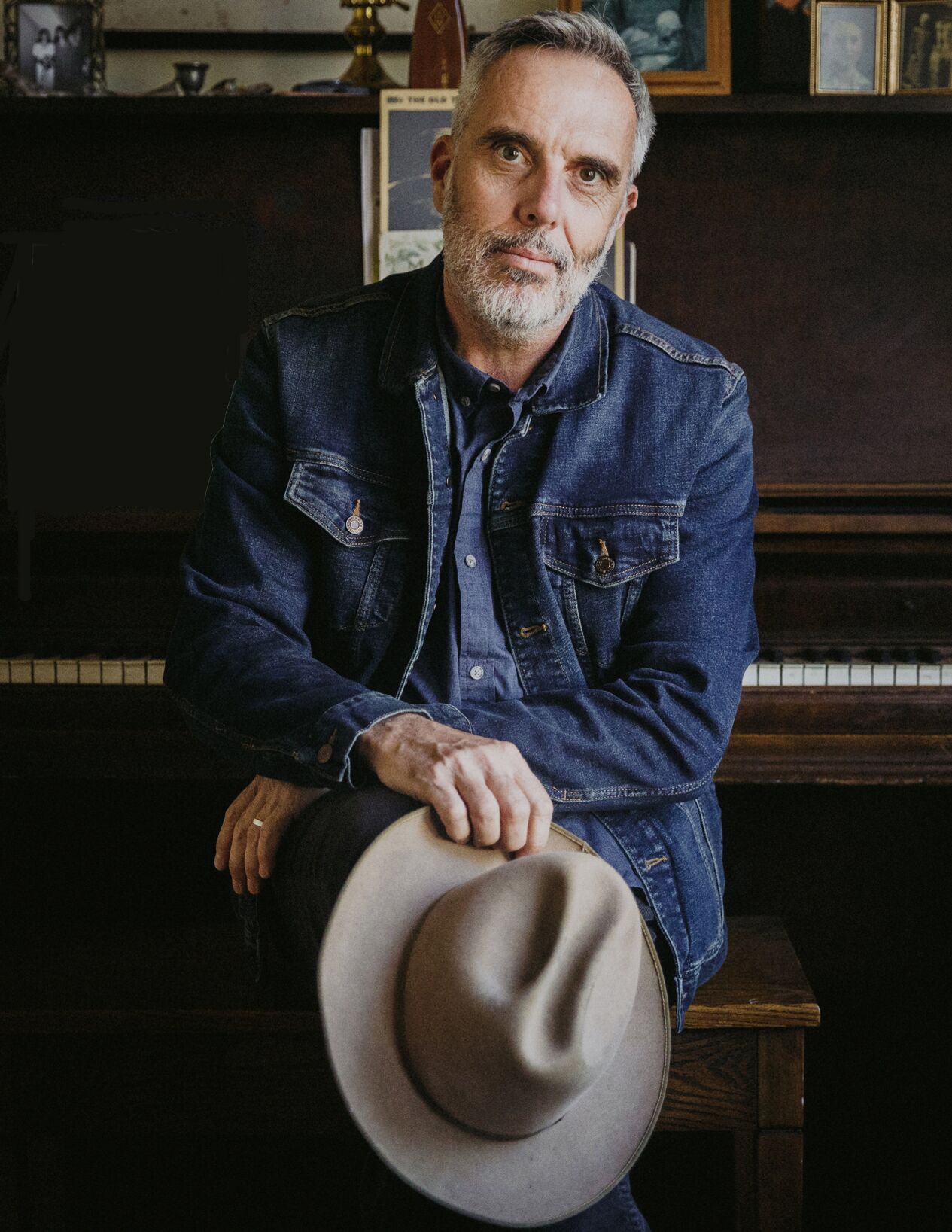 John Wort Hannam kicks off the Blenders series
The Blenders Music concert series returns to the Lyric Theatre in October with a new season of live performances by a variety of musicians.
Cultural Festivals Director Keely Williams said music fans can look forward to an interesting line-up of concerts during the 2021-22 season.
"There's a big variety of stuff this year," she mentioned. "We've got blues and folks and roots, a little bit of country rock, some pop. They're all going to be good shows and I think there'll be something for everyone."
The season will consist of nine regular concerts and two special concerts featuring performances by a mix of established musicians and rising stars from across the Canadian music scene.
"I think it's going to be really great," she said. "We've got a wide variety of people coming from all across Canada. Over half of our artists are from the prairies, which is really nice that we can showcase some of our artists that are close to home that are either up and coming or already quite established and have established careers and doing really great stuff. And then, of course, we've got a couple of our bigger superstars."
The Blenders stage at the Lyric Theatre has been silent since March 2020 due to the COVID-19 pandemic. According to Williams it was not too hard for Blenders to start up again after completely shutting down.
"We have pretty good foundations with policies and record keeping and everything," she said. "It was a tough decision obviously to completely shut down and lay off all staff and just wait out for a year and a bit, but we were in a good place and ready when it felt like it was safe and we were able to get started back up."
The process of planning the restart of the Blenders Music concert series involved a lot of planning and discussions with other organizations for some guidance.
"I was in conversation with the business response team at the Government of Saskatchewan quite a bit on what they were planning and what we can and can't do," she said. "I was also chatting a lot with other festivals and other venues and people that book events on what they were feeling and what they were planning so that we could gauge when seems the right time to start booking shows again and what people were considering."
She noted the process of determining the line-up for a new season can take some time, because Canada has a big music scene and even in Saskatchewan there is a lot of choice.
"We have sort of a wish list of people that we think should be featured," she said. "Then we reach out and see who's touring through. We also partner with other venues like the Artesian in Regina and the Broadway in Saskatoon, and if they have an artist coming through, we can pick up a show with them so that the artist could have more of a tour instead of just once-off shows. … We do also definitely try and do a big mix of music. We're not looking for all folk or all pop. So it's just kind of working slowly to get a blend of people that are available and that we think are a good fit."
Musicians have been unable to do live shows for quite a while since the start of the pandemic, and they are therefore eager to perform again. However, some are not doing extensive tours right away and the line-up of artists for the new Blenders season reflect some of those preferences of artists.
"They wanted to tour and do shows and they're keen, but a bunch of people didn't want to travel across Canada right away and were a little hesitant," she explained. "So people will notice that our fall shows are closer to home. We've got mostly Saskatchewan and Alberta and Manitoba artists for the fall until January, and our February show is also a little bit closer to home. The artists felt a little bit comfortable that they aren't travelling quite far, and then the bigger tours are all kind of in the new year, where hopefully things are a bit better and touring should be a little bit easier."
The 2021-22 Blenders Music season will kick off on Oct. 9 with a performance by award-winning folk musician John Wort Hannam from Alberta. He is known for storytelling through his music, and the official release of his eighth full-length album Long Haul will take place only a few days after his show in Swift Current.
"We had John Wort Hannam a few times, and people have been asking about him," Williams said. "So that will be nice to have him back."
There will be another Blenders concert in October, when Juno nominated Saskatchewan songwriter Megan Nash performs with her band The Best of Intentions on Oct. 29. Her latest single Chew Quietly / Clean Slate was released in early September and a new album Soft Focus Futures is set for release this fall.
Saskatoon's Gunner & Smith will perform on the Blenders stage on Nov. 20. The band was a 2020 Saskatchewan Music Awards nominee in the roots/folk artist of the year category. They are making their debut at Blenders, and their music combines searing guitars, brawny rhythms and distinct vocals.
The soft rock sounds of Winnipeg singer-songwriter Dylan MacDonald, who performs as Field Guide, will debut at Blenders on Dec. 10. His first full-length album Make Peace with That was released in September.
Edmonton singer-songwriter Celeigh Cardinal, who won the 2020 Juno award for indigenous artist of the year, will be performing at Blenders on Feb. 11. She also received two 2020 Western Canadian Music Award nominations.
"I've heard lots of people are excited about Caleigh Cardinal," Williams said. "We've been trying to get her for a little while here. So it's nice that we can finally work in a date."
There will be three Blenders concerts in March that are rebooked from last year, when the pandemic caused the cancellation of several performances.
"Any tickets that people had to those previously will be honoured," she said. "So if you have a ticket kicking around, we're welcoming you back."
She added that anyone who buys a season pass for the new season will be able to get a discount for an old ticket they have to any of the rebooked shows from last year.
"If they already have those tickets, but they would still like a season pass, they can get hold of me and I can give them a discounted one that doesn't include those three shows," she said.
Montreal musician Roxanne Potvin has previously performed at Blenders and is returning on March 4. She is a Juno nominated singer-songwriter with an evolving sound described as southern soul, breezy pop, and bittersweet balladry.
British-Columbia singer-songwriter Ryan McMahon is scheduled for March 12. He previously performed at Blenders with The Lion The Bear and The Fox. He has been creating new music during the pandemic and his new album Pandemos will be released this fall.
Montreal-born Grenadian-Canadian, Kaia Kater will be performing on March 31. She has won Canadian Folk Music and Stingray Rising Star awards, and her most recent album received a Juno nomination in the category for contemporary roots album of the year.
"She plays banjo and it's kind of an Appalachian folk sound," Williams said. "I'm really looking forward to that one."
The vibrant calypso sounds of the Toronto band Kobo Town will fill the Lyric Theatre for the final concert in the 2021-22 Blenders season on April 9. The Juno nominated group is named after a historic neighbourhood in Trinidad's capital city Port of Spain, where calypso music was born.
In addition to the nine regular concerts, the new season will feature two special concerts. Rose Cousins will perform at the Lyric Theatre on Jan. 26. Her latest album Bravado won the 2021 Juno award for contemporary roots album of the year. A previous album also won a Juno award in 2013, and her 2017 album received Grammy and Juno nominations.
Blackie and the Rodeo Kings will return to Swift Current for a Blenders special concert on Feb. 19. This roots-oriented band has been making music for 25 years, and has won a Juno award and several nominations. They will be performing songs from their 11th studio album as well as older favourites.
"They're kind of a staple of the Canadian music industry and we've had them a few times," Williams noted. "So I think Swift Current will know them and remember them, and be really excited to see that show again."
The Blenders concerts will adhere to all government policies in effect for COVID-19. All patrons, staff, volunteers, and artists therefore are required to be fully vaccinated and provide proof of vaccination. This means they must have received their second dose two weeks before the show they will be attending.
A negative COVID test result dated within 48 hours of showtime will also be accepted. In addition, everyone in attendance will be required to wear an approved mask while they are in the building.
Full details about the COVID-19 requirements for concert attendance are available on the Blenders website (www.blendersmusic.ca). Concert tickets and season passes are on sale at Pharmasave in Swift Current and online at eventbrite.com.
John Wort Hannam kicks off the Blenders series