Southwest Open features artworks by southwest Saskatchewan artists
Posted on 18 August 2021 by Matthew Liebenberg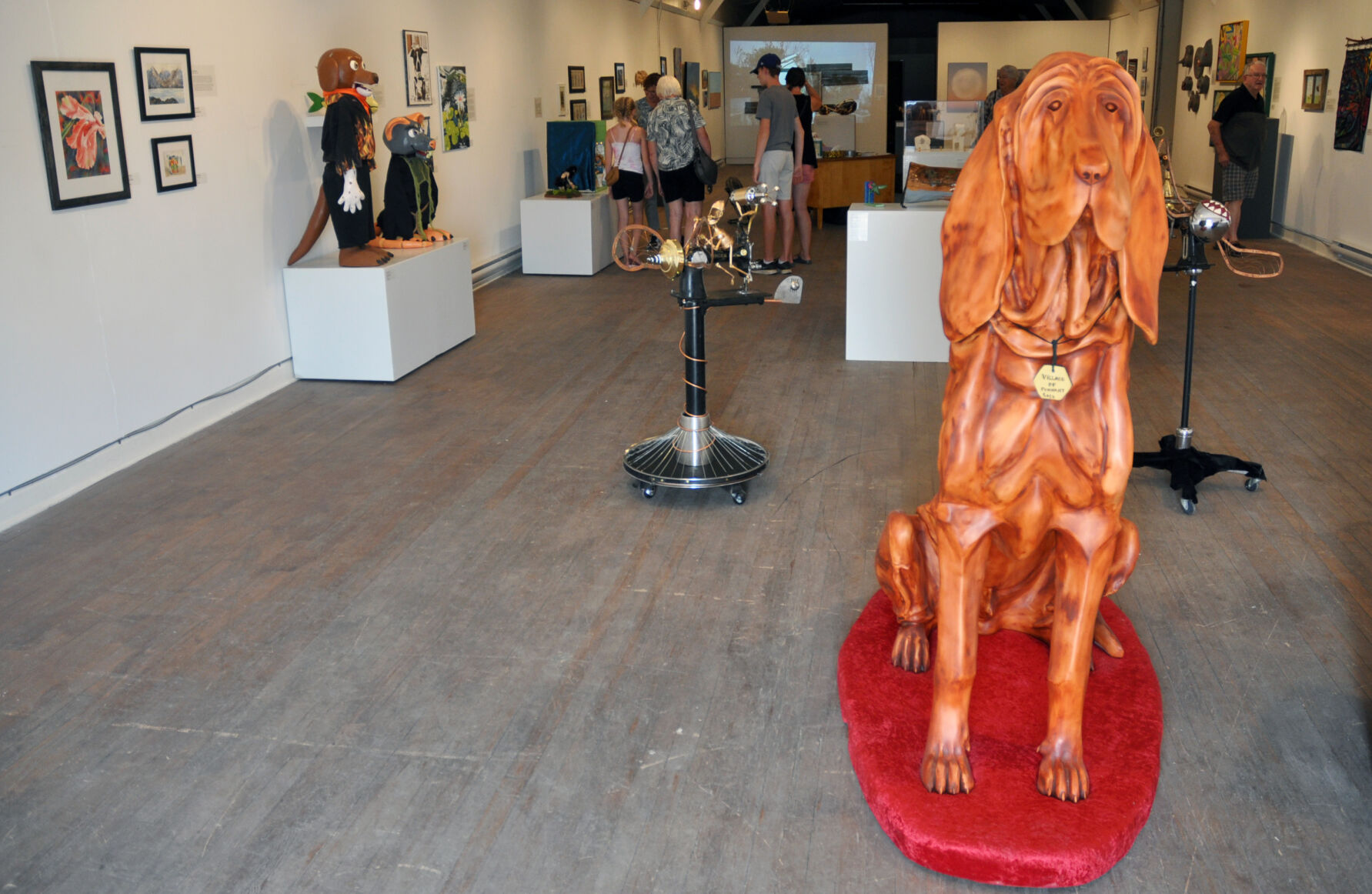 A large sculpture of a dog, titled Big Puppy, welcomes visitors to the Southwest Open. Pennant artist Sylvia Thompson created this artwork from aqua resin, which is a water-based sculpting resin.
The Southwest Open exhibition in Swift Current has become an important avenue for accomplished amateur and aspiring professional artists from southwest Saskatchewan to present their work to the community.
The Art Gallery of Swift Current (AGSC) is currently hosting this exhibition in the West Wing Gallery at Kinetic Park.
A variety of artworks by 33 artists from the region are on display in the exhibition, which is the largest number of participating artists for several years.
"We had a record-breaking number of artists this year," AGSC Operations and Programming Assistant Morghie Flaterud told the Prairie Post. "This is the highest number of applicants for Southwest Open that we've ever received since I've been here."
She noted there were even applications from artists located in central and eastern Saskatchewan that unfortunately could not be accepted, because the Southwest Open is only open to artists from Swift Current and surrounding area.
The Southwest Open takes place annually, but there was no exhibition last year due to the COVID-19 pandemic. She felt the increased interest in this year's show has been influenced by the pandemic.
"I think a lot of it has to do with COVID, because a lot of people were on lockdown," she explained. "Art is a great way to keep yourself occupied during lockdown. So I think just a lot of people had more time to make artwork. And we weren't able to have a Southwest Open exhibition last year, because the gallery was closed. I think this year everyone was just raring to go."
Artists are probably looking for venues to display the art they made during the pandemic, and they therefore also applied to the Southwest Open.
"I'm thinking that's probably the case, because when I was making labels for this exhibition, a lot of the artwork was dated 2020," she said.
Artists aged 18 years and older from southwest Saskatchewan are eligible to participate in the Southwest Open. All artworks and original craftworks must have been completed within the past three years.
"It's open to all mediums, all materials," she noted. "You don't have to be a professional artist. It's a really great exhibition to get your foot in the door, so to speak, and to have your artwork adjudicated by a professional artist or a professional curator."
According to Flaterud the exhibition offers a good opportunity to either an amateur who is really serious about their artwork or an emerging professional artist to take their work one step further.
"There's a lot of benefits to participating in Southwest Open," she said. "For example, this is a great opportunity to get your artwork shown in a gallery so that people from all over the community can come and see your artwork on display. That's a really great opportunity, because when you're a beginning artist, it's a little tough to know where to start with your artwork."
The exhibition is a partnership project with the Swift Current Arts Council and the Organization of Saskatchewan Arts Councils (OSAC), which results in another important opportunity for participating artists.
The Swift Current Arts Council sponsors the adjudication process that provides a professional development opportunity for participating artists, because this exhibition is part of an OSAC program to find artists for touring provincial exhibitions.
"All of the artists have a chance to have their work adjudicated and they have a chance to receive feedback by a professional artist or a professional curator," she said. "They'll provide some valuable feedback on your artwork and a few artists will also be chosen to submit their artwork to the OSAC Arts on the Move tour. It's a chance to take your work further. If you are selected for the OSAC tour, your artwork can potentially travel around Saskatchewan for the next three years or so in a travelling exhibition. So your artwork has the potential to be seen by lots of people."
The artworks on display in this year's exhibition reflect a variety of techniques and approaches by artists using different materials to express their creativity.
"There's so many different mediums and there's so many different materials that artists have used," she said. "I think it's a fantastic variety this year. There are paintings, drawings, hooked rugs, sculptures, even baskets. One of our artists made resin sculptures and found object sculptures, and two of them made paper mache sculptures."
Flaterud felt the artworks in the Southwest Open reflect the vibrancy of the art community in the region.
"It's just amazing to see how every artist has their own ideas," she said. "Every artist has their own story to tell, and it's a fantastic variety, just seeing all the talent that we have that's local. A lot of the people who applied this year are new artists. They're artists that heard about Southwest Open and decided to try exhibiting for the first time, and I think it's great, It's wonderful that they're putting themselves out there and telling us there's a bigger art community out here than people realize."
The West Wing Gallery is located in the Airmen's Barracks at Kinetic Park in Swift Current. The artworks in the Southwest Open will be on display until Sept. 4. The gallery is open from 1-5 p.m. every Friday and Saturday. Admission to the gallery is free.
A large sculpture of a dog, titled Big Puppy, welcomes visitors to the Southwest Open. Pennant artist Sylvia Thompson created this artwork from aqua resin, which is a water-based sculpting resin.