Memoir of a Hockey Nobody makes senior men's player a hockey-writing somebody
Posted on 9 June 2021 by Ryan Dahlman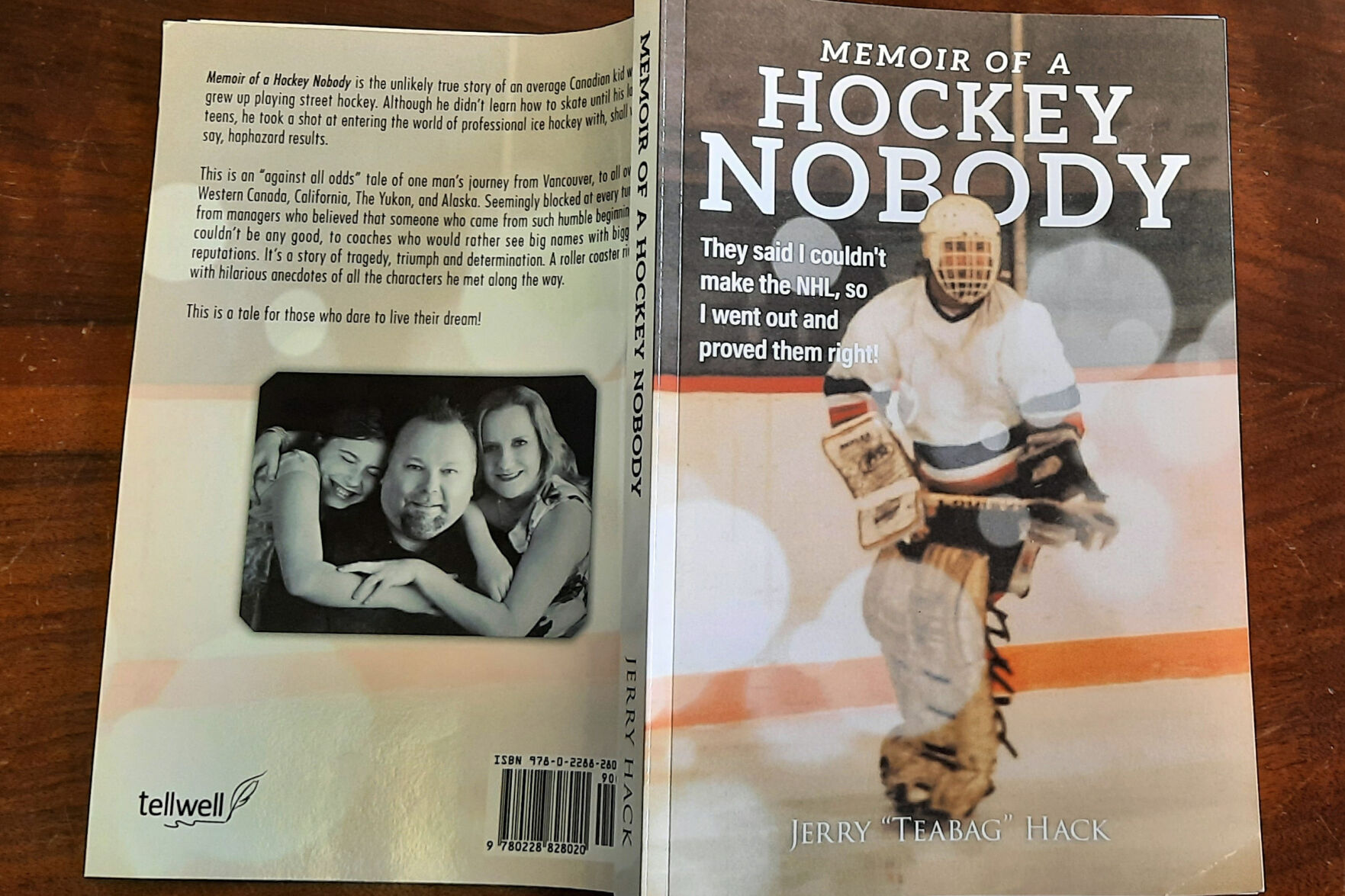 Like in hockey, Hack overcame odds with book
With the National Hockey League playoffs on, many weekend warriors, has been's, never were's and just general fans are sitting on their couches complaining about why their favourite team's players were making the plays or the goalies missing a shot and allowing a critical goal. 
   "Think you can do better?" is always the familiar refrain from those men and women who get together to watch their favourite teams live or on television.  It is extremely rare where someone makes it to a professional level. It is also rare for people to play at a semi-professional level. Most players enjoy living out their dreams of starting to play childhood minor hockey and graduating from school and playing in one of their local recreation leagues, not playing anywhere but the area rink against people in close to similar abilities. 
   Jerry Hack lived the dream of those players who were never good enough to play competitive hockey past their minor hockey days, let alone professional. Hack had some interesting times playing hockey and managed to collect stories and wrote a book. "Memoir of a Hockey Nobody" is an autobiographical look at his childhood to his fifties looking at his semi-professional hockey playing days. While the names mentioned in the book will be unfamiliar to other than those who lived in those communities — the stories, scenarios and anecdotes are extremely relatable. 
   The book is like a real life version of Bruce Springsteen's iconic song, "Glory Days." Hack is a very likeable character in his hockey and real life and reading the book you find yourself rooting for him as he enjoys his success while understanding the challenges and sacrifices he made in a humorous, but realistic and sometimes self-deprecating way. 
   It has resonated with many people. It was rated in the top ten on Amazon's sports book sales and has been featured in the media. Sports author Greg Oliver reviewed it and had him on his podcast. As well, other heavy hitters such as Sportsnet broadcaster and author Kelly Hrudey, George Grimm was written two books about the NHL's New York Rangers and former Sun Media stalwart sports scribe Perry Lefko have all interviewed or talked about Hack's book.
   "Actual writers say it's well written and that's what really blows me away because I'm not a writer, I'm a forklift driver," says Hack. "The reaction has been overwhelmingly amazing. Much, much more so than I expected when I wrote the book. I really only expected it to be friends and family who would take an interest in it, but it's been worldwide… getting so much feedback. I just got a picture of the guy in England, got a picture of him reading the book and he's wearing a goalie mask…it's been overwhelmingly positive, like over the moon positive."
   Hack lived from his twenties to forties as a nomadic senior men's hockey player. It was a lot of work to get where he was as he didn't play much hockey other than road hockey. He was interested in it and just slowly learned and was self taught. Caught a break with a team and proved himself and the Hack legend grew from there. His initial start in life began in Burnaby, B.C. but he found his way across Western Canada, California and all the way up north to Alaska playing senior men's hockey. He was involved in some Sask. provincial championships, some international exhibition games versus teams from Sweden and Russia and was oh, so close to participating in a national senior men's championship. Disappointingly and perhaps cruelly, he was denied that chance.
   At his peak, Hack would be described as perhaps playing semi-professional hockey, getting paid peanuts to play while counting on unemployment insurance to help subsidize some of his playing during his non-working months. He did have other jobs that he would work such as working in a lumberyard. 
   The book's cover states "They said I couldn't make the NHL, so I went out and proved them right." Listening to his description, it sounds like the book was a fluke. Reading, it is anything but a stroke of luck or that someone else ghost wrote it. His conversation style is very much the book and talking him you can hear his voice in the printed pages.
"I sat down on my computer and it just kind of flowed; I basically wrote it all from memory," explains Hack who had two editors look it over and told him they didn't change very much they mostly, just checked for spelling mistakes and punctuation. "I had friends who helped me out with some of the details. "My coach in Assiniboia Art Birss sent me a scrapbook so I could  get the timeline down a little bit better but other than that, you know 95% from my memory… it's like what I said in the book, it's not 100% true, but it's 100% how I remember it. And that's just how it came out."
Hack never thought he could do something like this let alone, having some grandiose, years-in-the-making plan doing it. He noted "it just kind of happened and it was very organic." He said it only took a handful of months to write it. He didn't follow any sort of formula nor did he check out other similar hockey autobiographies.
"People would ask about my experiences and stuff I told them funny stories and things that happened and whatnot, but I never considered myself a storyteller and nobody said that of me or to my face. Believe me it was as much a surprise to me as it was to everybody else. I didn't think I had this in me."
While the book is written in a fun, matter of fact, sitting in a tavern sort of way, there are some very defining and poignant moments including the death of his best friend during his formative childhood years; in one of the communities of his arguably best and highest level of success, in Assiniboia Sask, the day before his first arrival the community was devastated by five teenagers killed in a single vehicle accident and his devastation of being left off the roster of a team he had dedicated and more than proven his worth to while in the north. 
There are ups and downs and because he's so relatable, you feel the sense of joy and loss right along with him.  
"It's not like you can call it, a rags to riches story, it's a rags to rag story…you know at the time I was going through it, I didn't really think much of the path I was handling I didn't think it was anything special. I certainly didn't think I was going to make the NHL. Just going down the road to where it was gonna take me, not a lot of thought into it. All I knew is that I wanted to go as hard as I could, to the highest level of possible potential." 
As he looks back on his life now in his early sixties, full time job, married with a daughter, he certainly has enjoyed himself. While many things about him have changed, his perspective has not. 
"My younger self is pretty much still my older self, and I haven't changed a whole lot in my mental make up but physically I've gained like 100 pounds. Still, my 28 year old self would be pretty happy with the way things turned out."
Like in hockey, Hack overcame odds with book