Lyric Theatre continues digital stage success with new Shakespeare series
Posted on 5 May 2021 by Matthew Liebenberg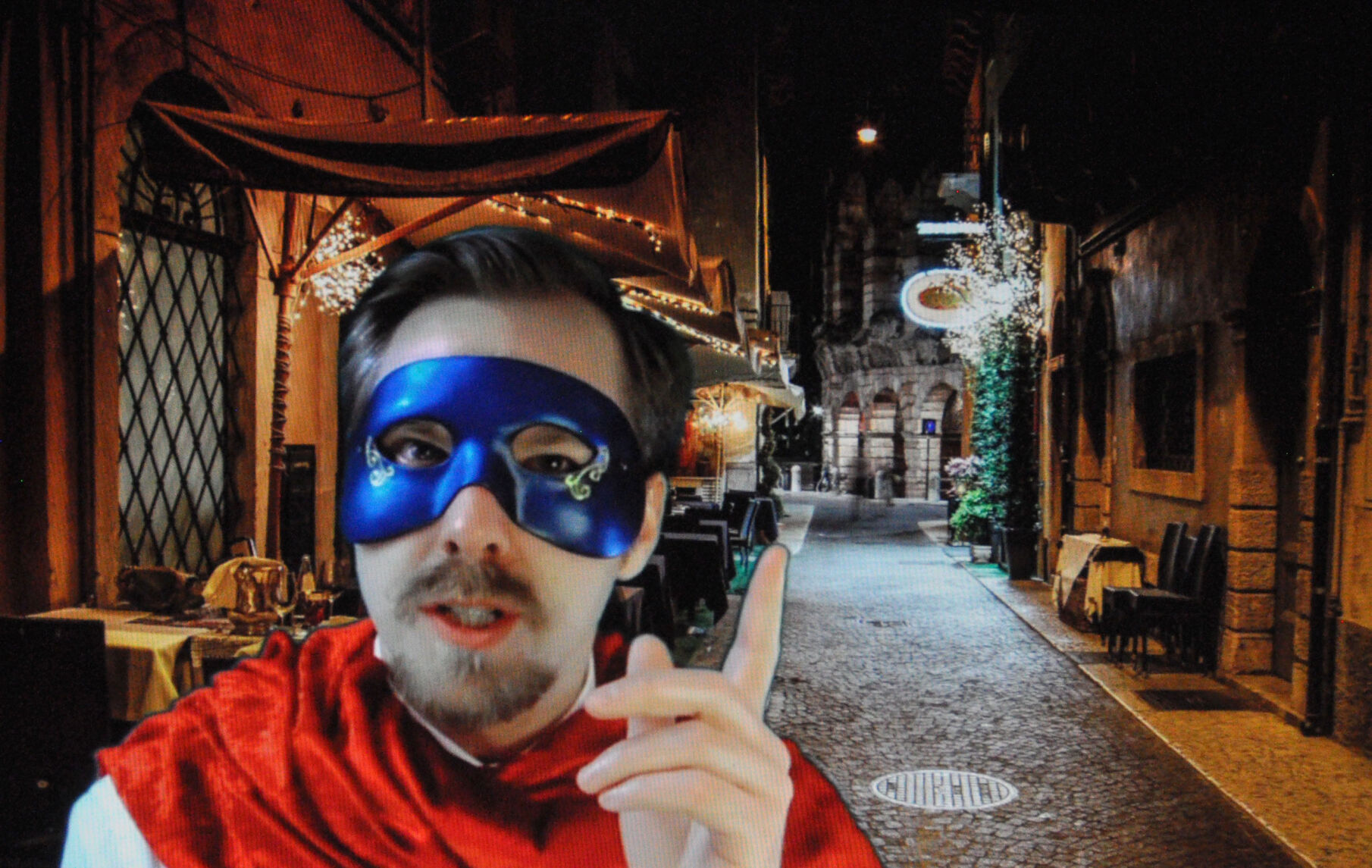 Stefan Rumpel delivers a monologue by Mercutio, a character in Shakespeare\'s play Romeo and Juliet, during the first episode of the Lyric Theatre\'s new virtual series Brave New World.
The Lyric Theatre is continuing the success of its digital stage format with the launch of a new online Shakespeare series titled Brave New World.
The online premiere of Brave New World took place on April 23 and there will be new episodes over the coming months to present some famous and also lesser-known monologues from Shakespeare's plays.
Lyric Theatre Artistic and Executive Director Gordon McCall is hopeful this new series will serve as a prelude to the relaunch of the Great Southwest Shakespeare Festival in Swift Current in late July.
"We're still awaiting some information in terms of what's required social distancing wise and it really depends on the surges or lack of surges that we're having in the infections," he said. "So as with everybody, we're kind of at the mercy of whatever happens out there in the community, but in the meantime, we're planning and preparing."
The inaugural Great Southwest Shakespeare Festival took place in 2019 in a large tent at Riverside Park, but the event did not happen in 2020 due to the COVID-19 pandemic. This year's festival will be located at the same outdoor location between the trees.
For McCall the launch of Brave New World is a way to continue his lifelong admiration for the works of Shakespeare while he waits for more clarity about the relaunch of the festival. Each episode will include an introduction to provide some information about Shakespeare that viewers might not know. He spoke about Shakespeare's influence on the English language in the first episode.
"I pointed out that Shakespeare invented 1,700 new words and that we use a lot of them today," he said. "I think a lot of the community wouldn't know that, and the reason I pointed it out is to say that his influence has carried down through generations and centuries and continues to this day. So it's nice to know that in our own back yard we're going to experience the world of Shakespeare and see the connections that it had to our own world on a daily basis, and then enjoy that."
Shakespeare used theatre performances of his works during his lifetime to share the magic of language with audiences. His work addressed themes of love, war, prejudice, greed, corruption, and joyful abandon, which are still relevant in the modern world.
"Anybody who ever had a hesitation to go towards the works of Shakespeare might find that they have more access and more enjoyment out of it and will want to be entertained by it," he said. "So this is a great opportunity for us to do this digitally and each episode will be a combination of a discussion of certain elements of his work and a presentation by actors, primarily local actors, presenting some of these amazing speeches."
Shakespeare lived in Elizabethan England during a period of renaissance, and McCall feels the historical context of his life has some relevance to our current pandemic times.
"When we go back in history, we realize that such a thing as a pandemic has occurred many, many times," he said. "The Elizabethans had to deal with plagues and so I look there and see how did this affect them. … The theatres were shut down at times because of the plague and they'd be shut say for two years. Shakespeare came back after two years, somehow managing to survive the plague, and put this amazing theatre back on with new plays and new vision. I'm an optimist by nature. So I always say there are blue skies ahead and so Shakespeare helps me with that."
He is therefore looking forward to the opportunity to resume the Great Southwest Shakespeare Festival, even thought it might look different with smaller audience sizes that are physically distanced. The inaugural festival in 2019 performed Shakespeare's popular work, A Midsummer Night's Dream. This year's festival will present two plays. Twelfth Night and Macbeth.
"We call ourselves the festival, and a festival has more than one piece of entertainment," he said. "It's very important that we do this early in the life of the festival to establish a basis upon which all of our funders, granting institutions et cetera realize that we're a going concern, that's there a lot happening at this festival and it needs to be supported."
In addition, the Lyric Theatre has received a grant to host a children's youth day camp over a period of two weeks in conjunction with the festival to give children an opportunity to explore the world of Shakespeare.
This year's festival will take place in a larger tent that was acquired by the City of Swift Current. It was previously used at the Shakespeare on the Saskatchewan Festival in Saskatoon, and it will be perfect for this festival in Swift Current.
McCall's intention is to have evening performances of Twelfth Night and midnight performances of Macbeth.
"That's going to be a great experience, because Macbeth is a spooky play as it is," he said. "Years ago, when I was running the Shakespeare on Saskatchewan Festival in Saskatoon, I did a midnight show and we didn't know what would happen, if anybody would show up. Well, it ended up that they lined up down the street to get in. So that told me something and we'll see, it's worth a try."
In the interim there are online episodes of Brave New World to give audiences a taste of Shakespeare's craft. The title of this online series is a reference to an actual phrase uttered by the character of Miranda in Shakespeare's play The Tempest.
"It's basically after an apocalyptic event such as our current pandemic," he explained. "There is a new world on the other side of it and Miranda happens to see the world in a glorious state when they come out of this tempest. So I immediately saw a connection between the tempest and the pandemic and on the other side of it we hope we have a brave new world."
The Lyric Theatre has successfully made a transition to digital programming since the start of the pandemic, and Brave New World will be an addition to the existing digital stage that includes programs such as Open Stage, Youth Talent Night, and Write Out Loud.
"It has proven to be a real crowd pleaser," he said about the Lyric Theatre's digital stage. "We had almost now 50,000 views of our programs."
While regular in-person programming will resume as soon as the Lyric Theatre is allowed to reopen, the success of the digital stage will mean that digital programming will also become part of the theatre's future make-up.
"I think that we've been able to stay present in the minds and hearts of the community because of the digital programming and I'm thrilled that has been the case," he said. "We've learned new skills and new program presentation options for us. So that's been great. The challenge has been to keep the doors open and maintain the building during this time, and I think that challenge is being met and it's thanks to the community in terms of their vocal support and also financial support. People donated money personally and our major granting bodies have stood by us, and there has been some grants available because of COVID."
Episodes of all the Lyric Theatre's digital stage programming, including the first episode of Brave New World, is available online through the theatre's Facebook page and YouTube site.
The Lyric Theatre will welcome donations in support of the relaunch of the Great Southwest Shakespeare Festival. Cheques or money orders can be mailed to the Lyric Theatre, P.O. Box 343, Swift Current, Saskatchewan, S9H 3X3. Electronic transfers can be e-mailed to: treasurer@lyrictheatre.ca
Stefan Rumpel delivers a monologue by Mercutio, a character in Shakespeare's play Romeo and Juliet, during the first episode of the Lyric Theatre's new virtual series Brave New World.