Elders' Room a direct look at Kainai High School's special place
Posted on 21 April 2021 by Ryan Dahlman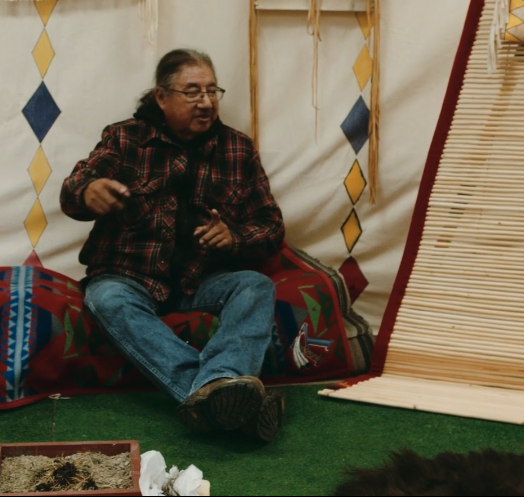 Elder Peter Weasel Moccasin talks while in Kainai\'s \'Elders\' Room.\'
Dr. Shirley R Steinberg the writer and director of the documentary Elders' Room, has a lot to smile about. The documentary about Kainai High School was selected for viewing at NorthWestFest a documentary festival, based in Edmonton which will run from May 6-16. With pandemic restrictions the festival will be held virtually. 
Initially, the documentary was 50 minutes long but was edited back to about half of that as Steinberg "wanted to show the beauty of the people."
Elders' Room is a documentary about a special cultural and spiritual lodge organized and created by and for the students at Kainai. Early on, it painted a stark reality of young indigenous people as high school senior Karsen Black Water addressed a crowd of students. 
"Being a young Blackfoot woman, I have a high statistic of going missing or being murdered and I have to live with that statistic my whole entire life and many of you have to face that too," Black Water told the crowd. 
The next voice to talk was Kainai Elder Peter Weasel Moccasin who addressed the filmmakers at the actual lodge.
"Without compassion, you can't be sympathetic to our ways that is what people realize or don't realize," Weasel Moccasin told Steinberg.
Thus sets the stage for the premise for the film of Elders' Room. The official description of Elders' Room: "In a lodge conceived and built by Kainai High School students, Kainai Blood Tribe Elders, youth, and counsellors confront the ongoing trauma of the Canadian Residential School system and work to build a future informed by their cultural teachings." 
"I didn't really go in with a plan, I just really want it to speak to me," explains Steinberg about the Eders' Room. "It was very organic."
Steinberg explains the initial idea was to basically look at the history of Elders' Room, how and why it began. The Elders' Room turned out to be a symbol of the learning of the history and the modern struggle of indigenous youth and how they wanted to deal with it. Steinberg says she would ask a couple of questions and just let them talk. Other than a brief interlude early in the film, the documentary is filled with other voices at Kainai. It was abundantly clear, the story was about the people such as Black Water and Water Moccasin and his history with residential schools. 
Steinberg is the Werklund Research Professor of Critical Youth Studies, Senior Scholar, Graduate College, Faculty of Graduate Studies at the University of Calgary and  together with Dr. Michael B. MacDonald, "an award-winning filmmaker, cine-ethnomusicologist, and associate professor of music in the MacEwan University Faculty of Fine Arts and Communications in Edmonton," they made a few trip to shoot the documentary. She says having been in the area for many years, she was familiar with the school and with one of the organizations she works with which helps schools from across the province financially with grants, Kainai came up. 
"My area is youth studies. We had an organization that would invite 20 high schools to meet at at the University of Calgary in which we talked about activism and turned a lot over to the youth," explains Steinberg. She says at one such conference, Kainai High School came. "I had lived for about 13 years in Southern Alberta and I actually worked with people on the Kainai reserve. I knew the area, I loved the area and also knew the old family names and such. Once I realized that Kainai High School was there, there are other professors here and I am going to take a special interest with them. Part of this thing we would do, is that we would every year, we would give high schools a $1000 for them to go and create a sustainable project that could be incorporated and collaborative. This group (from Kainai) decided what they want to do was to build something in the school that gave them a space and privacy where they could go and they decided they want to build a traditional lodge or what we would call a for non-indigenous people, a teepee." 
Steinberg says the students got some elders to give them direction because they wanted to make the lodge specifically exact, correct dimensions, correct art and make it authentic. Steinberg explains the high school gave them a really good large room that was not being used. They had two excellent counsellors who worked with them. I think the math or science teacher helped them with the dimensions. The art teachers helped them with the art and the elders gave them direction. They built the lodge (or teepee) in the middle of this room, it is totally the right size, but of course you can't got through the ceiling in the high school so it goes as far as it can authentically and then it stops. Then in the middle they have an area where you can burn sage and sweet grass which is impressive because in school they are obsessed about fire and that kind of thing, so they got permission for that. Then the school decided to hire part time four elders who would come at different times and just be there. And so the students in class could just relax and talk to someone, they are able to get up and go any time to do that. 
"When I went the first time I was blown away by that and I was blown away by the kids. Karsen is just a natural born leader. It is not like she was nominated or elected to be the lead. She is just this incredible person who knows what she believes and knows what she wants and can spearhead it. I wanted to interview Karsen and just find out more," explains Steinberg. "I am a researcher and a writer but I don't research people. I was not going to an ethnography on Karsen but know about her and talk about being a Blackfoot youth."
She was a teaching intern many years back and saw how difficult it was for indigenous youth and the disparity they faced. She remembered that when they were not only shooting the footage but in writing the film's direction. She was so impressed when she came back to see the impressive school and the fact the curriculum has been able to incorporate and teach two cultures what she described as indigenous and settlers of Canada.
Steinberg's hope and her belief that she succeeded was for the film to introduce those Kainai High School and what they are all about. How they have learned from their elders and incorporate the knowledge and their culture into making their worlds better.
P, visit: https://www.northwestfest.ca
Elder Peter Weasel Moccasin talks while in Kainai's 'Elders' Room.'