Self-guided haunted tour a frightfully good idea
Posted on 20 October 2021 by Ryan Dahlman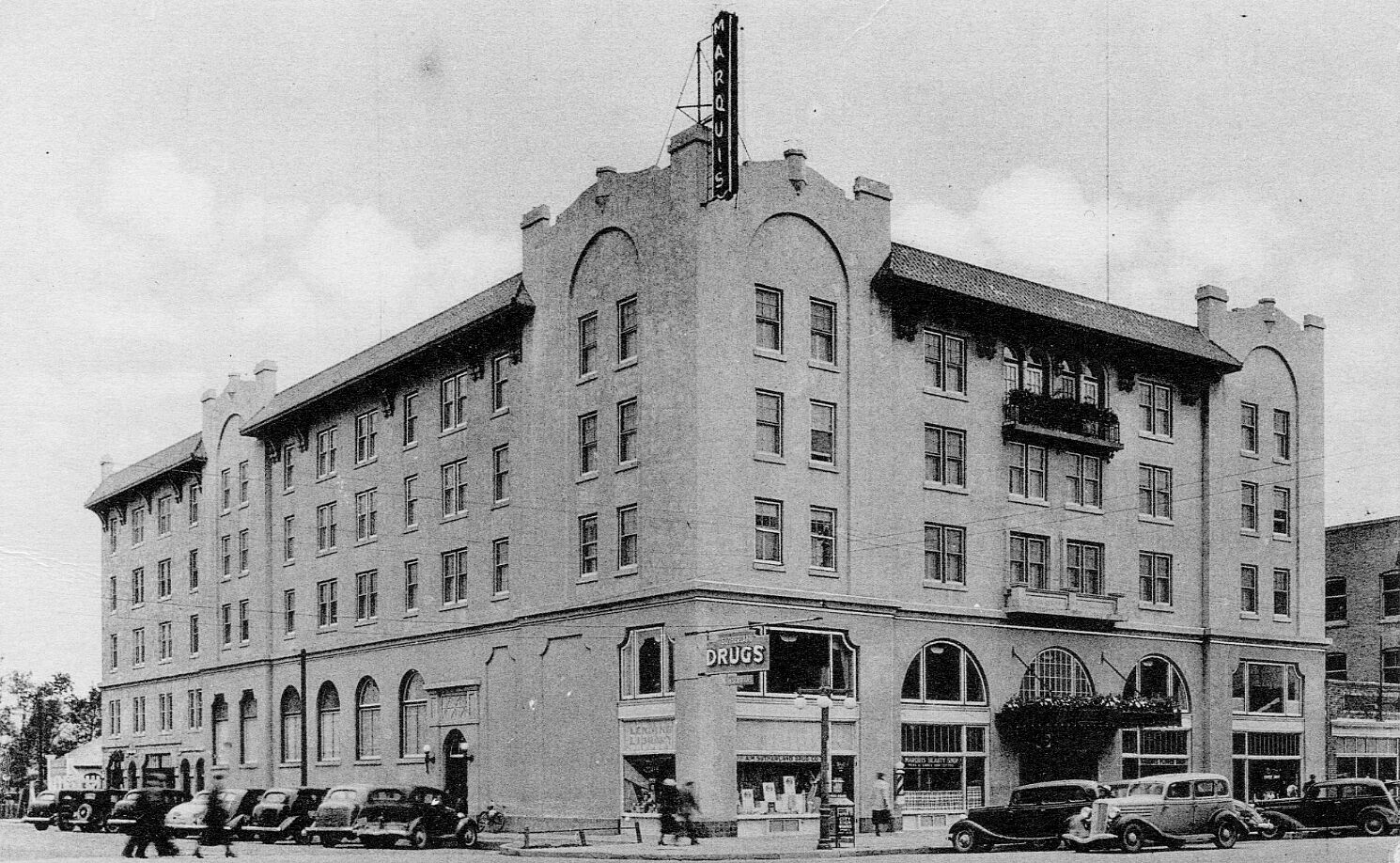 The Marquis Hotel in Lethbridge is the subject of some ghost stories. The photograph contributed by Belinda Crowson.
Belinda Crowson has a novel idea for those who are concerned about the pandemic yet still want some thrills and chills this Halloween. 
The Lethbridge historian who is originally from rural southern Alberta has in her general research uncovered and thrown some light on some dark, scary stories from southern Alberta, just in time for Halloween. 
The president of the Lethbridge Historical Society has created the Haunted Lethbridge and Southern Alberta Self-Guided Tours guide. The mini but well documented travel guide outlines all the reportedly haunted areas of both Lethbridge and southwest and south-central Alberta which reaches all the way from the Crowsnest Pass to Brooks and everywhere in between.
Not only is she a City of Lethbridge councillor, she has been a historian for the past 15 years and has collected a lot of "folktales and the ghost tales" at the same time. While there are those who are firm believes in paranormal phenomenon, some are not. Still, Crowson was able to get the stories from a variety of sources across southern Alberta.
"Some people want to be anonymous, they will tell the story but they don't necessarily want their name attached to it," explains Crowson. "It is a lot of that sort of oral history, listening to people collecting their stories. And maybe because I am a historian I like to delve a little bit more into the history of the site and trying to find out what the real history of the places as well as there's something more to be found there, so I do use my research skills in that way. A lot of (the research) is talking to people, spending time getting their stories and collecting it that way. 
"It really depends on the story and the place. With everything from some places that have a scent, so some there's a smell, however some people have seen, you know what they would consider an apparition. We have had stories of sounds, you know there'a a little bit of everything."
Besides the stories, those providing the stories are quite varied in their level of belief, all the way from full belief to absolutely none but do have a tale to share, that goes for Crowson as well. 
"I say right in the beginning, I have no idea if ghosts exist or not that's up to you. To me, it's about the stories. These are the stories of our communities in which we tell, and you can believe the story or not, but I hope they will give a little tingle down your back and give you something to think about as Halloween approaches," she adds. 
"I was probably surprised at how many stories but how the stories are reflective of the community. If you know a community well and even if you don't know where the story is from, you can sometimes go 'oh that is a story from the Crowsnest, or Lethbridge or Taber or Medicine Hat, because each community has their own identity and so do ghost stories.'" 
Crowson says she has told paranormal stories for years and she decided this was the year to compile something a little more organized and official with all the fluctuating pandemic regulations as well tenuous health conditions. 
She points out people can purchase the guide, go with friends or in their own family vehicle and do it on their own time and pace. It's COVID friendly and it's a safe variant of having a regular guided tour. "We thought that this gave people an option, get them out to the places themselves, we're constantly doing types of tours at the historic setting," she adds.
People can order either tour for $10 or both for $15. Those interested can E-transfer payment to mcrowson@telus.net and be sure to include your email address in the message, as well as which tour you want (or both). Within 48 hours, Crowson will email the tour(s) in a PDF form. 
There are addresses and GPS coordinates ensuring the proper location is found.
The Marquis Hotel in Lethbridge is the subject of some ghost stories. The photograph contributed by Belinda Crowson.
Source: the Galt Museum & Archives