Heritage Inn International Balloon Festival in High River a local treasure
Posted on 6 October 2021 by Anna Smith, Local Journalism Initiative Reporter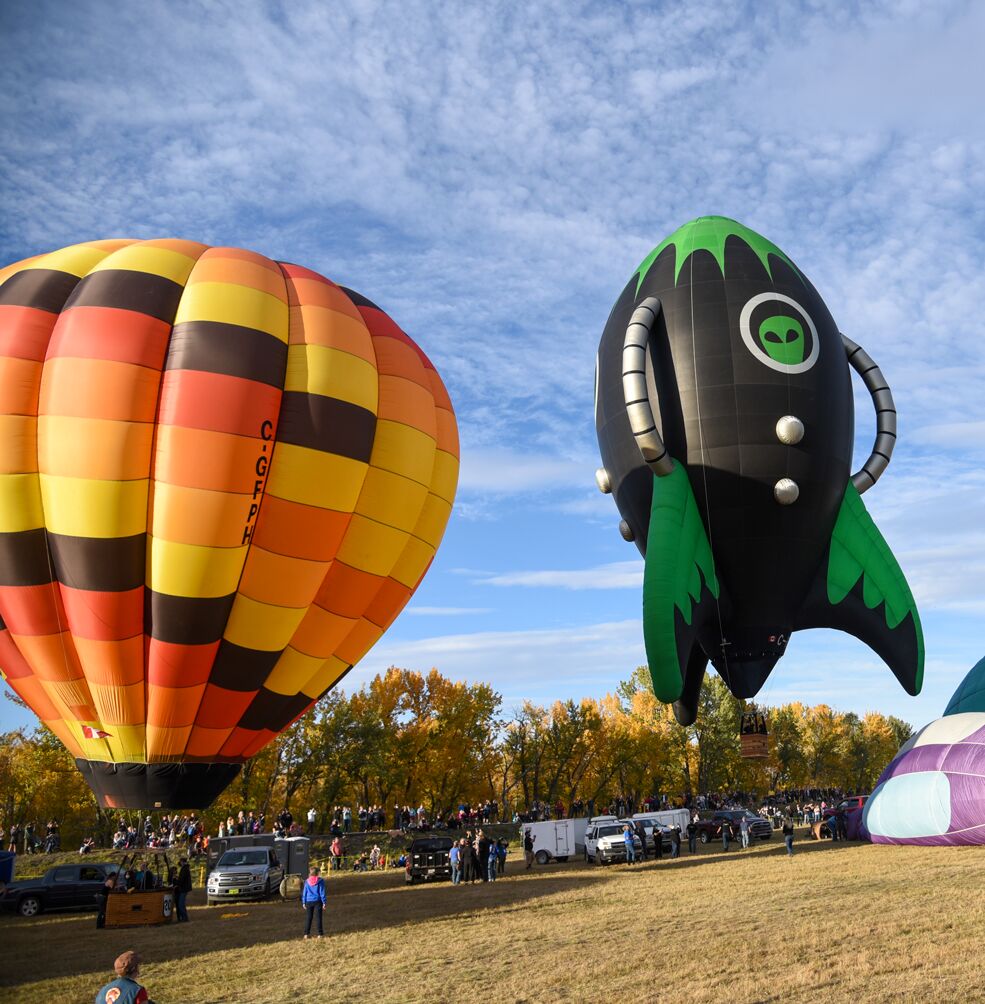 The Geppetto piloted by Bill Dickinson and Alien Rocket, moments before takeoff.
 Just after sun rose on September 26th, the Heritage Inn International Balloon Festival in High River took their final flight of a week-long celebration, the last of a record five flights. 
The festival usually manages to take three or four flights over the course of the week due to wind conditions, said Jamie Kinghorn, the chairperson for the event, so this year was a marked success.
"When we say wind, a lot of people take that to be the wind that's on the surface," said Kinghorn. "But when we talk about winds we're talking about winds from the ground up to roughly 4000 feet. So we constantly measure those wins before the flight and sometimes it will be perfectly calm on the surface but 1500 feet it could be as much as 20 knots and we will cancel the flight if that happens, our limit is pretty much 10 knots and so the wind is the biggest factor, of course rain and cloud and all that stuff counts as well. It's just obvious that we don't fly then. But for the general public, sometimes it looks beautiful, but the upper winds aren't like what's on the ground. Taking off as an option, landing is not."
The event originally started in 2013, following the floods that took place in June of that year. There had been previous talks of hosting a balloon event, said Kinghorn, which most had thought would be cancelled after what had happened.
"The organizing committee felt that it was really important for the community that we go ahead with the event, so we called up some friends of ours from out of town, a bunch of pilots came to High River, and we put on the first balloon event for the town," said Kinghorn, "What it was focused on was primarily was the volunteers and residents over here helping rebuild High River, and that was so successful that we went on for 2014 again. By then it was more about bringing people to High River and showing, really, how far we've come from the flood event, how much we built the town and where we were. And it's just been growing ever since."
The event now draws pilots from around not just all over Canada (including Rolling Hills' Bill Dickinson), but all over the world, with pilots coming from the United States, the UK, and even Belgium, and has inspired several people from the area to look into ballooning as a hobby.
"When we first started this in 2013, I was the only balloon pilot in High River, and High River  really had no knowledge about hot air ballooning, what it meant, what it was like, the excitement that comes with it and those sorts of things," said Kinghorn. "So as the event grew, we now have seven people that have actually got their license. From the High River area as a result of the balloon event, we do a school program. We had the Boys and Girls Club a couple weeks ago do some power ground training at balloon port. As a result of the event, the town of High River dedicated a piece of property on the north east side of town, that is just a balloon port, to reserve for hot air balloons. It's a public port for anybody that has a valid balloon pilot's license. So over there, that's where we do our home school, we teach people about balloons and how to hook them up and what the burners are, and all that sort of stuff."
Hosting this year's event was a bit of a unique challenge, said Kinghorn, due to the obvious desire to not become a super-spreader event. Because of this, the ever-popular Balloon Glow had to be cancelled, due to the expected crowds not being able to safely distance due to the sheer number of spectators. In previous years, shuttles would have to be organized for the Balloon Glow, due to the unavailability of nearby parking.
"We had to keep the public at a distance," said Kinghorn. "You probably noticed we had barriers around the launch field and the public were not allowed into that area. Each and every participant in the event whether they be a pilot or a crew person or volunteer or sponsor or ride passenger we needed to confirm that they were either double vaccinated or had a recent 72 hour negative test. We did that for everybody at the hotel, all the staff, everybody so we were strict about it. What we did is once we checked, we issued armbands so that people would know within the circle that if you saw a band on the left arm and it was yellow, that it was safe. It made everybody that was out, all volunteers and such feel a little more comfortable. We recognize you can still get COVID but at least we knew everybody was vaccinated."
Overall, even with restrictions, Kinghorn considers this year a success for the promotion of the hobby and the celebration of High River, and is looking forward to planning out next year's event when the scheduling begins to ramp up in January.
"Our sort of the mission statement of the Heritage International Balloon Festival is to replace all of the pictures on Google," said Kinghorn. "Google High River, we want balloon pictures to come up. And that's sort of what will tell us when we've been successful."
 The Geppetto piloted by Bill Dickinson and Alien Rocket, moments before takeoff.