Mustard Seed in Medicine Hat gets help from agriculture community
Posted on 30 September 2021 by Anna Smith, Local Journalism Initiative Reporter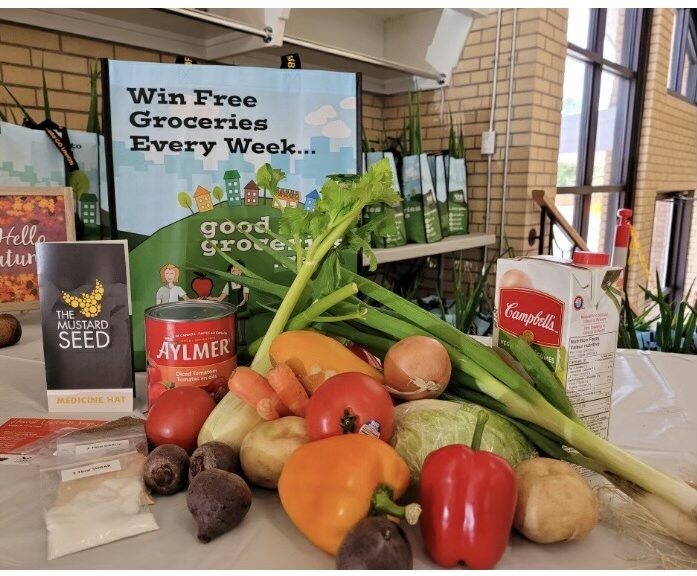 Mustard Seed in Medicine Hat received a lot of agriculture support from rural southeast Alberta.
September 18th marked the second annual harvest takeaway event for the Mustard Seed Medicine Hat.
The event featured the opportunity to purchase fresh soup kits with the ingredients provided by various local farms and small businesses, as well as baked goods from the Redcliff Bakery and Tim Hortons. 
Overall, the event was a success, said Colette Eirich, managing director for the Mustard Seed Medicine Hat.
"Last year, I think I sold about 130 soup kits," said Eirich. "My goal this year was 150.  I know we'll make it because I've got some left over from Saturday, but we're gonna sell them throughout the week. So they're still available, people can just come to the center to get them. So that's the goal and we'll just keep increasing it. But of course we got the new COVID rules like Thursday, right? So I think it scared people a little bit, but full steam ahead, we ran the event anyway."
The event also featured a small farmer's market with six vendors, said Eirich. There were originally planned to be 10 stalls, but four of the participants withdrew due to the new restrictions in place.
"We made the best of it," said Eirich. "We had one gal that crocheted a bunch of little toys or dish cloths. We had one that did some artwork. … And then we had the pumpkin patch in the back of a truck along with a bunch of fresh produce. So butternut squash, carrots and potatoes, zucchini, pumpkin, you name it. We are selling it all outside. Yeah. And then Premium Sausage was there, they did sausage on a bun."
The event wouldn't have been possible without the generosity of their sponsors and the rural producers that made the whole thing possible, said Eirich.
"It's phenomenal. Some of them, like Gouw Onions, and Perry Farms have been giving since last year," said Eirich. "This is kind of the time when it started. They deliver onions and potatoes every month. Red Hat and Rolling Acres is every week. And then our farmers, the Hutterites, They're so kind, they just love us. They just show up and there's always a big van load full, and they're saying I know you guys could use this. They're so sweet."
The support and the proceeds of the Harvest Takeaway will go toward funding health and wellness programs in the newly renovated basement of the center, as well as continuing programs present to help those experiencing homelessness or poverty in the community.
"The proceeds go to help support our various programs that we're offering in the center. So if we need more soap for our laundry program," said Eirich. " We need a few items in our kitchen department. I built the kitchen, my goal was to have the main appliances, like the stoves and those sorts of things, right. But there's little things that we need on a weekly basis so that we can bake and so we need loaf pans, and we can't just use like what you and I use in our kitchen. They have to be a commercial grade, those are the things we need, they're on the list. Let's say I need a little hand blender. We also need a food processor. So there's just certain things that we have to purchase that might be worth $500 but we make sure we have the funds for it. So that's where this money goes, towards our programs so that they can operate effectively."
"I would just love to thank our donors for always being there for us," said Eirich. "You can't run one of these events without that support. You just can't. So you've got to thank them for being willing. They believe in us."
Mustard Seed in Medicine Hat received a lot of agriculture support from rural southeast Alberta.